Chapman takes the loss after Yankees walk off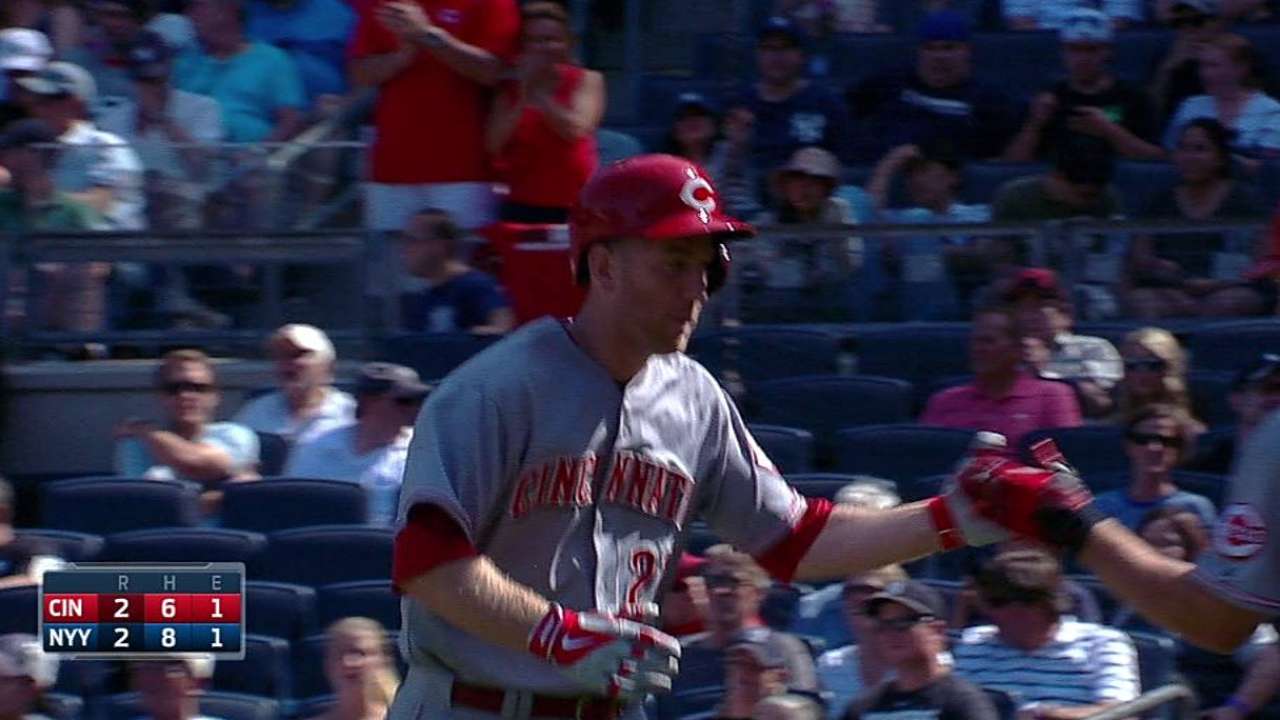 NEW YORK -- It seemed like a popup that any of three Reds players had a good chance to catch. Yet somehow, none of them did.
And that's how the Reds got the most frustrating of conclusions to a series filled with frustration -- with a 3-2 loss to the Yankees that meant a three-game sweep.
"They played better than we did," manager Bryan Price said. "There is no doubt about it, and they won all three games because of it. I believe that they pitched well, they defended better. They just outplayed us. Some of the things that happened in this series are unfortunate."
Fresh from the All-Star break and with several lefty hitters in the Yankees' order, lefty closer Aroldis Chapman was summoned for the ninth inning of a 2-2 game. There was obviously no save to get -- he was asked to simply hold the Yankees and try for extra innings.
During a tough, nine-pitch leadoff at-bat in which every pitch from Chapman was 100 mph or faster, Jacoby Ellsbury fought six two-strike offerings before singling through the left side for a 4-for-4 game. Ellsbury stole second base with Mark Teixeira batting, and a wild pitch let him advance to third base. With the infield playing in, Chapman struck out Teixeira on a 101-mph, 3-2 pitch. Up came Brian McCann, who lofted a 3-2 pitch behind first base. Right fielder Jay Bruce stormed in, first baseman Todd Frazier and second baseman Skip Schumaker ran back, and they all converged.
"I went for it, kind of got turned around," Frazier said. "The wind brought it back a little bit. It was just one of those things. I thought I was under it, and I wasn't. By the time the ball was coming down, it was already too late. I made a mistake."
The ball landed safely between all three Reds for an improbable walk-off single as Ellsbury trotted home to end the game.
"It's anybody's ball. If you can get to it, it's your ball," Frazier said. "I think I was the closest one to it. I thought it was crushed at first, and I went back. No excuse."
"I don't think it was miscommunication," Bruce said. "The infield was playing in. The wind really brought it back. I thought it would be to me at first. Then it was really close to the infield. It was a crazy play. I have never seen that happen before."
McCann was surprised that no one caught the ball.
"But I'll take it, for sure," McCann said. "I just saw them, everybody was looking at each other. There was a chance, and luckily for us, it fell."
To say it wasn't a good first series out of the All-Star break for the Reds would be a strong understatement.
• The batters struck out 31 times in three games and drew only three walks.
• The Reds led for only one-half of an inning the whole series, when Schumaker's RBI ground-rule double off Hiroki Kuroda gave them a one-run edge in the top of the fifth. (The Yankees responded with two runs off ace Johnny Cueto in the bottom of the fifth.)
• The club went 1-for-21 with runners in scoring position in the series.
• No Reds pitcher worked a quality start in the three games, with All-Stars Cueto and Alfredo Simon lasting only five innings.
"Nobody likes to be swept," catcher Brayan Pena said. "We just have to regroup and go to Milwaukee and take care of business there. There's nothing we can do about this one today."
Credit reliever Sam LeCure for keeping this one tight. LeCure inherited a bases-loaded jam in the sixth from Manny Parra after a two-out error by Ramon Santiago. By escaping with a Derek Jeter fielder's choice, LeCure has stranded 52 of 54 runners over 18 such situations in his career.
LeCure worked 1 1/3 scoreless innings as the Reds added a run in the eighth against All-Star reliever Dellin Betances. Schumaker's leadoff single was erased when he was caught stealing after a rundown, and that proved costly when Frazier slugged a 3-2 Betances pitch to left field for a homer that tied the score instead of provided a lead.
The long ball gave Frazier his career-high 20th homer of the season.
"The Frazier home run really got us where we felt like we were going to come back and win that game," Price said. "We just didn't get it done. It was an unfortunate way to end the game, for sure."
Mark Sheldon is a reporter for MLB.com. Read his blog, Mark My Word, and follow him on Twitter @m_sheldon. This story was not subject to the approval of Major League Baseball or its clubs.