Ventura, Royals sputter in finale against Sox
Rookie yields six runs over 4 1/3 frames in club's 3rd straight loss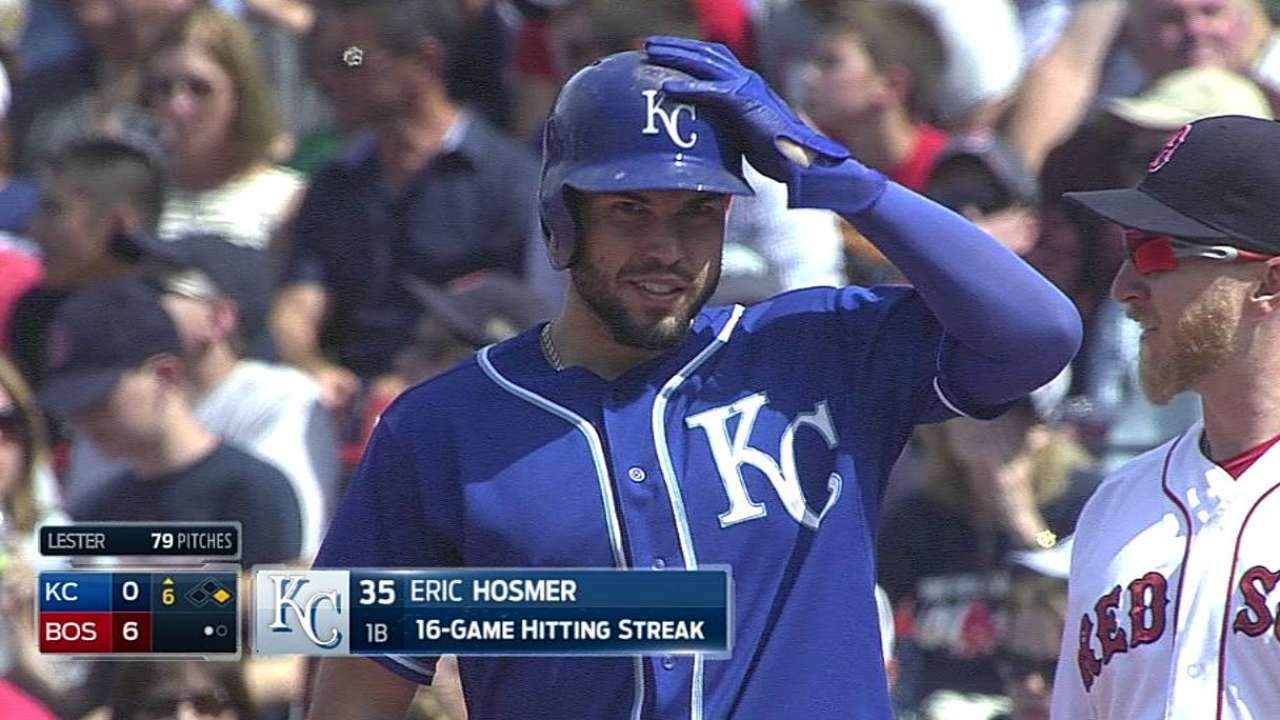 BOSTON -- This was not how the Royals envisioned the start of the season's second beginning. Not against a last-place Boston team. Not with postseason hopes very much alive.
Yet there's been a breakdown coming out of the four-day All-Star break, three straight losses to the Red Sox. The latest came against left-hander Jon Lester, 6-0, on a sunny, 70-degree Sunday with another sellout crowd of 37,439 at Fenway Park.
Lester pitched eight innings of the shutout, giving up just four hits with eight strikeouts. He boosted his career record against the Royals to 7-3 in 11 starts, including a no-hitter in 2008.
"We were matched up against an All-Star pitcher today and he was on top of his game," said Royals manager Ned Yost.
The sweep by Boston left Kansas City in third place in the American League Central, seven games behind first-place Detroit. The Royals (48-49) fell a game under .500 for the first time since June 8.
The Royals have lost six of their last seven games and, with 65 games left, they know it's time to make a move.
"We've got to take every day like it's the last day because Detroit keeps winning and other teams keep winning," left fielder Alex Gordon said. "If we keep putting ourselves in the hole it's going to be too late."
The Royals lost the first two games of this series by one run each.
"After losing two tough games, you'd think we'd come out and play with a little more intensity and energy, and we didn't," Gordon said. "That's not how good teams play so we need to look in the mirror and figure it out. ... If not, then things are going to start happening. We can't put ourselves in too big of a hole."
The Red Sox have won seven of their last eight.
"Going into the break they were playing well and they continue to play well," said the Royals' Billy Butler. "They're the defending champs for a reason. They may be making a run, they might not. But you might look back at this in a month and this is their resurgence. You never know. They sure as heck played like it this weekend."
The Red Sox pounced on rookie right-hander Yordano Ventura for all six of their runs by the fourth inning.
The Red Sox got a two-run homer, a drive over the Green Monster in left, from David Ross as the big blow of their three-run fourth.
"Fastball in the middle, a little bit up. It was a good swing," Ventura said.
For the hard-throwing Ventura, this outing marked the first time in his 22 Major League games that he did not get at least one strikeout. He had absolutely none in his 4 2/3 innings to go with the four walks, nine hits and six runs.
In fact, the Royals had to go back into the archives to find the last game in which Ventura did not have a strikeout. That was on July 2, 2009, his first pro season, when he threw one inning without a K in the Dominican Summer League.
Lack of command was Ventura's problem on Sunday in Yost's view.
"He got some pitches in the fat part of the strike zone and that's a good-hitting team over there," Yost said.
Ventura launched 95 pitches in his relatively brief outing and just 55 were in the strike zone.
"After the third inning, I don't know what happened, but I couldn't throw pitches for a strike," Ventura said.
Ventura was spared additional damage to his statistical line after the Red Sox loaded the bases with no outs in the fifth inning on two walks and a single.
Catcher Brett Hayes, subbing for injured Salvador Perez, reached into the stands to grab a foul popup for the first out. Ventura was lifted for left-hander Francisley Bueno, who stranded the three runners. Bueno went on to pitch 2 2/3 hitless, scoreless innings.
Lester had few problems. Alcides Escobar had two of the hits against him, Danny Valencia had one and Eric Hosmer the other. Hosmer extended his hitting streak to 16 games in which he's hitting .413 (26-for-63).
Lester (10-7) has given up just one earned run in his last 31 innings.
"He's one of the top pitchers in the game and performs like it every time out. We've come to expect it out of him," said Ross, his catcher. "It's a lot of pressure, but he's handled it well, and we expect those kinds of outings from him."
What the Royals expect of themselves is to get out of this post-break funk ASAP.
"We'll get it going," Yost said. "We played a decent game on Friday, we didn't do very well yesterday and we didn't do very well today. It's two games, the world's not coming to an end. We go to Chicago and we put together a good series, and start rolling."
Since winning 10 straight games in June to briefly take first place, the Royals have a 9-17 record.
"So we've got to get to work and get it back. That's the job ahead of us," Yost said. "You don't sit here and cry over spilled milk. You find a way to get it going. And that's a pretty good group in there that finds ways to get it going."
Dick Kaegel is a reporter for MLB.com. This story was not subject to the approval of Major League Baseball or its clubs.