Lester aces Royals as Sox complete sweep
Lefty fires eight shutout frames, while Nava drives in three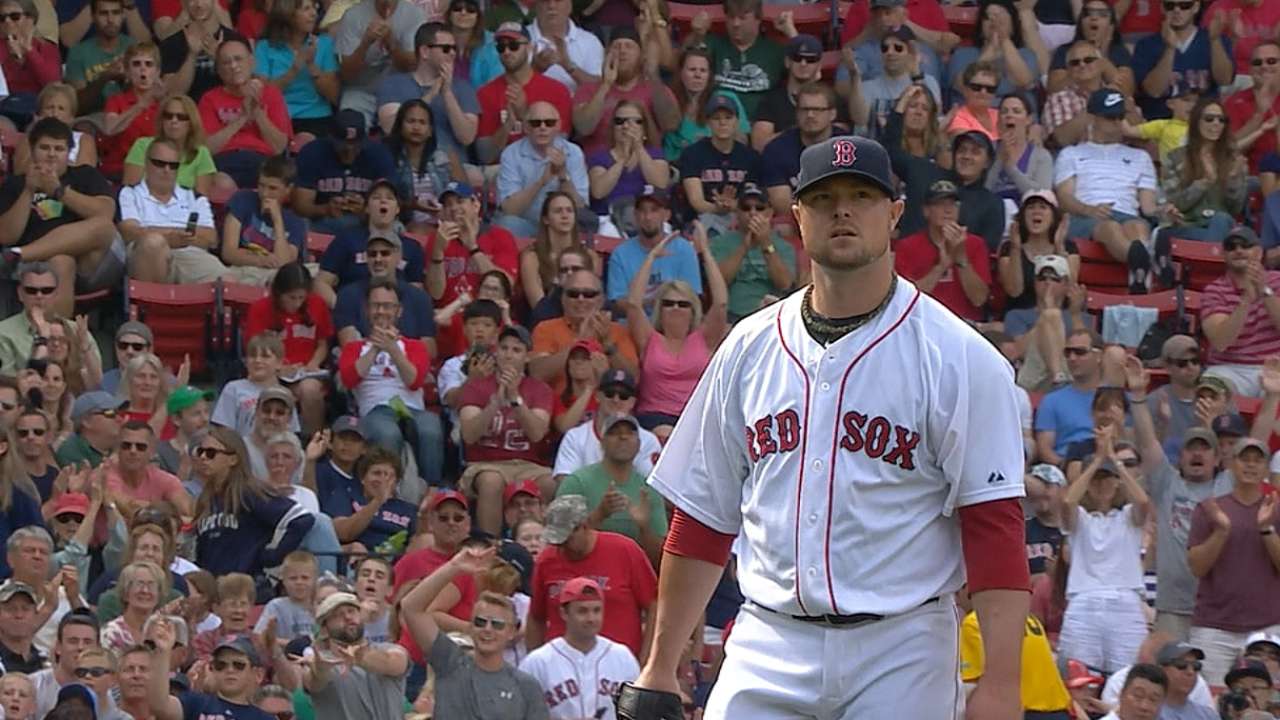 BOSTON -- After catching Jon Lester for the last two seasons, David Ross feels he knows the lefty pretty well.
The way Lester is pitching right now can and has been described in a lot of different ways: Elite, consistent, stellar, etc. But to Ross, Lester isn't in any kind of unusual groove.
On Sunday, Lester fired eight scoreless innings in a 6-0 win over the Royals at Fenway Park to complete a three-game sweep. Boston will head to Toronto for the first of 13 consecutive divisional games on Monday, an opportunity to make up ground in the American League East.
"I don't know if it's a zone. He's just really, really good," said Ross, who helped his batterymate by clubbing a two-run homer. "He's one of the top pitchers in the game and performs like it every time out. We've come to expect it out of him. It's a lot of pressure, but he's handled it well and we expect those kinds of outings from him."
Lester showed no signs of an All-Star Game hangover, allowing just four hits, while walking two and fanning eight. The lefty has given up one earned run or fewer in six of his last seven starts. Relievers Junichi Tazawa and Edward Mujica combined for a scoreless ninth.
Amidst outside chatter of a contract extension and trade rumors --- Lester will become a free agent at season's end --- the lefty has thrived in 2014.
"I just try to make sure I go out and pitch well for these guys in here," said Lester, now 7-3 all-time against KC. "If these guys are happy with the way I'm throwing and how I'm going about my business, that's all I care about. Like I've said in the past, that other stuff will take care of itself."
Lester has posted career bests this season in ERA, WHIP and K/BB ratio. Other stats tell the same tale --- his walk rate has never been lower, his strikeout rate is near a career high and FIP (fielding independent pitching) at 2.59 is a career best. Lester has been as good as he's looked to the eye in a contract year.
"He's been a model for others to witness as players get to that stage in their career," manager John Farrell said. "I think in a professional manner, he's been very forthright in not wanting it to be a distraction to his teammates or to us as a team. And he's been able to go out and maintain that high level of focus."
Boston scored six runs on nine hits, with three going for extra bases. Four players had multi-hit games, including Shane Victorino, who played in his second consecutive contest after spending nearly two months on the shelf. Once Royals starter Yordano Ventura exited after 4 1/3 innings, though, the Red Sox were held hitless.
Encouraging to some degree was that Boston's offensive uprising came with its three through five hitters, David Ortiz, Dustin Pedroia and Mike Carp, being held hitless.
The Red Sox gears were turning right from the start against the hard-throwing Ventura. In the first, Pedroia's groundout brought home Brock Holt, who had singled and moved to third on Daniel Nava's single.
In the third, Nava ripped a line drive down the right-field line that bounced over the short fence for a double, scoring Ross and Jackie Bradley Jr.
Ross then launched his homer over the Green Monster in the fourth. After Bradley and Holt singled, Nava's sacrifice fly brought Bradley home to give Boston a 6-0 lead. Lester did the rest.
Nava has been optioned to Triple-A Pawtucket twice this season, but he's made sure that won't happen again soon with his recent play. In July, the switch-hitter has hit .382 with eight RBIs in 34 at-bats. He is batting .337 since being recalled on June 2.
"Since Daniel's come back to us, he's been more the hitter that we saw all last year," Farrell said. "I think he had a good approach against Ventura today and he's swinging with a lot of confidence."
Kansas City's offense has struggled and running into Lester on Sunday didn't help. The Royals scored just five runs in the three-game set, while scoring seven in three contests prior to the All-Star break.
"The only thing you can do today is hope that Jon Lester doesn't bring his A-game," manager Ned Yost said. "And that he gets his pitch count up and makes mistakes, and you take advantage of it. But he was pretty good."
Ventura exited with the bases loaded and one out in the fifth. Francisley Bueno worked the Royals out of that jam, but Ventura's line didn't look any better because of it. He allowed six runs, nine hits and four walks with no strikeouts over 4 1/3 innings.
Steve Petrella is an associate reporter for MLB.com. This story was not subject to the approval of Major League Baseball or its clubs.