Big hits back Wood's excellent start to take series
Johnson goes deep, La Stella adds bases-clearing two-bagger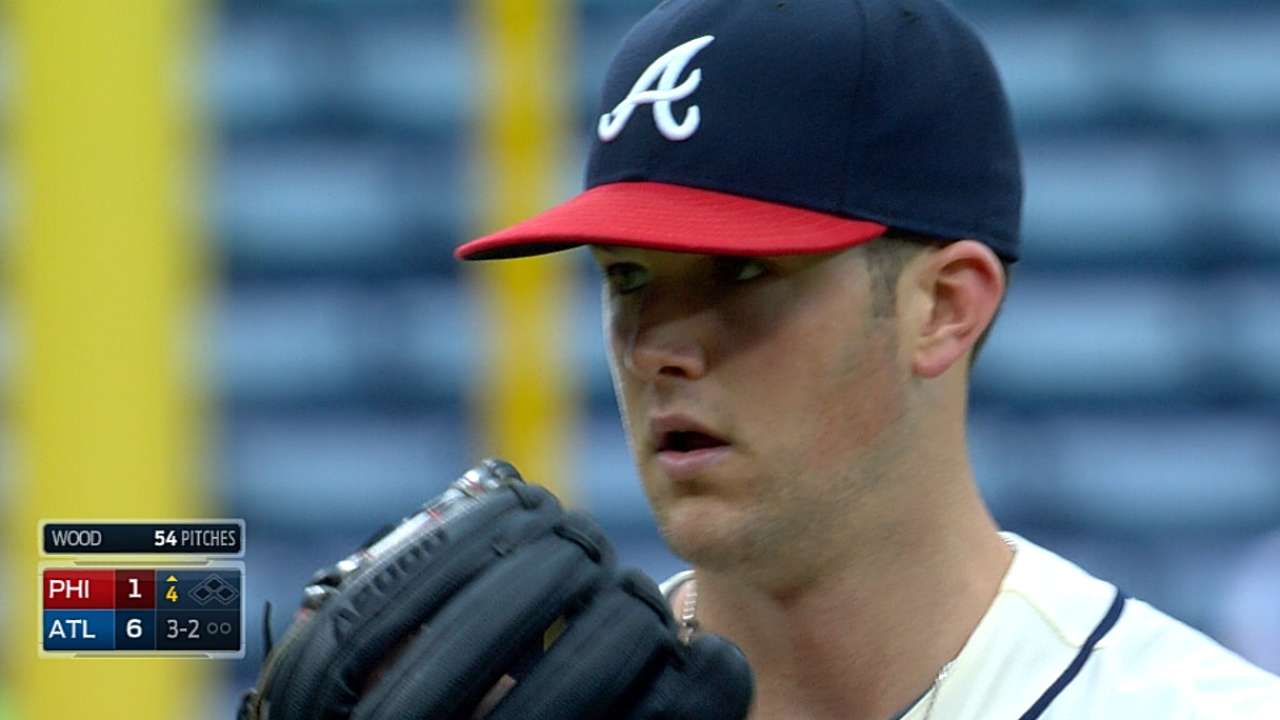 ATLANTA -- The Braves can breathe a sigh of relief knowing their one-run effort against Phillies ace Cole Hamels on Saturday night was only a hiccup in what has been quite an offensive tear for Atlanta that began just before the All-Star break.
Tommy La Stella capped a four-run third with a bases-loaded double that was more than enough for starter Alex Wood, who held the Phillies in check as the Braves cruised to an 8-2 victory on a rainy Sunday afternoon at Turner Field.
"We all equally take the pressure off each other," Jason Heyward said of Atlanta's recent offensive surge. "That's been the big part of our stretch right before we went into the All-Star break and right now. Just putting up good ABs, being tough outs regardless, putting the ball in play and wearing that pitcher down."
The win marked the fourth time Atlanta has plated six or more runs in the past five games, as the Braves made Phillies hurler Kyle Kendrick pay for his early command issues. They walked seven times and were hit by pitches twice, two of each from Kendrick.
"I know they didn't throw a lot of strikes today, but I know at times where we went up there and swung at those pitches and helped them out pretty quickly," Heyward said.
Chris Johnson gave Atlanta the lead for good in the second, smacking a two-run homer over the wall just left of the batter's eye in center. It was Johnson's fourth blast in a stretch of 18 plate appearances after going deep three times in his first 363.
But the third inning magnified Kendrick's control issues. He issued a leadoff walk to B.J. Upton before plunking Freddie Freeman and Justin Upton in back-to-back plate appearances, loading the bases with one out for Heyward.
Kendrick then proceeded to walk Heyward on four straight pitches, increasing Atlanta's lead to 3-1. After he got Johnson to line out to right field for the second out, it appeared the right-hander would escape the inning relatively unscathed.
However, La Stella made sure Kendrick paid for putting Braves on base, lacing a full-count sinker into the right-center field gap to blow the game open. The rookie is now 6-for-7 with three doubles, a triple and 13 RBIs with the bases loaded.
"You've kind of got to keep your adrenaline in check," La Stella said. "Bases loaded is a big situation … where if you can remain calm and keep your emotions in check, the better success you will have."
"Before he got that knock," Wood said, "I looked up on the scoreboard and looked at his stats this year with the bases loaded, and I was like, 'My God.'"
Atlanta added two more runs for good measure in the sixth, drawing four consecutive one-out walks against Philadelphia reliever Mario Hollands before Freeman capped the scoring with an RBI single that increased the Braves' lead to 8-1.
The productive offense was a welcomed change of pace for Wood, whose average run support per start of 2.25 ranked last in the Majors among starters with a minimum of 80 innings pitched entering Sunday.
Wood earned his seventh win, his eighth quality start and improved his ERA in 12 starts this season to 2.95. In contrast to Kendrick, Wood did not walk or hit a single batter and fanned eight Phillies, falling only three strikeouts short of his career-high total of 11.
"Those are kind of the toughest ones to throw in when it's misting like that, just because it's hard to really dry your hand off on anything -- your hat, your pants -- and the ball seems like it's always wet, but somehow we managed to make it through," Wood said.
"He battled through some elements there," Braves manager Fredi Gonzalez said.
The lone mistake Wood made came when he left a 2-2 changeup out over the plate that John Mayberry Jr. sent over the left-field wall to give Philadelphia a 1-0 lead. Six of the 10 home runs Wood has surrendered this season have come in the first three innings.
"I wish it wasn't like that," Wood said. "I kind of pride myself on not making big mistakes and when I miss, missing small. I was pretty frustrated, because I thought that was a bad miss by me when he hit that home run. So it was one of those things where it was frustrating, but you've got to bear down."
David Carpenter came on in the ninth, allowing a solo homer to Marlon Byrd to make it 8-2. It was Byrd's fourth homer against Atlanta this season, but only eight runs by the Phillies in three days were not enough to clinch a series win.
"When they play like they did, it's always going to be a tough weekend, but today wasn't our day," Byrd said. "Wood came out and threw well. He used his fastball a lot more frequently than I've ever seen him use it -- the four-seamer and his two-seamer. He was able to work his curveball later in the innings off of that."
The Nationals also won on Sunday, keeping the first-place tie atop the National League East intact. But the Braves can take confidence in having won nine of their first 14 series against division foes in 2014, compiling a 27-18 record in those games.
Joe Morgan is an associate reporter for MLB.com. This story was not subject to the approval of Major League Baseball or its clubs.