Kendrick can't contain Braves as Phillies drop finale
Mayberry Jr. launches early homer; starter allows six runs over five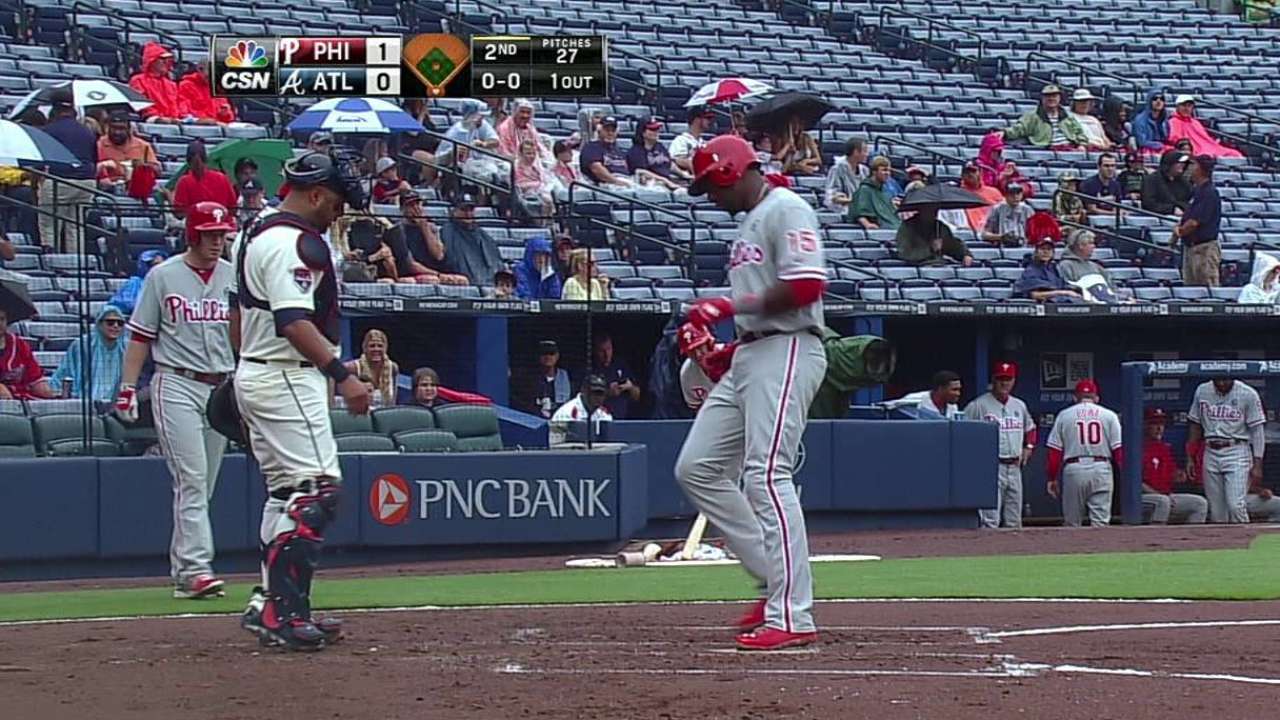 ATLANTA -- Games like Sunday afternoon's are the kind that keep antacid makers in business and baseball managers as their primary customers.
Heading into the game, Phillies starter Kyle Kendrick's biggest concern was likely getting out of the first inning, his toughest this season. Kendrick did that, but he allowed six runs combined in the second and third as Philadelphia dropped the series finale to the Braves, 8-2, at Turner Field.
What left Phillies manager Ryne Sandberg reaching for the medicine cabinet was the way his team was hurt by balls that never even got into play.
"I'm not sure what happened, but we basically gave them nine free passes. Seven of them walks, two hit batsmen and I believe five or six of them scored," said Sandberg, whose team fell to 11 games behind the Braves and Nationals in the National League East and lost for the second time in the series despite scoring first.
"On the other side of the page, we outhit them, 9-8, but we had 13 strikeouts. We put a run up on the board to take the lead and before you know it, it's 6-1 with a hole to come out of. It happened in a hurry and it happened without them swinging the bats, except for a hit."
Scoring first hasn't necessarily been an option in starts by Kendrick (4-10), as the first inning has been his nemesis. The right-hander has an 11.37 ERA (26 runs allowed) in the opening frame this season.
Kendrick responded positively on Sunday, putting up a 1-2-3 first on only 12 pitches.
"That was a good start," said Sandberg. "He was throwing strikes. He was in the zone. I'm not sure what happened after that."
Things looked even better when with one out in the top of the second, first baseman John Mayberry Jr. blasted a 2-2 pitch from Atlanta starter Alex Wood (7-7) into the seats in left for a 1-0 lead. It was Mayberry's sixth homer of the season and first since the seventh inning on June 12 against San Diego, a string of 59 plate appearances.
But Kendrick couldn't get past a wild second inning, figuratively speaking, then a literally wild third inning.
Justin Upton led off the second by sending a fly ball to deep right, but right fielder Marlon Byrd couldn't make the catch as Upton coasted into second with a double. One out later, third baseman Chris Johnson, who came in hitting .350 against Kendrick, drove a 1-0 pitch over the left-field wall to give the Braves a 2-1 lead. The homer was the team-leading 16th given up by Kendrick, two fewer than he allowed all last season.
"I've seen him not be crisp and do well against us, but today I feel like he didn't really have a feel for the strike zone," said Atlanta right fielder Jason Heyward, who drew a bases-loaded walk in the third to push the lead to 3-1. "He didn't have his best stuff, but those are the games you've got to take advantage of."
Atlanta did in the third, as Kendrick walked two hitters and hit two more. All four Braves who reached without putting a ball in play came around to score when Tommy La Stella, who proved a pest to Phillies starters in all three games, lined a two-out double to right-center to clear the bases.
"I was just trying to be too fine," said Kendrick. "It's just been a tough year for me. I don't know why. I just have to keep pitching."
The double by La Stella seemed to straighten Kendrick out, as he retired seven of the final eight hitters he faced. In five innings, he allowed six runs on five hits and struck out one. Kendrick has allowed 18 runs in 16 1/3 innings over his last three starts.
He exited following a rain delay of one hour and 39 minutes prior to the bottom of the sixth. The loss was Kendrick's second straight against the Braves in 2014 after having beaten them in eight of his first 10 career decisions. He's 0-2 with a 6.92 ERA in those starts.
Mario Hollands came on in relief and walked four straight hitters and gave up an RBI single as the lead ballooned to 8-1.
A Koyie Hill single to short right two batters after Mayberry's homer was Philly's last baserunner through six innings, as Wood allowed a run and three hits and struck out eight. He retired the final 13 batters he faced and struck out six of eight batters during one stretch.
"He used his fastball a lot more frequently than I've ever seen him use it -- the four-seamer and his two-seamer," said Byrd, who went 2-for-4 for the second straight day and clubbed his 19th homer in the ninth inning. "He was able to work his curveball later in the innings off of that."
One offensive bright spot for the Phillies was center fielder Grady Sizemore, who went 2-for-4, including a single in the first inning, his fourth hit in five at-bats over two games. Sizemore had seven hits in the series, and he is hitting .444 in 12 games against the Braves in 2014 and .476 at Turner Field.
"I've been able to play consistently, which is nice," said Sizemore, who is batting .417 in six games with the Phillies. "It's nice to just kind of get a rhythm."
Byrd hopes Philadelphia can find a rhythm at home on Monday behind Cliff Lee.
"We have to get some runs for him early, because the Giants, they can swing it," Byrd said. "You know he's going to pound the zone and keep us in the game. We have to make sure we put him on top."
Jon Cooper is a contributor to MLB.com. This story was not subject to the approval of Major League Baseball or its clubs.