Jones, O's jump on ex-teammate Hammel, drub A's
Outfielder hits three-run homer, ties career high with five RBIs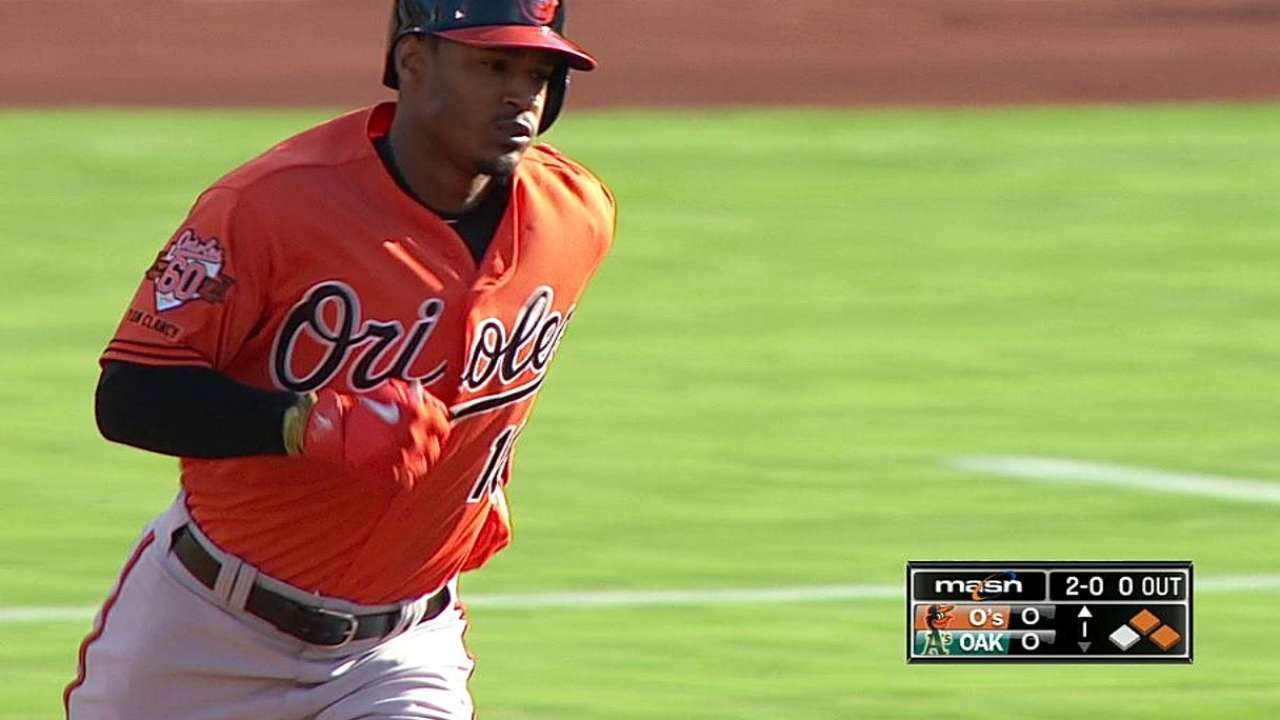 OAKLAND -- The Orioles did not treat former teammate Jason Hammel too kindly on Saturday, chasing him after two-plus innings en route to a bounce-back, 8-4 victory at the Coliseum.
Baltimore tagged Hammel for four first-inning runs and five in total, evening the three-game series with the A's on the heels of a stunning walk-off loss on Friday.
"It's tough, it's frustrating, last night," said Adam Jones. "But we got another day. Live to fight another day. The beauty of baseball."
Jones seized the day more than anyone. He smacked a three-run homer in the first and tied a career high with five RBIs. Jones had done that just once before -- on July 28, 2008, against the Yankees. He also stole two bases, making him the first player in franchise history to record five RBIs and multiple steals in the same game.
Baltimore finished with 13 hits, nine of which came from the top three batters in the lineup: Nick Markakis, Steve Pearce and Jones. Markakis went 4-for-5 with four singles in his third four-hit effort of the year, while Pearce went 3-for-4 with a pair of doubles.
J.J. Hardy added a homer of his own in the first, and Hammel departed with no outs in the third and five runs to his name.
"We were just fortunate what mistakes he made," said O's manager Buck Showalter. "He's one of those guys you've got to get something early off of."
"Playing behind him for two years, I think we had a solid scouting report on him and what he's done," said Jones. "That was only last year we had him. It's not like he's a couple years removed. We had a plan just to get some strikes. He fell behind and threw us some good pitches, and we didn't miss 'em."
The O's added a run in the third and two more in the fourth on Jones' single. They led 7-1 after the top of the fourth, and southpaw Wei-Yin Chen and the Baltimore bullpen staved off Oakland's mid-game push.
"It was big to get the early lead, Jonesy big home run and kind of add [from there]," said catcher Nick Hundley. "It was nice to show that resiliency."
Chen allowed three runs in five innings and threw 86 pitches -- his fifth straight outing of fewer than 100 pitches -- before Showalter called on Brad Brach, Darren O'Day and Zach Britton to finish the job.
"I think I had the ability to go for six or maybe seven innings, so I did feel a little upset to be taken out of the game after the fifth inning," Chen said through an interpreter. "But Buck has his plan, and it's not the players' place to think about it."
The Orioles' outfield defense was strong behind Chen, including several long runs by Pearce and an excellent catch by Markakis to end the fifth.
"I thought it was terrific," Hundley said. "Pearcey looked like he was playing half the field running both sides, Nick going down the line on [Craig] Gentry was a big play with two outs in another RBI situation. Outfield defense was key."
The A's chipped away with runs in the third, fourth and sixth, but the O's made sure to avoid a repeat of the previous night's stunning comeback.
Oakland had two runners on with two outs in the ninth, but Britton came on and redeemed himself after Friday's walk-off loss, fanning Nick Punto for the final out.
"I thought he did a little better last night than he did tonight," said Showalter. "But he's having a great year."
Chris Davis put icing on the cake with a solo shot in the ninth, and Baltimore's three home runs raised its season total to 119, surpassing the Blue Jays for the most in the Majors.
"One through six, they can do a lot of damage, hit a lot of homers and score a lot of runs," said A's manager Bob Melvin. "That's where we had the most trouble tonight."
The O's returned to a season-best 10 games over .500 heading into Sunday's rubber match.
"You like to show them what they're missing," Hammel said, "but they got the best of me tonight."
Aaron Leibowitz is an associate reporter for MLB.com. This story was not subject to the approval of Major League Baseball or its clubs.