Big knocks from Dickerson, Santana key Game 2 win
Tribe sweeps doubleheader after outfielder's two homers in nightcap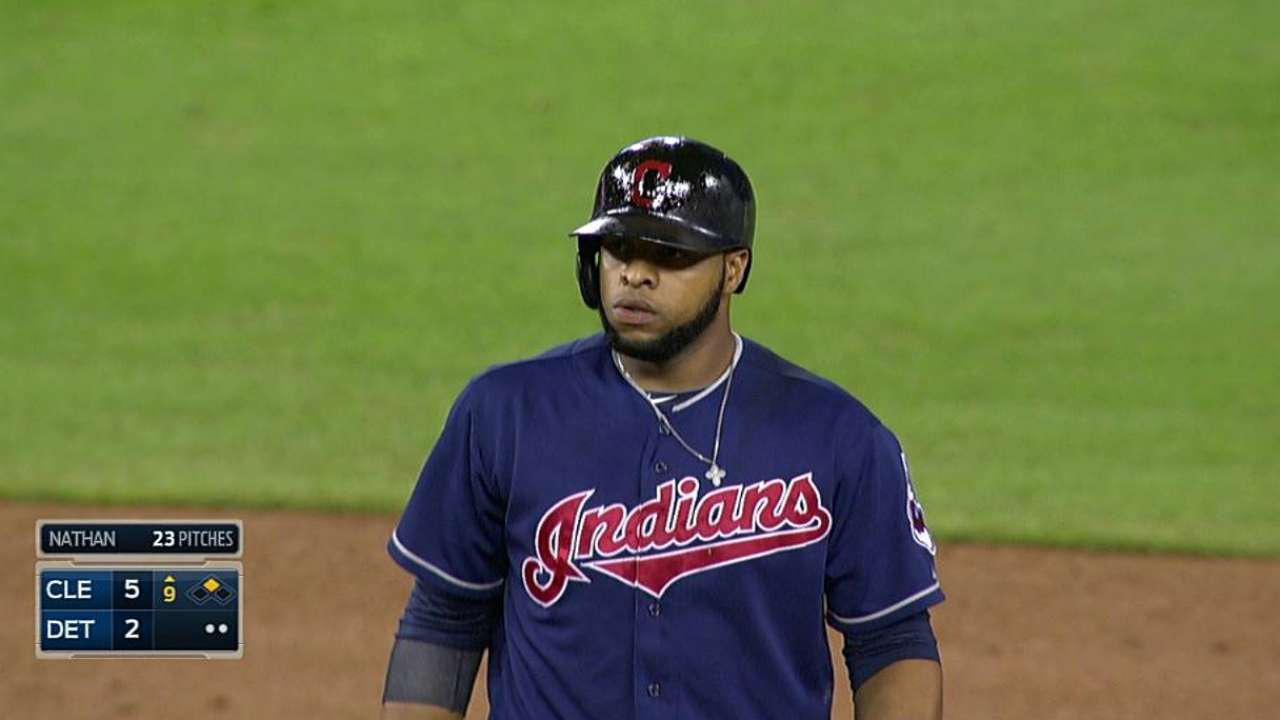 DETROIT -- The Indians needed some experienced depth. Chris Dickerson needed a change of scenery. When Cleveland acquired the outfielder in a minor trade with the Pirates earlier this month, the move became a blessing for both sides.
On Saturday night, Dickerson continued to deliver for his new club, launching a pair of home runs to help power the Tribe to a 5-2 victory over Max Scherzer and the Tigers in the nightcap of a doubleheader. Dickerson's showing, along with a three-run double from Carlos Santana in the ninth inning, followed a solid effort from Indians right-hander Zach McAllister.
"I just got a text message from one of my best friends," Dickerson said. "He was like, 'This trade was a good thing for you.' Just coming out here and getting to play every day, it's exciting. Just getting the everyday opportunity is a big thing. It's a confidence boost."
Cleveland (50-47), which is one victory away from a four-game sweep of this set at Comerica Park, has now won four in a row and climbed three games above the break-even mark for the first time this season. The sweep of Saturday's twin bill also helped the second-place Indians pull within 4 1/2 games of the Tigers for the American League Central lead.
It marked the first doubleheader sweep for the Indians in Detroit since July 17, 1966.
"No celebrating," Indians manager Terry Francona said. "It was a good day. Now, we move on and see if we can beat them again [Sunday]."
Taking on Scherzer, the reigning AL Cy Young Award winner, in the second game on Saturday was no easy task for the Tribe, which stranded eight runners in the right-hander's 5 2/3 innings. The one batter Scherzer could not solve was Dickerson, who entered the evening 0-for-9 with seven strikeouts in his career against the Tigers starter.
Dickerson pushed that history to the side in the third inning, when he belted an 0-1 offering from Scherzer into the right-field seats for a leadoff home run. Cleveland's left fielder drew a walk in the fourth, but did more damage two innings later. With two outs in the sixth, Dickerson drove a 2-2 pitch to nearly the same spot in the stands, putting the Indians ahead, 2-1.
Dickerson could hardly believe his fortune against Scherzer.
"I did have a little smirk on my face after the second one," Dickerson said, "because I couldn't believe it."
It marked the second career multi-homer game for Dickerson, who also had one for the Orioles against the Yankees on May 21 last season. Since being acquired by Cleveland on July 7 -- a move that brought Dickerson from Triple-A Indianapolis to the big leagues -- the outfielder has hit .435 (10-for-23) with three extra-base hits and six runs scored in seven games.
The Indians pulled off the trade after learning that they could be without center fielder Michael Bourn (left hamstring) until at least late July or early August.
"You don't ever want to lose anybody," Francona said. "But, when somebody comes in and they're hot, it sort of takes the sting way."
McAllister -- promoted from Triple-A Columbus prior to the game to start as Cleveland's 26th player -- took a no-decision after allowing one run on three hits in his 5 1/3 innings. The big righty was strong throughout the outing with the exception of a 34-pitch second, in which he walked three hitters, including Austin Jackson with the bases loaded.
McAllister bowed out of the ballgame in line for a win, but Detroit rallied for a run in the seventh to remove that prospect from the equation. With one out and a runner on first, Indians reliever Scott Atchison induced a grounder off the bat of Eugenio Suarez. Cleveland could have escaped the inning with a double play, but second baseman Jason Kipnis was unable to relay the ball to first in time. Jackson took advantage for the Tigers with a run-scoring triple that pulled the game into a 2-2 tie.
Cleveland right-hander Carlos Carrasco kept the score intact in the eighth by setting down Miguel Cabrera, Victor Martinez and J.D. Martinez in order.
"He went right through the middle of it and was tremendous," Francona said of the reliever. "He's earning more responsibility, for sure."
The Indians made their final push in the ninth, when rookie catcher Roberto Perez led off by sending a pitch from closer Joe Nathan to deep center field, where the ball bounced off Jackson's glove for a double. That set the stage once again for Dickerson, who attempted to move the runner to third with a bunt, but struck out looking on a low strike call.
"I was on the bench like, 'Who cares if I hit two homers tonight?'" Dickerson said. "We had a chance to win it right there and I couldn't even get a bunt down."
With two outs and the bases full, Santana drilled a pitch from Nathan to the wall in right-center for a three-run double that put Cleveland ahead for good. The Tribe's first baseman clapped his hands emphatically as he pulled into second base.
Dickerson celebrated on the bench.
"'[Santana] saved my life," said the outfielder.
Since his arrival, Dickerson has helped strengthen Cleveland's offense.
"He's solidified our lineup," Kipnis said. "Not to say that we didn't have a good one before, but when you've got a guy in the nine hole who's getting on base as much as he is, and turning over the lineup the way he has so far, that's really been a big boost."
Jordan Bastian is a reporter for MLB.com. Read his blog, Major League Bastian, and follow him on Twitter @MLBastian. This story was not subject to the approval of Major League Baseball or its clubs.