Hudson extends winning streak over Marlins
Giants starter allows one run in 7 1/3 innings, notches RBI with walk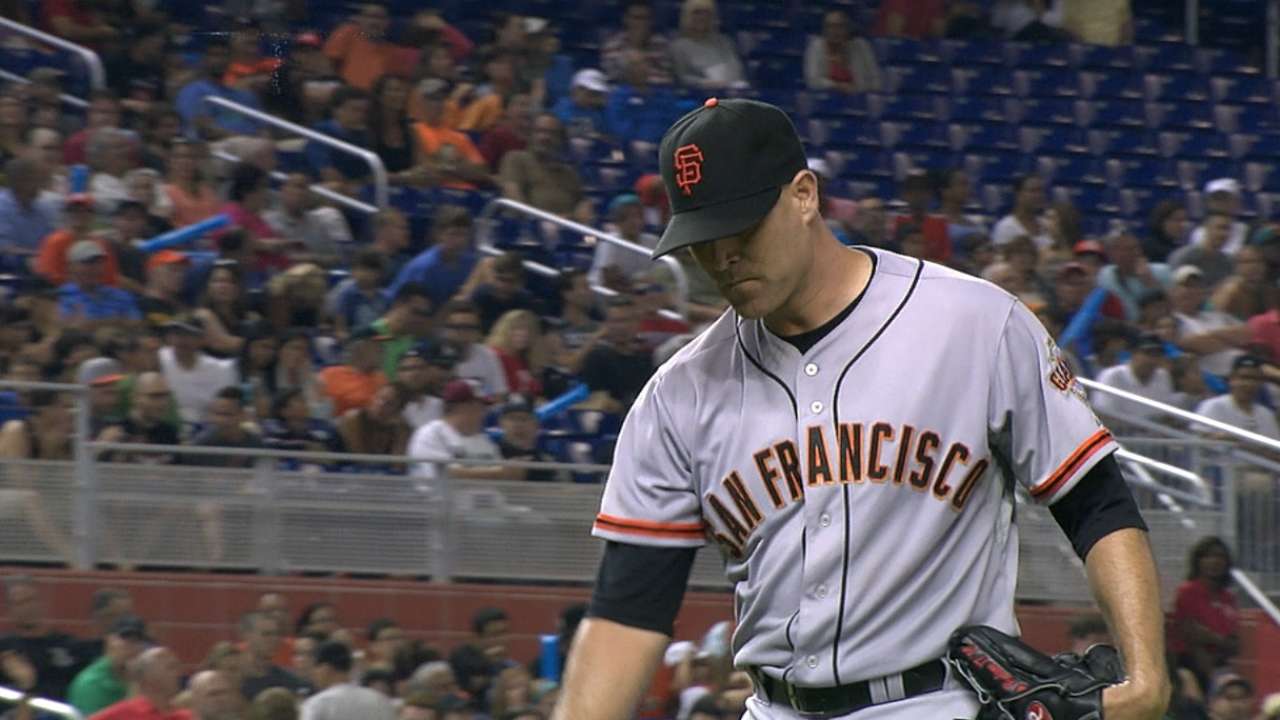 MIAMI -- If ever there was an appropriate moment for Giants starter Tim Hudson to regain form, it was against the Marlins on Saturday night.
He came into his 19th start of the season with a 14-4 record and a 2.95 ERA in 25 starts against his former division rival. He'd also beaten the Marlins five straight times dating back to July 30, 2011.
And he was able to extend that streak to six, as he held the Fish to one run in 7 1/3 innings in the Giants' 5-3 victory at Marlins Park.
He even got it done at the plate with an RBI walk and a sacrifice bunt. He'd only thrown 81 pitches when manager Bruce Bochy took him out of the game after allowing a one-out single in the eighth.
"I always try to give Huddy a break when I can," Bochy said. "He had gone far enough. His pitch count was good, he was in the eighth inning and I didn't want him to have a stressful inning."
But Hudson's performance in South Florida was a welcome one. He'd had a rough go in his last five starts, posting an 0-4 record with a 6.07 ERA. In his last start before the All-Star break, he allowed the Athletics to hang six runs and nine hits on him in 5 1/3 innings.
Eight days of rest worked wonders for the 39-year-old -- and the All-Star break has done the same for the Giants as a whole, if the 14 runs they've put up this weekend while giving up just four is any indication.
With the victory, the Giants accomplished two things: sole possession of first place in the National League West for the first time since July 2 and ownership of the NL's best record (54-33).
"We just all understand that the last six weeks wasn't the team that we were or that we think we are," Hudson said. "The last couple games, we've played better, we've had some better at-bats. That's what it takes to win ballgames and that's what it takes to get back in the race and try to right the ship."
In the second inning, Pablo Sandoval hit a ball sharply to the left side of the infield. Off the bat, it didn't seem like much would come of it. But third baseman Casey McGehee, who dropped to the dirt to field it, couldn't come up with the play, allowing Sandoval to reach second.
Two batters later, Brandon Belt pulled a double far enough down the first-base line that by the time Giancarlo Stanton got to it in the right-field corner, Sandoval had already scored. Belt scored when, after a passed ball, catcher Jarrod Saltalamacchia airmailed a throw to third base that made its way into left field.
Belt left the game in the third inning due to dizziness and headaches associated with getting hit in the face during batting practice before the game. He was scheduled to undergo a concussion test.
Hudson added to the score in the fourth inning by showing some patience against Marlins reliever Sam Dyson, in to replace an injured Henderson Alvarez, and drawing a bases-loaded walk.
A far cry from a grand slam, but a result Hudson was happy with nonetheless.
"You know what, that guy was nasty, honestly," Hudson said. "Sinkers at 97 [mph] isn't exactly my honey hole, to say the least. I probably wasn't going to take the bat off my shoulders. I'm just glad he walked me."
Hunter Pence extended the two-out damage with a blooper into shallow right. Stanton overran it, causing the ball to kick back and allowing Pence to reach second as two runners crossed home. Pence recorded his NL-leading 35th multi-hit game of the season.
Hudson did get into a jam in the first frame, allowing two straight hits from the outset. He got Stanton to ground into a double play -- one of three Hudson induced Saturday -- but ended up yielding an RBI single to McGehee before he was able to get out of the inning.
"It had the makings to be interesting, to say the least," Hudson said.
Stanton clubbed a homer leading off the ninth vs. Sergio Romo, who also allowed Marcell Ozuna's two-out double before Santiago Casilla came in. Casilla's wild pitch moved Ozuna to third, and he scored on Saltalamacchia's single before Casilla nailed down his fifth save of the season.
Maria Torres is an associate reporter for MLB.com. This story was not subject to the approval of Major League Baseball or its clubs.