Mariners hold off Angels in extras to even series
Hernandez gives up just one run, but gets a no-decision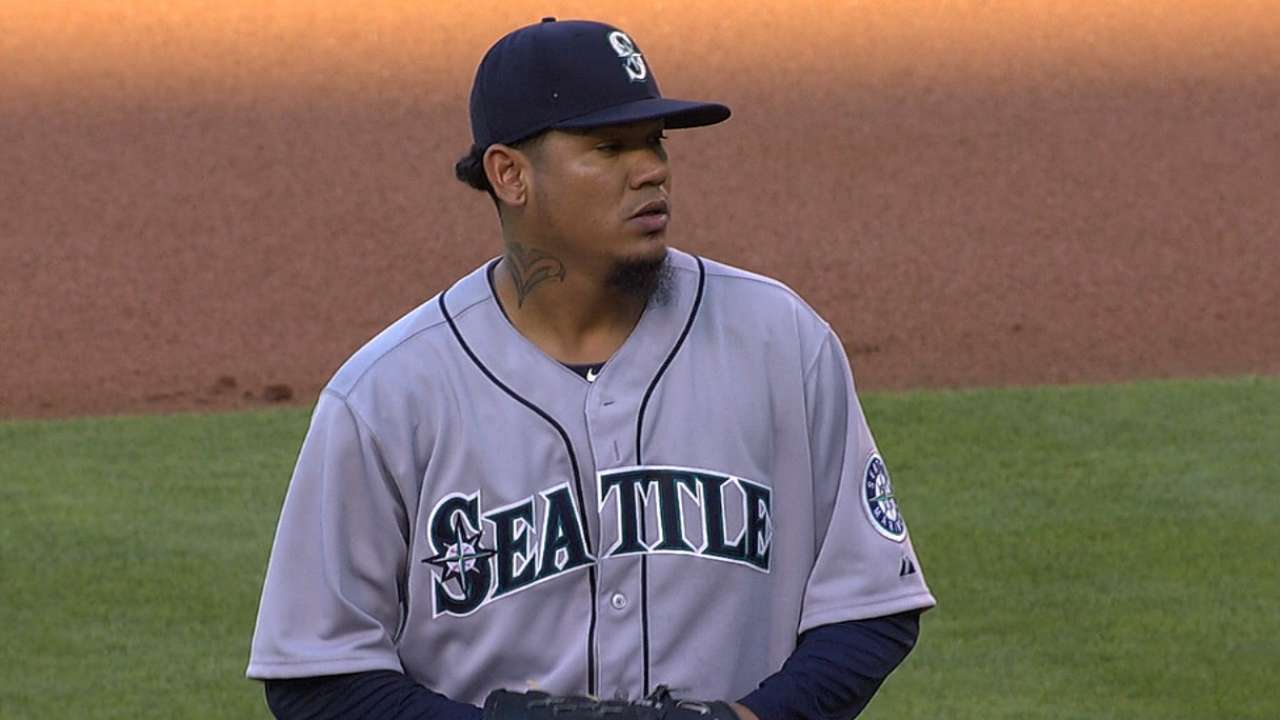 ANAHEIM -- The Mariners and Angels took it releatively easy Saturday night, playing just 12 innings at Angel Stadium instead of Friday's 16.
The Mariners won this one, 3-2, after losing by the same score in the series opener.
Fernando Rodney didn't get save No. 200, but he pitched a scoreless 10th. Instead, left-hander Charlie Furbush got his first Major League save in his 175th relief outing.
"Better late than never," said Furbush, which could've summed up the whole evening for the Mariners.
He had the last-out ball safely tucked in his glove.
"It's cool, man," Furbush said of save No. 1. "I'm just happy we won. It was a great game all-around, everyone pitched great."
It took back-to-back, 12th-inning doubles by Kyle Seager and Logan Morrison to give the Mariners the lead off Joe Thatcher, and an infield RBI single by pinch-hitter Justin Smoak that proved to be the decider because David Freese homered in the bottom of the inning off Dominic Leone (3-2) and brought in Furbush.
So, although right-hander Felix Hernandez didn't get the victory despite allowing just two hits and an unearned run in seven innings in an American League record-tying performance (that he didn't want to talk about), his effort wasn't wasted.
With his 12th consecutive game of pitching seven innings and allowing two runs or less, Hernandez tied the mark set by the Philadelphia A's Chief Bender in July-August 1907.
Manager Lloyd McClendon has seen a lot of great pitching in his 35 years in baseball, "but I haven't seen it this good [as Hernandez's season]. It's mind-boggling."
King Felix declined to talk about the accomplishment of matching Bender. He was happy the Mariners won, but disappointed he didn't "because I promised this one for my daughter [Mia], because it was her birthday." Mia Hernandez spent the day at Disneyland, her father said.
He spent the evening, at least the first part of it, locked in a duel with Angels right-hander Garrett Richards -- probably the best AL pitcher who wasn't in Minnesota for Tuesday's All-Star Game.
"I knew it was a tough matchup against Richards," Hernandez said. " He's been hot for awhile. I just wanted to go out and compete and make my team win. You've just got to make pitches and try to get people out." Hernandez, the AL All-Star starter, left with a 1-1 tie for his eighth no-decision in 21 starts. Hernandez has allowed just 12 earned runs in those no-decisions. He walked a season-high four, but struck out nine.
Richards was also on his game, allowing just one run on three hits in his eight-inning stint. Richards struck out seven and walked one.
"I know he's got really nasty stuff," Morrison said of Richards. "His numbers were there, his numbers are great. I was surprised he didn't make the All-Star team.
"He throws 98-mph cutters. That puts him ahead of the league."
As for his RBI double off Thatcher in the 12th, an opposite-field shot, Morrison said: "I was trying to pull that ball. I blacked out. It got down, and gave us a run. We needed the next one, too [on Smoak's bases-loaded roller down the third-base line], so it's good we got that one, too."
Earl Bloom is a contributor to MLB.com. This story was not subject to the approval of Major League Baseball or its clubs.