Off night for Mets results in loss to Padres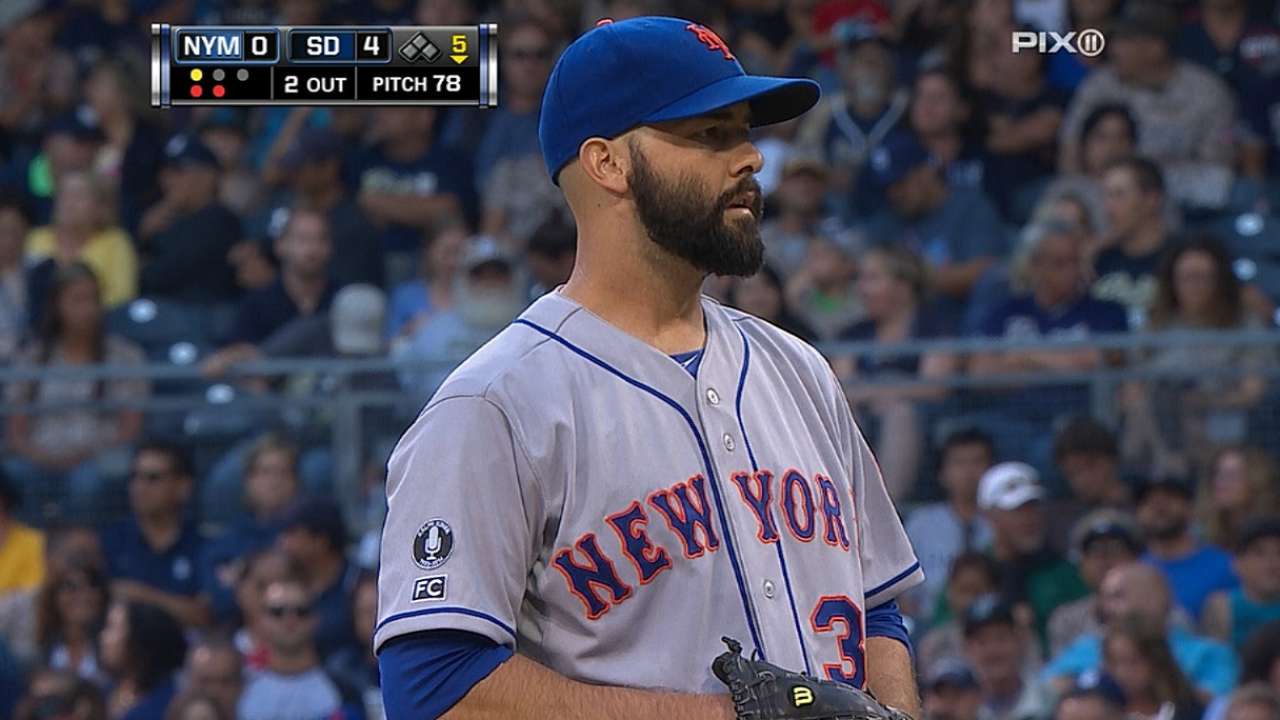 SAN DIEGO -- Even if the Mets have come pretty darn close of late, winning every night is not realistic. So they could not fret too much when they lost to the Padres on Saturday, 6-0, in a game that saw them struggle from start to finish. Dillon Gee gave up two home runs, the Mets allowed three as a team and Tyson Ross pitched seven shutout innings for the home team.
"You've got to hit," Mets manager Terry Collins said. "That's just the name of the game."
But the Mets did not hit, mostly because Ross was on point from the start, retiring eight consecutive batters to open the game and not allowing a hit until the fifth. Fresh off his first career All-Star appearance, he gave up four hits, struck out six and walked three.
The Mets were particularly complimentary of a slider that Ross threw 40 times, according to PITCHf/x data, though he seemed to have more than just that working. His fastball, for example, generated multiple swings and misses as it routinely popped into the mid-90s.
"We've talked about what it means to be one of those guys at the front end of the rotation, and to stop losing streaks and put zeros on the board," Padres manager Bud Black said. "He's starting to do that, and starting to do that in a fashion that isn't just slider-related. The fastball command is improving. He threw a couple good changeups today. The unpredictability of his sequences is very solid. I think today he was in command."
Gee was not nearly as sharp, despite eight strikeouts and no walks in his five innings. The Padres touched him for two long balls, including a 440-foot shot by Yasmani Grandal that opened the scoring in the second.
"[Gee] had the two strikeouts in the first inning but then, after that, the at-bats improved," Black said. "He had some called third strikes on fastballs, too. But we had some good swings. [Grandal] had great intent on a 3-1 count."
In the third inning, Chase Headley knocked another run home on a single, and Kirk Nieuwenhuis' throwing error -- on a ball that Ruben Tejada might have snared had he been covering third base -- allowed the Padres to plate their third run. Gee gave up another homer to Will Venable leading off the fifth, Seth Smith hit one off Carlos Torres in the sixth, and the Mets never recovered.
"It was just a bad night," Gee said. "I wasn't locating for a while, pitching behind guys, and that makes it tough when I do that. The positive side is, I felt strong [against] the last six hitters, so hopefully that can continue and I can carry that into my next start."
Though the bottom half of New York's lineup continued to put a fair number of runners on base, the heart of the order struggled. Daniel Murphy and David Wright finished a combined 1-for-8, dropping them to 1-for-17 with a walk since the All-Star break.
The Mets strung together their best opportunity against Ross in the seventh, loading the bases with two outs, but Ross struck out Tejada on his 103rd pitch of the night, an 86-mph slider, to end the threat.
"It definitely comes out of his hand easy," Nieuwenhuis said. "But it's 88 to 90 with his slider. He's got a good one for sure."
The Mets discussed all that in the aftermath of the loss without too much vexation or frustration. They have still won nine of 12, putting themselves in position -- potentially -- to add a piece or two prior to the non-waiver Trade Deadline later this month. One isolated defeat won't change that.
But it does place added pressure on the Mets to win Sunday's series finale, with Zack Wheeler squaring off against rookie right-hander Odrisamer Despaigne. Coming out of the All-Star break, the Mets know, a series victory would be significant.
Anthony DiComo is a reporter for MLB.com. Follow him on Twitter @AnthonyDicomo. This story was not subject to the approval of Major League Baseball or its clubs.