Asche earns praise for improved offensive approach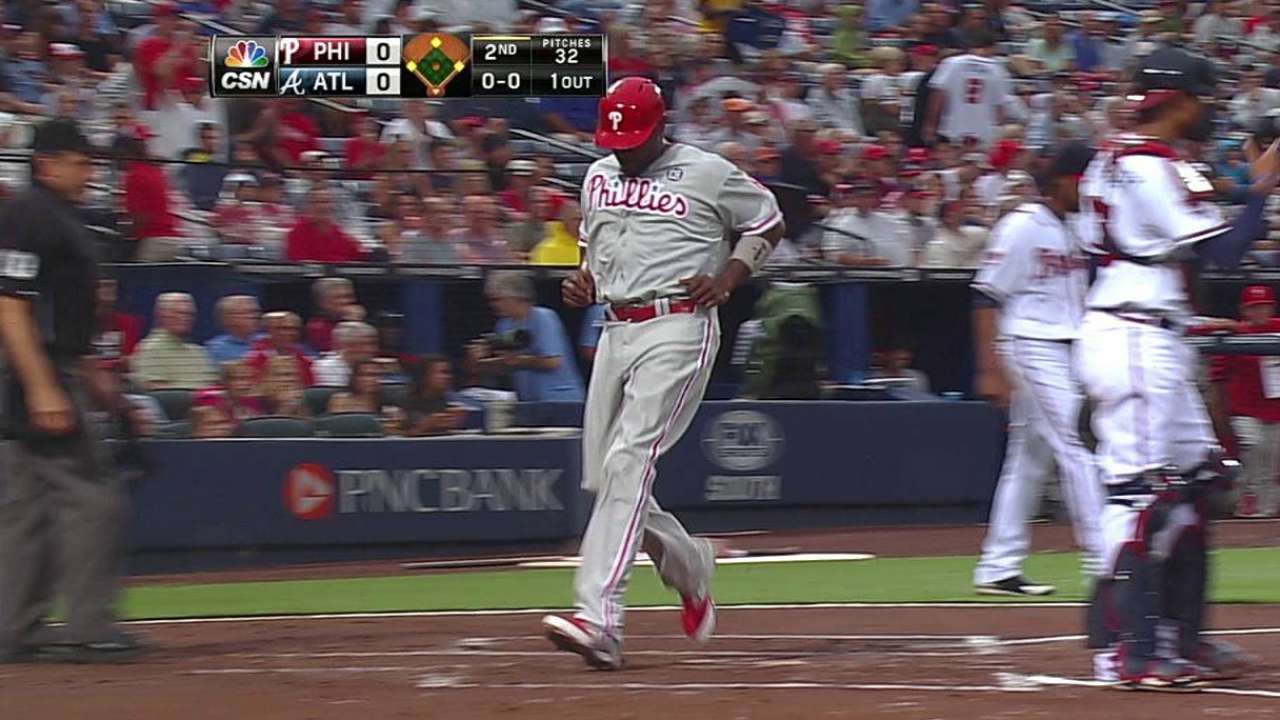 ATLANTA -- Cody Asche will never be accused of not respecting the game of baseball. At the same time, he also refuses to overthink it.
"Just try not to over-complicate things," said the Phillies third baseman, who has cemented his place at third despite seeing his 10-game hitting streak end Saturday night. "I'm really just trying to be a part of the offense. Be one of the eight hitters when called upon. I think that's really a key for me.
"You don't want to go into a game thinking you've got to drive in eight runs to win. You can't hit a five-run homer. … Know what the situation dictates, then try to execute that. Whether it's a hit-and-run, getting a runner over, a sac fly. If there's a time where you have to try to get into one, then you do that. You really just focus in on trying to be a team hitter."
The improved approach, especially since his return from the disabled list on June 20, is noticeable and is earning positive feedback.
"He's been playing well," said general manager Ruben Amaro Jr. "I think he's gaining some confidence. It's really about experience. The young kids have to get a chance to play. He's getting his chance to play.
"He was real hot when he got hurt, which is unfortunate, but I think he's getting back into it again. He's still working on some stuff defensively and offensively, but he's contributing and he's taking more aggressive swings, making pretty good contact. I like what I see out of Cody."
Phillies manager Ryne Sandberg agreed.
"He seems to be nice and aggressive right from the get-go at home plate, looking for a pitch to hit. Going up there to do something with the pitch," said Sandberg, making reference to Friday night and Asche's second-inning sacrifice fly that gave the Phillies a 1-0 lead. "For him, to stay consistent, it's using the whole field and staying with a left-center stroke when needed and reacting inside to the pull side. Sometimes he tends to get a little bit pull-happy."
Sandberg ideally sees Asche as a gap-to-gap guy who will hit for average and still hit in the 15- to 20-homer range. He also is impressed with Asche's defensive progress.
"I know that he has good work habits and seems to make adjustments and show improvement as he's gone. That's what we see at third right now," Sandberg said. "He has a good, true arm. A strong arm and a real, true flight on the ball."
Asche, a fourth-round pick in 2011 who started in 42 games in 2013 and turned 24 last month, isn't believing the hype, but he is believing in himself as he seeks to finish the season strong one at-bat at a time.
"I have confidence in myself, not to let one at-bat dictate the next," Asche said. "Each at-bat is independent of the next. Don't let the result of what happened that last at-bat dictate how you approach your next one.
"Like when you see [Ryan Howard] got one off the hands and it dropped for two RBIs. The next at-bat, he smokes one and [Jason] Heyward makes an unbelievable catch in right. That's baseball. You can't get mad at the game. You can't get mad at baseball for being baseball."
Jon Cooper is a contributor to MLB.com. This story was not subject to the approval of Major League Baseball or its clubs.