Wood can't find remedy for road woes as Cubs fall
Lefty surrenders seven runs to remain winless since June 15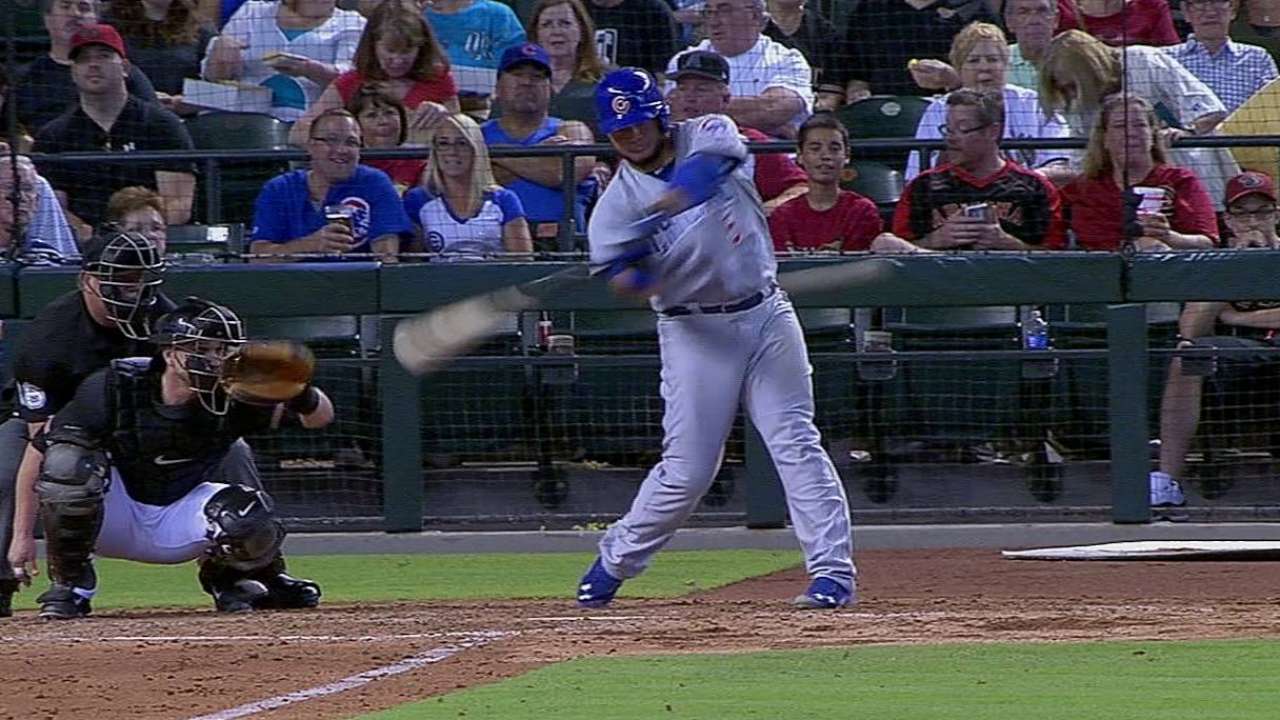 PHOENIX -- Travis Wood's road struggles continued Saturday, and so did the Cubs'.
Miguel Montero hit a bases-clearing double and Paul Goldschmidt drove in three runs, including two on his 18th homer, to back Wade Miley and lead the Diamondbacks to a 9-3 victory Saturday night over the Cubs in front of 32,528 at Chase Field.
The Cubs now have lost 10 of their last 12 games since they traded Jeff Samardzija and Jason Hammel to the Athletics. The pitching has scuffled since the two departed. In the 12 games, Chicago's pitchers have given up 77 earned runs over 103 innings for a 6.73 ERA. Teams are batting over .300 against them during this stretch.
Wood watched last season as starters Matt Garza and Scott Feldman were dealt in July. It has been tough to fill those spots.
"For me, once we lost Hammel and Jeff, it's a big gap to fill in the rotation," Wood said. "For sure, I really want to go out and give seven, eight innings as strong as I can every time and so far it hasn't been happening. Like I said, I promise we'll get there."
Wood hasn't won since June 15 when he threw eight shutout innings against the Phillies. On Saturday, he served up seven runs (five earned) over 5 1/3 innings, and has given up 42 earned runs over 60 1/3 innings on the road for a 6.27 ERA. He has a 3.88 ERA at Wrigley Field. The lefty, who was the Cubs' lone All-Star representative one year ago, is 0-4 in his last six starts.
"We've seen a lot of three-ball counts," manager Rick Renteria said of Wood. "There have been a couple games where he's gotten up to near 100 pitches over five innings. That's a sign of either pitches being fouled off to drive the pitch count up or command of his strikes. It's something he's working on and we're hopeful it's something he can clean up soon."
Wood had been the Cubs' most consistent starter last season, so the troubles are a shock.
"It's not that it can't happen again," Renteria said of Wood getting back on track. "He's really grinding to find his rhythm."
"It's been a struggle," Wood said. "That's baseball. You have to overcome stuff and figure out how to work around things. So far, it's been a learning year, trying to figure out how to basically get back to what I do. We're going to get there, I promise you that. It'll just be a struggle until then."
What is he learning?
"Baseball is a game of adjustments, and hitters will make adjustments to you, and you have to make it towards them," Wood said. "Sometimes they make it quicker than you do. Right now, that's what I'm struggling with. Last year, [former manager Dale Sveum] was preaching down and away and keeping them out there, and I think [teams have] caught on to that."
Is Wood trying to be too fine?
"Maybe," Wood said. "It's not like I"m selling balls all over the place, I'm just missing. Maybe if we can get back, zoned in with quick outs."
The Cubs opened a 1-0 lead in the first on Starlin Castro's one-out RBI single, but the Diamondbacks tied the game in the third. Goldschmidt singled with one out and scored one out later when Montero singled to center and Arismendy Alcantara overran the ball for an error. Castro threw home on the relay, but Goldschmidt dodged catcher Welington Castillo to score.
"'Mendy' came in hard, overran it a little bit, took his eye off the ball a little bit," Renteria said. "The throw [by Castro] was just off line so we weren't able to get the run at the plate."
Castillo led off the fourth with his seventh home run, and Junior Lake then tripled and scored on Mike Olt's sacrifice fly to go ahead, 3-1. Miley had given up three runs total over 21 2/3 innings in his three previous starts. That was all the Cubs managed against the lefty, who struck out seven over seven innings.
"He works very quickly, is very poised, very calm," Renteria said of Miley. "We were able to get to him early but weren't able to tack on any more later. We had a play here or there that made it open up. We just weren't able to continue to grind out and put some runs across."
Wood needed 27 pitches to get through the first inning, and just eight to retire three batters in the fourth. But Ender Inciarte doubled to open the D-backs' fifth and Wood walked both Aaron Hill and Goldschmidt to load the bases. One out later, Montero cleared them with a double to put his team ahead, 4-3.
How strange are things for the Cubs? Renteria forgot to remove Wood during a double switch in the sixth.
"It's very unorthodox, but not illegal," Renteria said, chuckling.
The manager went out to tell home-plate umpire Jim Joyce about the change, which is required.
"I was talking to Jim," Renteria said. "I grabbed the rail [of the dugout], because I was going to take a spill, and I grabbed the rail and I'm laughing. I said, 'Gosh, I think I blew my shoulder out,' and I'm giving him the switch.
"As I kept continuing to talk to him, I lost track that I left my pitcher out there," Renteria said. "I know [manager Kirk Gibson] came out, but it's not illegal because I never went to the hill."
At least the Cubs had something to laugh about.
Carrie Muskat is a reporter for MLB.com. She writes a blog, Muskat Ramblings, and you can follow her on Twitter @CarrieMuskat. This story was not subject to the approval of Major League Baseball or its clubs.