Twins can't touch Price, drop second straight
Hughes goes seven uneven innings while bats are quieted once more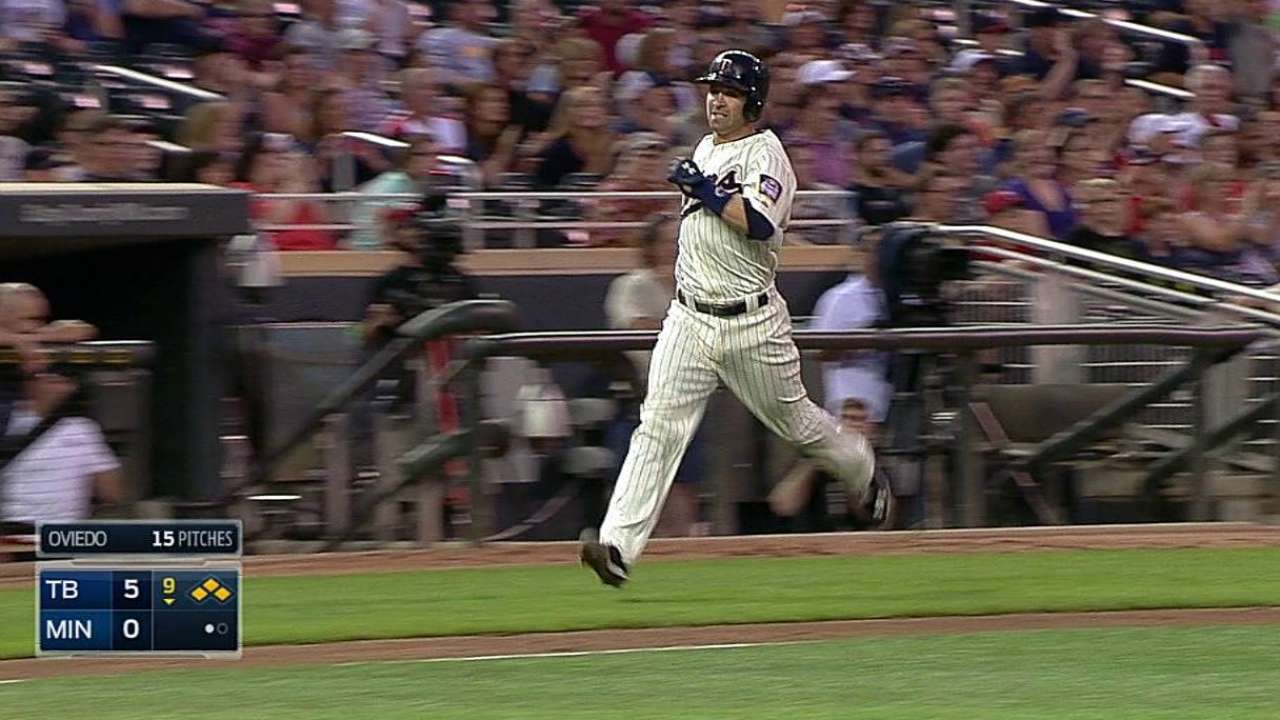 MINNEAPOLIS -- After the Twins' 5-1 loss against the Rays at Target Field on Saturday night, it was clear who was on the club's mind.
Every question about the team's nearly non-existent hitting was met with one answer: David Price.
"You want to try to stay even with that guy," manager Ron Gardenhire said. "You give him runs, and you saw what he can do. Price was unbelievable. He had great stuff tonight. With all of his pitches, he pretty much dominated us."
The Rays' ace left Minnesota's lineup shaking its collective head. The Twins were unable to put together a legitimate scoring threat until Price left the game with eight scoreless innings and nine strikeouts under his belt.
"We knew we would have to battle today against Price," Eduardo Nunez said. "But we didn't do anything."
Meanwhile, Twins starter Phil Hughes continued to let his comeback season slip off the rails.
The game marked the fifth time in Hughes' past six starts that he gave up at least five earned runs, and his ERA -- which was a solid 3.09 on June 21 -- has risen to a pedestrian 4.06.
"I battled as best I could," Hughes said. "I didn't have really much to work with tonight."
After escaping a two-on, one-out situation in the first, Hughes wasn't as lucky in the second.
James Loney singled to start the inning and eventually advanced to third on a double play turned by Brian Dozier. With two outs, Jose Molina singled in Loney to start the scoring, and then Sean Rodriguez promptly blasted a 381-foot home run into the second deck in left field.
"I felt like I could've gotten Molina out to get out of that inning," Hughes said. "You look up and it's 3-0 and your heart sinks a little bit because you know you were one pitch away from getting out of that inning."
For the second night in a row, the Twins were in a 3-0 hole. But unlike Friday, they couldn't muster a comeback attempt until a Price-less rally in the ninth fell way short.
"On a night like this where you're facing Price, it's a, 'Too little, too late' sort of thing," Hughes said. "At the end of the day, it wasn't enough."
That was mostly because the 2012 Cy Young Award winner didn't even let the Twins touch third base in his eight innings of work.
In the fifth inning, Chris Parmelee and Eduardo Escobar pieced together a pair of singles with one out. But Eduardo Nunez couldn't manage a productive out in a must-score situation. He grounded into a 6-4-3 double play to end the threat.
"I've never been the pitcher that I am right now," Price said. "It's cool. I enjoy it. I want to get better every day. I'm constantly looking for things to critique, to give hitters something else to think about. I'm just never satisfied."
Meanwhile, Hughes used four double plays to keep his pitch count low and allow him to pitch seven full innings. But with the offense unable to come up with answers, a combination of fat fastballs and poor defense let Tampa open up a bigger lead.
With runners on first and third in the seventh, Dozier flubbed a grounder that could've either turned into a forceout at home or a double play ball. He got the out at first, but Logan Forsythe scored. One batter later, Danny Santana couldn't cleanly field a rolling single in centerfield, which allowed Yunel Escobar to score.
'We felt like we had a good road trip coming into the break, and then you want to kinda start this thing on a positive note," Hughes said. "To not do that is a little disappointing, but obviously, there's a lot of season left."
While that's true, only 11 games remain before the trade deadline on July 31, and the Twins are eight games below .500.
In other words, it's time to produce wins if the team wants to avoid a fire sale. "You can sit there and say, 'We're struggling offensively,'" Gardenhire said. "But when Price is on the mound, most teams do struggle offensively. Yesterday, that guy Cobb was pretty good, too. You've got to remember: These guys have a pitching staff. That's what they've been known for for a few years. They can pitch."
Alex M. Smith is an associate reporter for MLB.com. Follow him on Twitter @asmiff. This story was not subject to the approval of Major League Baseball or its clubs.