Rays earn series win behind dominant Price
Tampa Bay's ace stays red-hot, tosses eight scoreless innings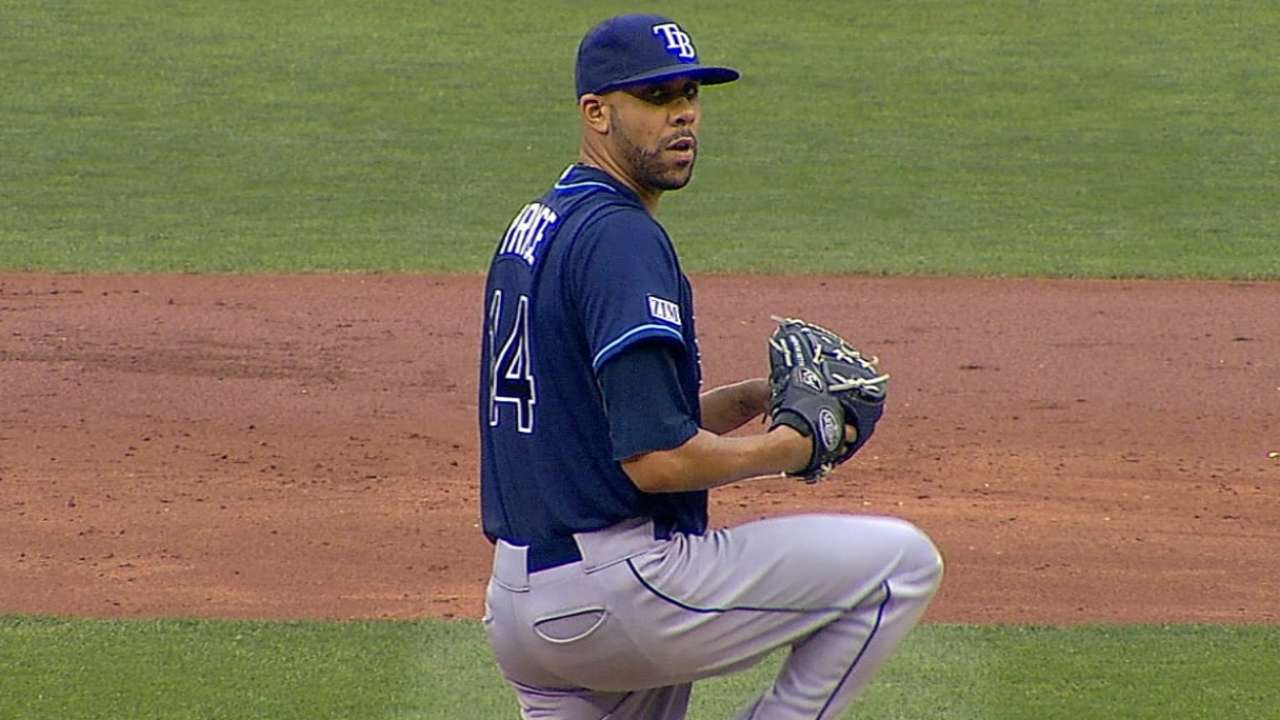 MINNEAPOLIS -- David Price is on a different planet these days, perhaps even on loftier ground than when he won the 2012 American League Cy Young Award. He dominated the Twins on Saturday night en route to his fifth consecutive victory to lead a 5-1 Rays win at Target Field.
The Rays clinched their first series of the second half with their fourth straight win. They have won 13 of their last 17 and they are 22-11 since June 11. Prior to June 11, the Rays had lost 14 of 15.
Price moved to 10-7 on the season. The lefty allowed just four hits and struck out nine in eight innings of work. In doing so, he extended his American League-leading totals in strikeouts (173) and innings pitched (155 2/3), and he's riding a streak of 16 scoreless innings.
"Price was unbelievable," Twins manager Ron Gardenhire said. "He had great stuff tonight. With all of his pitches, he pretty much dominated us."
Price has gone at least eight innings in seven of his last eight starts, prompting Rays manager Joe Maddon to note that Price is pitching as well as he did in '12. Price went a step further than his manager when he said he is throwing the ball better.
"I said that a month and a half ago. Six or seven starts ago," Price said. "I've never been the pitcher that I am right now. ... It's cool. I enjoy it. I want to get better every day. I'm constantly looking for things to critique, to give hitters something else to think about. I'm just never satisfied."
Ever the perfectionist, Price was not happy about his first inning when he threw 23 pitches. He said the problem stemmed from having trouble locating his fastball.
"Everything for me spins off of my fastball location if can have that going in the first couple of innings," Price said. "That opens up a lot of doors for me. We were able to settle in. ... I would say the third was when I felt a lot better. I made some adjustments."
Meanwhile, the Rays' bats cooperated with 13 hits, which Maddon can be partially credited for because he did his homework.
Maddon wasn't buying the classic right-lefty matchup against Phil Hughes. The Twins' starter, though right-handed, had been getting solid results against left-handed hitters thanks to his cutter. So Maddon opted to fill his lineup card full of right-handed hitters -- seven to be exact.
Only James Loney, who hits left-handed, and Ben Zobrist, a switch-hitter, batted from the left side against Hughes. And the initial results were good. Tampa Bay had two hits in the first before a double play killed the threat, and two hits in the second before the Twins turned another double play. Only this time, Yunel Escobar reached third base with two outs.
Jose Molina followed with an RBI single to right, then Sean Rodriguez -- the DH hitting ninth in the order -- feasted on a 1-0 fastball from Hughes and hit the ball 381 feet into the second deck in left. The blast -- the 10th of the year for Rodriguez -- gave the Rays a 3-0 lead.
"That was probably more [of a key hit than the home run], Molina getting that base hit," Rodriguez said. "Because it kept that inning alive."
Rodriguez has 35 hits on the season, 20 of which have gone for extra bases. Eight of his 10 home runs have come with runners on base, and he has 35 RBIs in 150 at-bats.
"I give a lot of the credit to [hitting coaches] Jamie Nelson and Derek Shelton," Rodriguez said. "Just preaching to me to really trust my preparation. Not try to do too much. ... They've just been preaching that to me."
Logan Forsythe drew a walk against Hughes to start the Rays' seventh and moved to third on Escobar's single to right. Molina grounded out to second to score Forsythe, and Rodriguez singled through the middle to score Escobar from second to push the Rays' lead to 5-0.
While the Rays had a good day offensively, it could have been a much better day had they not grounded into five double plays, coming up one short of the team record.
"[The double play is] any pitcher's best friend," Rodriguez said. "That's what he's trying to do. Locate either his fastball or cutter down and getting guys to hit the top half of it right where you want them to."
The lone damper on Saturday night's win came in the fact that Juan Carlos Oviedo couldn't nail down the ninth inning and the Rays had to use Jake McGee to get the final two outs. On the bright side, the hard-throwing left-hander accomplished what he was brought into the game to do. Inheriting runners on first and second, McGee retired Chris Colabello on a flyout to left and struck out Chris Parmelee to preserve the win and earn his eighth save of the season.
For the past couple of weeks, Maddon has been preaching the need to win series. After accomplishing that on Saturday, the Rays manager wanted more.
"When you win the first two you get greedy," Maddon said. "Just keep it going. We're just playing well. I don't want to say I'm surprised, but I'm really impressed how we've played with that many days off. I mean, a lot of times we are not that group."
Bill Chastain is a reporter for MLB.com. This story was not subject to the approval of Major League Baseball or its clubs.