Big night from offense moves Nats back into first
Zimmerman, Ramos each drive in three runs to back solid Roark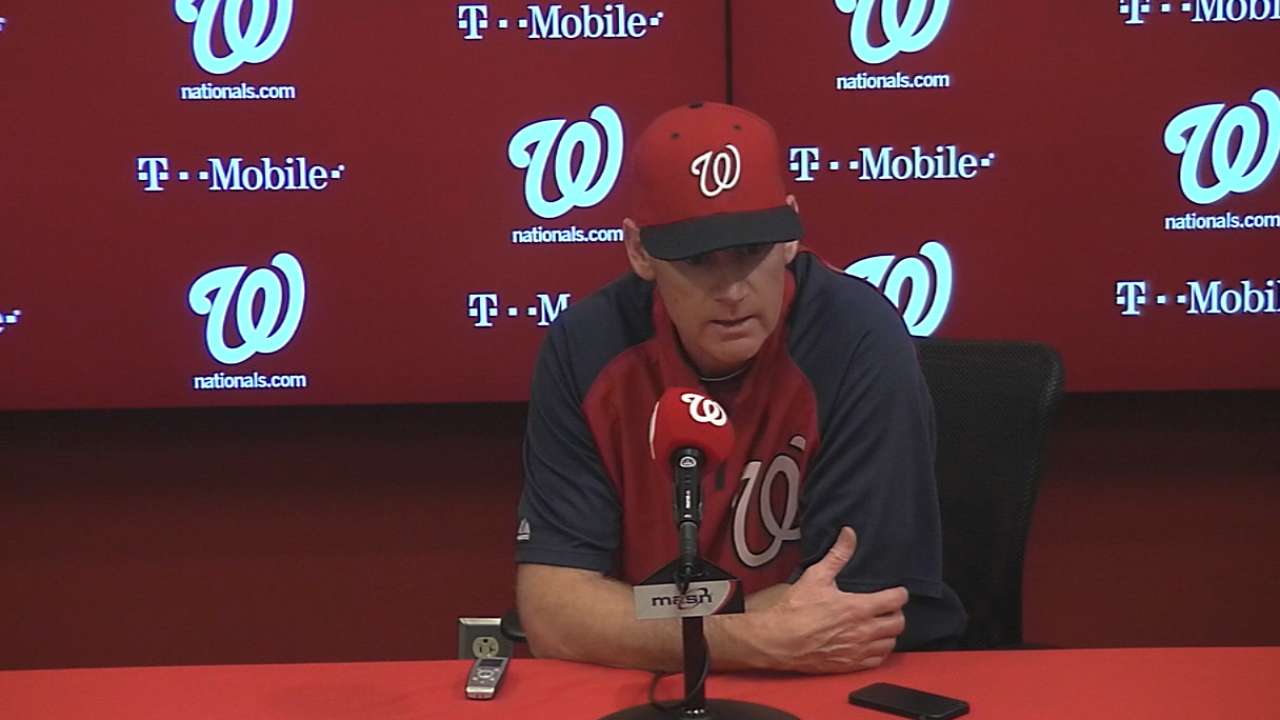 WASHINGTON -- The Nationals are back in a first-place tie with the Braves after pounding the Brewers, 8-3, at Nationals Park on Saturday night. Atlanta opened the door with a 2-1 loss to Philadelphia at Turner Field.
A day after looking listless at the plate, the Nationals' bats came back to life in the first inning off right-hander Matt Garza, who lasted one-third of an inning and allowed five runs.
"We need some luck every now and then, too," Nationals third baseman Ryan Zimmerman said. "… We just kind of hit the ball where they weren't. We got some timely hits like we didn't yesterday. We got a good lead to start the game."
With the bases loaded, Zimmerman singled to center field, scoring Denard Span and Jayson Werth to give Washington a 2-0 lead. Two batters later, Adam LaRoche scored on an infield single by Ian Desmond before Zimmerman and Bryce Harper scored on a single by Wilson Ramos.
"You want to be aggressive," manager Matt Williams said. "We have an opportunity for a crooked number there. I think the big at-bat was Wilson Ramos. He got behind [in the count], got to two strikes. He hit a slider. That's a big cushion and it extended the inning."
After the single by Ramos, Garza was taken out of the game in favor of right-hander Marco Estrada, who pitched 5 2/3 innings and allowed three runs on five hits. Ramos and Zimmerman had RBI singles, while LaRoche had a sacrifice fly against Estrada.
"Call it what you want," said Garza, shrugging off the suggestion he suffered bad luck. "It was not a good day. I felt fine. Nothing felt off. Just, what are you going to do? ... There's nothing else you can say. One of those days, you kind of wash it and hope your guys can pick you up. Marco did a hell of a job, not ready."
With a comfortable lead, it was enough to give Tanner Roark his team-leading ninth victory of the season. Roark, who didn't know that he had that many victories, was humble when he talked about his success.
"The biggest thing for me is that we are playing good team ball and scoring runs early. It helps a lot," Roark said. "It gives me confidence and I pitch with no fear."
The key for Roark is location. Without it, as he put it, opposing hitters are going to hit mistakes.
"You have to keep them off balance and pitch inside, which is a huge key for me," Roark said. "I've learned a lot about pitching instead of just throwing it up there. You have to read swings and learn how the hitters react to certain pitches."
Trying to add to his repertoire, Roark on Saturday decided to rely heavily on his slider instead of his curveball. He learned how to grip the slider by watching teammate Jordan Zimmermann. By changing the grip on the pitch, Roark added more velocity.
"The slider is right near the same grip as my curveball," Roark said. "It's just a little farther away. It feels perfect, it feels good."
With the help of the slider, Roark lasted seven innings, allowed one run on six hits and struck out five batters. The run scored in the second inning. With one out, Jonathan Lucroy hit a one-out double, stole third base and then scored on a throwing error by Ramos.
Left-hander Jerry Blevins continued to have problems on the mound, allowing a two-run homer to Ryan Braun in the eighth inning. In his last 10 games, Blevins has allowed eight runs over nine innings. It hasn't helped that he hasn't been able to get right-handed hitters out. They are hitting .322 against him, while lefties are hitting .117.
"The ball to Braun was up in the strike zone," Williams said. "It's cross angle to the left-handed hitter, difficult to see. It's a little easier to see through the right-handed hitter. I think a key for him against the righties is to command the fastball in. If he can do that, then he opens the other side of the plate."
Bill Ladson is a reporter for MLB.com and writes an MLBlog, All Nats All the time. He also could be found on Twitter @WashingNats. This story was not subject to the approval of Major League Baseball or its clubs.