Brewers unable to overcome Garza's short start
Right-hander allows five earned runs over just one-third of an inning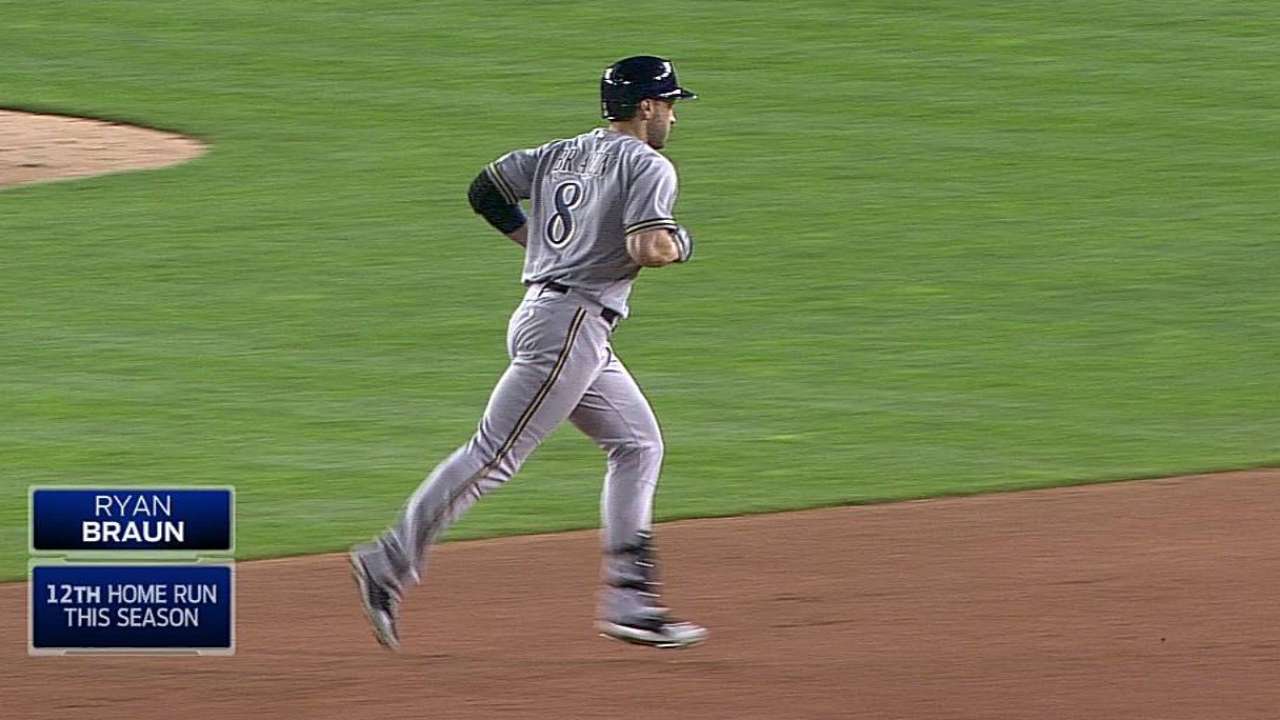 WASHINGTON -- There would be no no-hitter watch this time for Matt Garza, who had blanked the Phillies into the seventh inning of his final start before the All-Star break, and the Reds into the fifth inning of the outing before that. This time, Garza's brief and brutal start began with Washington's leadoff man, Denard Span, dumping a soft single into shallow center field.
Garza struck out the next batter, Anthony Rendon, which was notable because it would stand as Garza's only out of what became a five-run inning and an 8-3 Brewers loss at Nationals Park on Saturday. The decision dropped Milwaukee back into a first-place tie with the St. Louis Cardinals in the National League Central, which the Brewers have led every day since April 5.
The Nationals blooped, bounced, dribbled and flicked Garza from the game after 42 pitches, five runs and five well-placed hits.
"Call it what you want," said Garza, "it was not a good day. I felt fine. Nothing felt off. Just, what are you going to do?"
It was relatively rare stuff:
• Garza was the first Brewers starter to last one-third of an inning or less since Zack Greinke was ejected by the first-base umpire in the bottom of the first inning on July 7, 2012, in Houston before recording an out. Before that, no Brewers start was as short since Dave Bush surrendered seven runs in one-third of an inning at Minnesota on May 21, 2010. Span led off that game for the Twins with a single. A young Brewers catcher named Jonathan Lucroy made his Major League debut and collected his first hit.
• Only 41 times in the Brewers' 46 seasons as a franchise has a starter not recorded at least two outs. Only four of the outings, including Garza's, have come in the past 24 years. In 13 of the 41 games, including Garza's, the pitcher was charged with at least five earned runs. In nine of the 41 games, but not Garza's, the Brewers managed to win the game.
• Garza became the fifth Major League starter this season to record fewer than two outs, and the third this month. Only one of those five starts was shortened by an injury; Jon Niese was struck by a line drive in the Mets' July 4 game and exited as a precaution.
• By "game score," a metric developed by Bill James to measure a starting pitcher's effectiveness, Garza endured the seventh-worst game in Brewers history. Garza scored a 20. Bush's score of nine in his 2010 loss to the Twins remains unrivaled in franchise lore.
• It was the shortest start of Garza's career, eclipsing his 1 1/3-inning, seven-run outing for the Rays on June 18, 2010. A kid named Mike Stanton (now Giancarlo Stanton) hit a grand slam off Garza that night for his first career home run.
On Saturday, before Brewers manager Ron Roenicke sent Garza fuming to the showers, he was charged with five earned runs on five hits -- Span's leadoff single on a pitch up and in, Jayson Werth's double that dropped in front and then past right fielder Ryan Braun, Ryan Zimmerman's two-run single that bounced over the mound and into center field, Ian Desmond's infield RBI hit that rolled slowly toward shortstop, and Wilson Ramos' two-run single into center field.
Garza hurt his cause by issuing two walks. Nationals batters hurt his cause by flicking 13 of Garza's first 35 pitches foul.
"He didn't throw the ball that bad," Roenicke said. "He made good pitches and they did a good job flicking them off, and they did a good job of reaching out and putting the ball in play. One ball was hit hard, and that was the eighth hitter, Ramos. That was the only hard-hit ball in the inning, and I have to take him out in the first inning."
After Garza crossed the 40-pitch threshold, Roenicke began to worry about injury risk.
"We couldn't let him get to 50," Roenicke said.
Roenicke will discuss with pitching coach Rick Kranitz the idea of bringing back Garza earlier than his usual five days. Garza indicated he would not request a rotation shuffle.
"I don't think it's necessary," he said. "We have confident guys. We have great guys. … It's not a big rush. Just get ready for the next fifth day."
With Garza gone, Marco Estrada took over and did a good job of cutting the inning short. He fielded a Tanner Roark bunt and shoveled it home to prevent another run from scoring, then retired Span on a fly out. Estrada went on to pitch 5 2/3 bullpen-saving innings while allowing three more runs. It was the Brewers' longest relief outing since 2007.
"Marco did a hell of a job coming in not ready. I think he barely sat down [in the bullpen] before coming in," Garza said. "He did a great job, came in and picked me up and battled his butt off."
Roark pitched seven effective innings before Braun launched a two-run homer to left field off reliever Jerry Blevins in the eighth. It was Braun's 12th home run.
Adam McCalvy is a reporter for MLB.com. Read his blog, Brew Beat, and follow him on Twitter at @AdamMcCalvy. This story was not subject to the approval of Major League Baseball or its clubs.