Anderson's solid start not enough as Rockies fall in 11
Bullpen loses lead after CarGo's two-run homer in seventh inning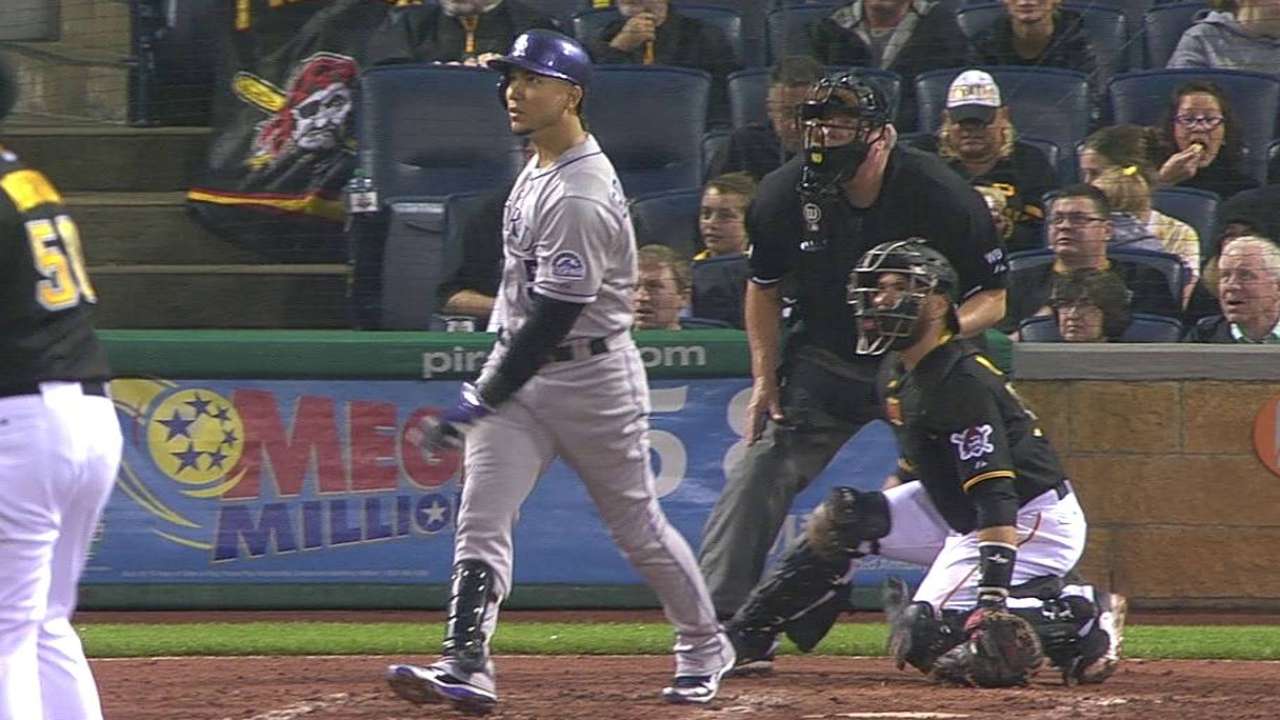 PITTSBURGH -- A polar vortex-y Saturday night rekindled the warm feelings of a desert Spring Training, when the Rockies watched new acquisition Brett Anderson and dreamed of consistent, solid pitching. Add Anderson's seven strong innings and one run against in his second start since returning from injury to Jorge De La Rosa's six innings of one-run ball Friday night, and you have a Rockies 2014 rarity -- consecutive solid starts.
"Truthfully, my stuff wasn't too much better," said Anderson, who gave up five first-inning runs to the Twins, but just one subsequent run while pitching through the fifth, in his last start. "I just executed pitches better and was more efficient. I think I threw more pitches tonight [110] than I have in two-plus years. But I feel like I battled well and gave us a chance."
Nonetheless, the Rockies ended up out in the cold again.
Anderson's lead disappeared when Adam Ottavino couldn't find the plate in the eighth inning, and the Pirates' Jordy Mercer's one-out double in the 11th off Chad Bettis sent the Rockies to their fourth straight loss, 3-2, at PNC Park before a sellout crowd of 37,396.
Oh, and the wet night produced yet another injury for the Rockies.
This time, superstar shortstop Troy Tulowitzki grabbed the outside of his left thigh and left the game after grounding out to end the fourth. The Rockies called the injury a cramp in the tensor fasciae latae. If it's the common runner's injury, it can be treated with rest, strengthening, stretching and massage therapy and should not be too bad, but nothing is simple in a tough injury year for the Rockies.
There also was simple bad luck. With one out in the top of the 11th with runners at first and third, Charlie Blackmon lined out to Pirates reliever Jared Hughes (5-2), who doubled Charlie Culberson off third base. Blackmon turned his left ankle coming out of the batter's box. X-ray results were not immediately available.
For a while, though, it was a cool night in more ways than one for the Rockies.
Anderson suffered a broken index finger in mid-April and missed 16 starts, as the Rockies struggled to find competent pitching.
But on Saturday, Anderson worked quickly, had fine results from his breaking ball and rarely met trouble. In the fourth, Neil Walker doubled to lead off and Gaby Sanchez doubled him home, and that was it for the Pirates' offense against him. Anderson retired the final 10 batters he faced and struck out six of them, including all three batters in the seventh.
"Brett looked great," Rockies manager Walt Weiss said. "The second time out after being away for a long time, he goes 110 pitches into the game and gives us a heck of a start. He had a good breaking ball and threw some good changeups, which is a good sign."
Carlos Gonzalez, in his fifth game after missing 35 games because of surgery to remove a benign tumor from his left index finger, homered for the ninth time this season and first time since May 30. The two-run shot in the top of the seventh gave the Rockies a 2-1 lead.
The Rockies had a 2-1 lead Friday night, as well, but lost, 4-2, because of bullpen breakdowns.
With few other options to pitch the eighth, Weiss went back to Rex Brothers, who was charged with the tying run Friday night, for one batter -- Gregory Polanco, who flied to left.
Ottavino, who hit Starling Marte in the helmet with the bases loaded Friday night to force in the tying run, was shaky. Ottavino walked Josh Harrison and Andrew McCutchen, on an at-bat that saw a not-so-close wild pitch, then gave up Russell Martin's bouncer to short. The only play for Josh Rutledge, who replaced Tulowitzki, was at third, but the throw was late.
"I'm sure it shook him up a little bit last night," Weiss said. "I don't know. It didn't carry over to tonight."
Walker tied the game with an RBI single to right on the first pitch from Tommy Kahnle, who replaced Ottavino. Gonzalez nailed McCutchen at the plate.
Walker singled off Bettis (0-2) to open the bottom of the 11th, took second on Chris Stewart's bunt and scored on the Mercer double.
"Those situations, you need to slow down," Mercer said. "Everyone is amped up. You take a deep breath, get something to hit and put a good swing on it."
Thomas Harding is a reporter for MLB.com. Read his blog, Hardball in the Rockies, and follow him on Twitter @harding_at_mlb. This story was not subject to the approval of Major League Baseball or its clubs.