Mercer's walk-off double lifts Bucs in 11 innings
Pirates make Rockies pay for intentional walk of Alvarez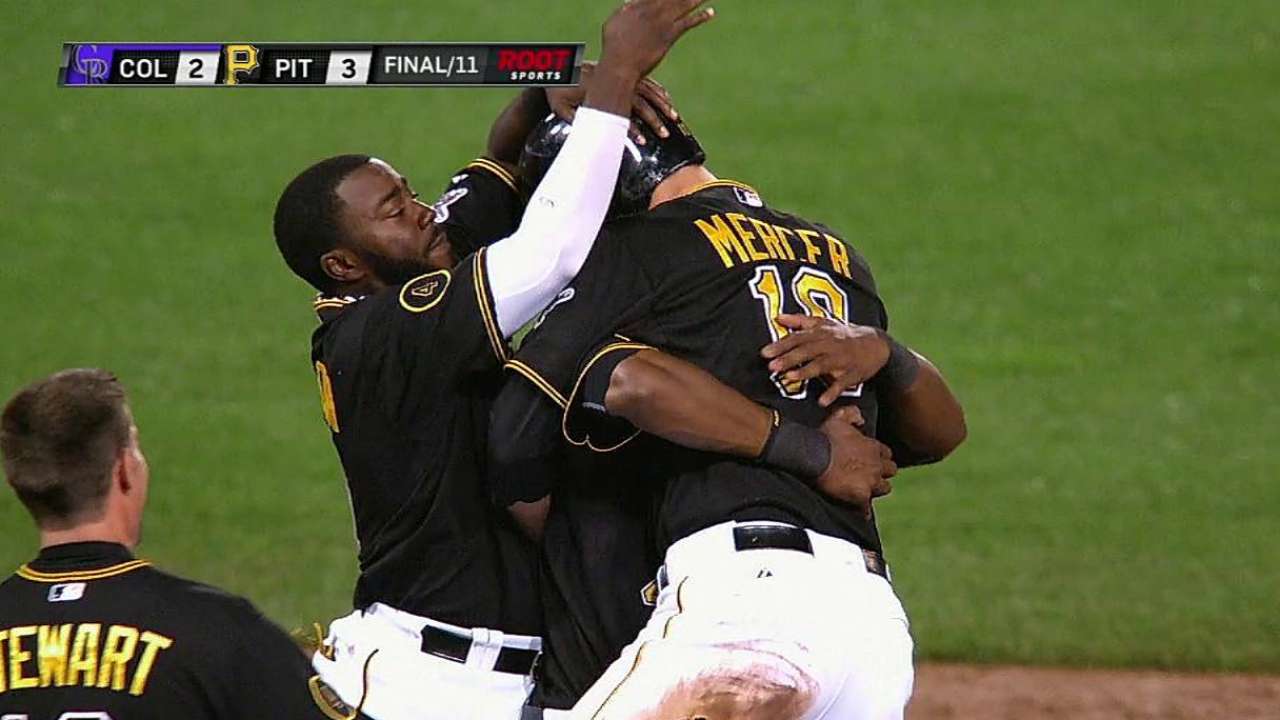 PITTSBURGH -- As he watched Pedro Alvarez take an intentional walk from the on-deck circle, Jordy Mercer had some time to think about the situation he would be in once he dug into the batter's box.
That was the first step. Next were a few healthy exhales, a small amount of patience and one substantial swing of the lumber.
Mercer's walk-off double pushed the Pirates past the Rockies, 3-2, in 11 innings Saturday night at PNC Park. The drive to left-center scored Neil Walker, who started the inning with a single against Chad Bettis.
"Going in, you already have the mindset that you're going to be the guy up there," said Mercer, who has raised his average 51 points since the start of June. "It kind of puts you in a good position at first, but you still have to slow it down. When you step in the box, it's a whole different world. You have to slow down and get something to hit."
Before Mercer's walk-off, the game was kept scoreless in the top of the 11th when Pirates reliever Jared Hughes made the defensive play of the game while barely moving his glove an inch.
Hughes got into trouble with runners on the corners and one out. But the right-hander got out of it in the blink of an eye when Charlie Blackmon's hard-hit line drive went right into Hughes' glove, and he was able to double off Charlie Culberson at third base. Pirates manager Clint Hurdle said he wasn't sure if Hughes caught the ball or the ball caught him.
Hughes confirmed it was the latter.
"He hit the heck out of it, and it literally went right in my glove," Hughes said. "I feel like I didn't even have any time to react to it. It was just in there. I realized I caught it and went to third base with it."
The Pirates -- who gained a game in the National League Central standings and are now 2 1/2 games behind St. Louis and Milwaukee -- got to extra innings thanks to Walker's RBI single in the eighth. Josh Harrison and Andrew McCutchen took walks from reliever Adam Ottavino to start the inning, and both tried to score on Walker's line drive to right field.
Harrison easily trotted home, but McCutchen was thrown out by right fielder Carlos Gonzalez for the inning's second out. Pinch-hitter Travis Snider, who hit the go-ahead double in the eighth inning of Friday night's win, struck out to keep the game tied.
The offense in the eighth was the first of any kind for the Bucs since the fourth inning. They scored their first run when Walker and Gaby Sanchez hit back-to-back doubles, but then Rockies starter Brett Anderson retired the next 12 batters he faced. Anderson totaled eight strikeouts and one walk for a no-decision.
"His breaking ball was real good," Rockies manager Walt Weiss said of his starter. "He's got a great breaking ball and used it well tonight. I think he went to it especially late, when maybe he was getting a little fatigued."
Added Mercer: "Anderson had some good stuff, it was mixing well. When you see someone different after him, you kind of get back to where you need to be. I thought that we did that. As soon as he came out of the game, we started having really good at-bats and put pressure on them."
Right-hander Charlie Morton turned in a quality outing for the Pirates, but for his second straight start, he went from rifling through an opponent's order to seeing his lead vanish in a handful of pitches.
Morton faced one more than the minimum through six frames, but Nolan Arenado roped a double on the first pitch of the seventh inning. Gonzalez, the next batter, lifted a 2-2 breaking ball over the right-field fence to give the Rockies a 2-1 lead.
"It was middle, hung it," Morton said. "Curveball has been there for me all year, I just didn't execute it."
Morton -- who gave up five runs in the sixth inning in the final start of his first half -- was sound otherwise and got some help from his defense a night after the Pirates committed three errors. Morton faced 19 batters through six frames, thanks in part to two double plays and a pair of runners caught stealing at second base by catcher Russell Martin.
Morton surrendered five hits, struck out three, walked a batter and hit his league-leading 17th batter.
"That pitch [to Gonzalez] kind of turned the game on him and on us for a short period of time," Hurdle said. "But he needs to continue to look at the volume of work -- the overall volume of work. It was a very good outing for him."
Stephen Pianovich is an associate reporter for MLB.com. This story was not subject to the approval of Major League Baseball or its clubs.