Lewis turns in five solid frames, but rally falls short
Rangers can't cash in with bases loaded after Blue Jays' Stroman exits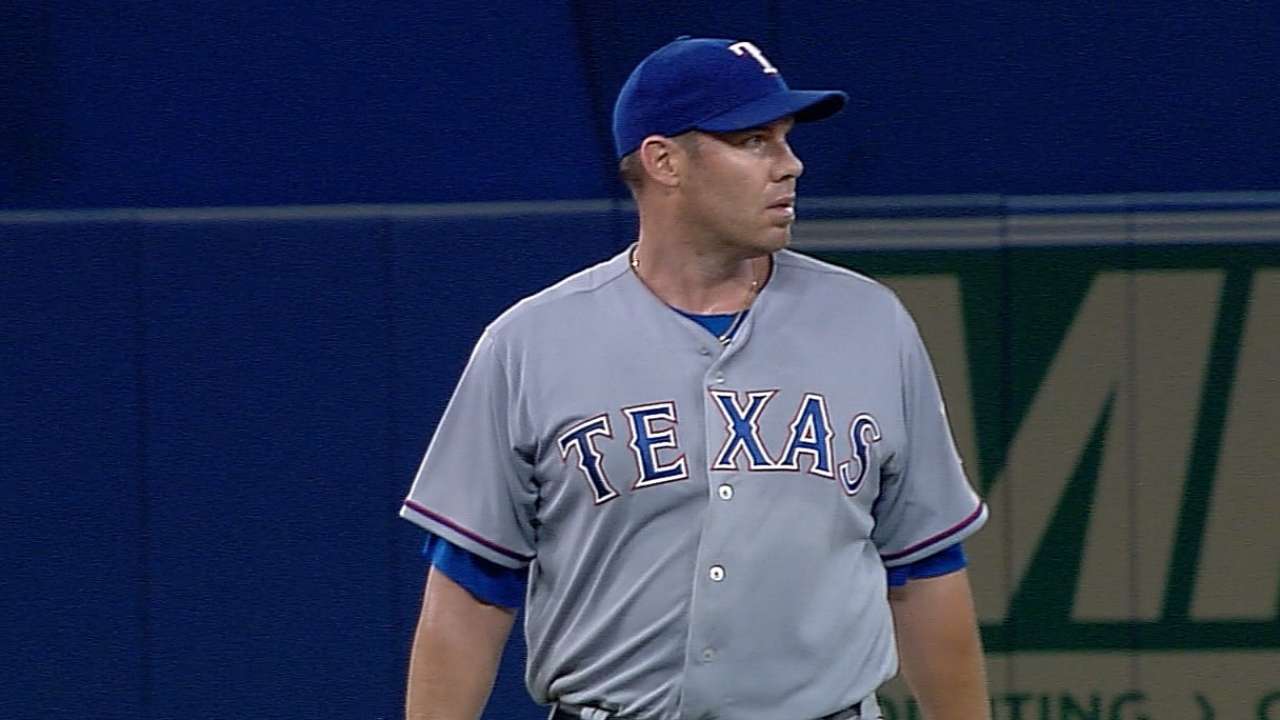 TORONTO -- So much for momentum.
A day after snapping a season-high eight-game losing skid, Texas' offense was flat.
The Rangers threatened late but came up short in a 4-1 loss to the Blue Jays in front of a sellout crowd of 45,802 at Rogers Centre on Saturday afternoon.
"We created some opportunities for ourselves and we just couldn't cash them in," Rangers manager Ron Washington said.
The best opportunity for the Rangers to climb back into the game came in the eighth inning, once Toronto starter Marcus Stroman left the contest.
Down by four, the Rangers -- who struggled to get on base and went 1-for-8 with runners in scoring position -- snapped the Blue Jays' shutout bid on a run-scoring single from Elvis Andrus, before loading the bases with two outs for Jake Smolinski.
But Smolinski, representing the potential go-ahead run, was unable to come through and was retired on strikes by right-hander Dustin McGowan.
The Rangers went down easy in the ninth and had no answer for Stroman early.
Stroman, making his ninth career start, threw seven scoreless innings, holding the Rangers to four singles while punching out five. Only once, in the fourth, was Texas able to put two runners on base against Stroman in the same inning.
The rookie got out of it by striking out a pair before getting J.P. Arencibia to ground into a forceout to end the inning.
"It was an important part of the game, and I felt like I really beared down when I needed to," said Stroman, who improved to 5-2 while lowering his ERA to 3.58. "It was first and second with no outs, and I knew I needed either a double-play ball or some strikeouts, and I was lucky to get the strikeouts.
"That pumped me up going into the next inning -- [it] got me excited to get out of that with no damage."
After Stroman got the Blue Jays out of the jam, his offense rewarded him in the bottom half of the frame.
Rangers starter Colby Lewis surrendered a leadoff single to Colby Rasmus to begin the inning and didn't help his cause moments later when he threw a wild pitch with Dan Johnson at the plate. An alert Rasmus advanced two bases on the play after the ball bounced away from catcher Robinson Chirinos toward the Rangers' dugout.
Johnson promptly delivered by turning on a 2-1 pitch and driving in the first run of the game with a double off the wall in right to put Toronto ahead.
Lewis allowed an infield single to Munenori Kawasaki later in the inning, which cashed Johnson to give Toronto a 2-0 lead. Kawasaki's single extended his hitting streak to a career-high seven games.
The 34-year-old Lewis exited after working a clean fifth in favor of lefty Ryan Feierabend, whom the Blue Jays scored two runs off of in the seventh.
"When [Lewis] left the ballgame after the fifth inning, we were still in it," Washington said. "And that's his job. We would have liked him to go deeper, and he would have liked to go deeper, but the pitch count got up there pretty quick."
Lewis, who threw 106 pitches, two off his season high, allowed two runs on eight hits over his five innings, walking three and striking out five.
Although Lewis was tagged with the loss, he bounced back strong from his last start in which he allowed a personal- and franchise-high 13 runs (11 earned).
"I don't really dwell on this start, next start, last start," said Lewis, who fell to 6-7 on the year. "I felt like my stuff was great. Was able to locate, especially a lot of the offspeed stuff. The changeup was really good today. They just put together a couple runs and that was all they needed."
Lewis had faced 101 consecutive batters without issuing a free pass -- the longest streak by a Texas starter this season -- until he walked Jose Bautista with two outs in the first inning. It was the first time Lewis had walked a batter in five starts, a span of 21 1/3 innings.
Right fielder Alex Rios was forced to leave the game in the first inning after spraining his right ankle on the follow-through of a swing. He's considered day to day.
The Rangers fell to 2-13 in July and will look for their first series win of the month in Sunday's finale with right-hander Nick Tepesch on the mound.
Chris Toman is a contributor to MLB.com. This story was not subject to the approval of Major League Baseball or its clubs.