Poised Stroman dominates in seven scoreless
Rookie gives up four hits, strikes out five for seventh quality start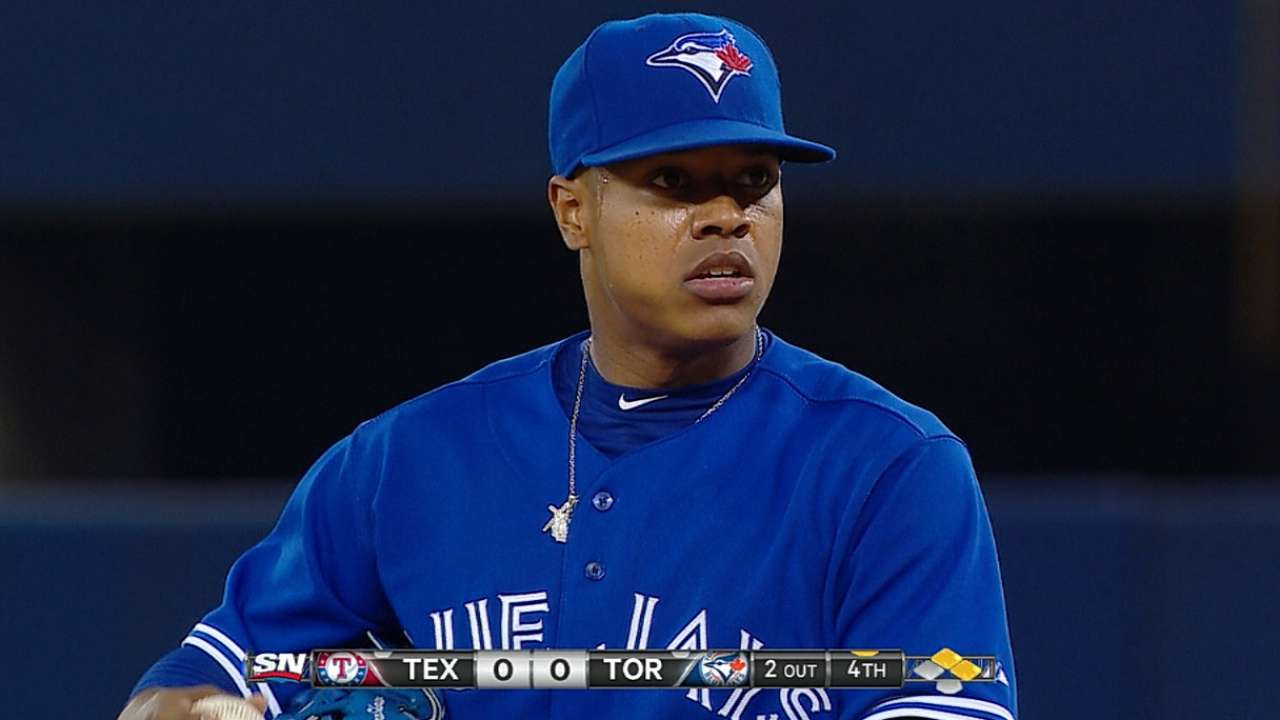 TORONTO -- After a one-sided loss in the series opener on Friday, the Blue Jays entered Saturday's contest against the Rangers searching for a glimmer of positivity over what has been a pretty rough month and a half.
The Blue Jays, dealing with injuries to three of their starting nine, have been unable to recapture the magic that lifted them to first place in the American League East for 48 days earlier this season. They got a much-needed lift on Saturday as Marcus Stroman pitched seven scoreless innings to lead the team to a 4-1 victory at Rogers Centre, giving them the opportunity to secure a series win on Sunday.
"We needed that. The name of the game is winning. Throw the individual stuff out the window," said Blue Jays manager John Gibbons. "We desperately needed that."
If the team was in desperation mode, it wasn't evident in Stroman's demeanor. The rookie right-hander continued to thrive and showed poise in throwing his seventh quality start in nine tries to improve to 4-2 with a 2.50 ERA as a big league starter.
He worked through the Rangers' lineup with little resistance, and when he did catch a snag, he turned the dial up a notch.
Cruising through the first three innings, Stroman found himself in trouble early in the fourth. After Daniel Robertson and Adrian Beltre led off the frame with back-to-back singles, the Rangers had two on with nobody out and an opportunity to break a scoreless tie.
But instead of unraveling the way one might expect a rookie hurler would, Stroman fanned Jake Smolinski and Leonys Martin back to back before getting J.P. Arencibia to ground out. Stroman went on to retire the next nine batters he faced before being replaced by Brett Cecil in the eighth.
"I feel like I know what I need to do [in that situation]," said Stroman. "You have to raise your intensity. You can't be as relaxed. I'm able to make a big pitch in a crucial count, and that was one of those moments."
While Stroman took care of business on the mound, the Blue Jays' offense got the job done at the plate.
Colby Rasmus sparked a two-run fourth inning with a single before going first to third on a wild pitch. He scored on Dan Johnson's double to the right-field wall for a 1-0 Toronto lead.
Anthony Gose moved Johnson to third with a bunt single, and Munenori Kawasaki then singled to score Johnson, giving the Blue Jays a two-run lead after four innings.
Toronto doubled that in the seventh with a pair of runs from the middle of the order. Three straight singles followed by a sac fly from Johnson gave the Blue Jays a 4-0 cushion.
It was the second two-hit game in a row for Rasmus, who had an eventful day. He stole his first base since June 28, 2012, and registered a bunt single in the fifth inning, to which Rangers starter Colby Lewis took exception.
Lewis was not pleased with the fact Rasmus put down a bunt in a 2-0 game with nobody on and two out, and had words for the Blue Jays' center fielder.
"You're up by two runs with two outs and lay down a bunt. I don't think that's the way the game should be played. I let him know and that was about it," said Lewis. "I just told him I didn't appreciate it."
The Rangers made a late charge in the top of the eighth. Elvis Andrus singled to left off Dustin McGowan to score Rougned Odor to cut the deficit to 4-1, putting two on with one out. McGowan fanned Robertson and appeared to escape the inning by striking out Beltre, but a third-strike passed ball allowed the slugger to reach first and the bases were loaded.
But McGowan rung up Smolinski, clearing the way for Aaron Loup to post his third save of the season with a scoreless ninth. Loup was filling in for Casey Janssen, who was resting with an illness but is expected to be available Sunday.
"I thought we battled," said Gibbons. "The game never felt easy, we never felt comfortable... not an easy game by any means."
Jamie Ross is an associate reporter for MLB.com. This story was not subject to the approval of Major League Baseball or its clubs.