Bullpen seals the deal for White Sox
Relievers follow Noesi with three shutout frames; Flowers delivers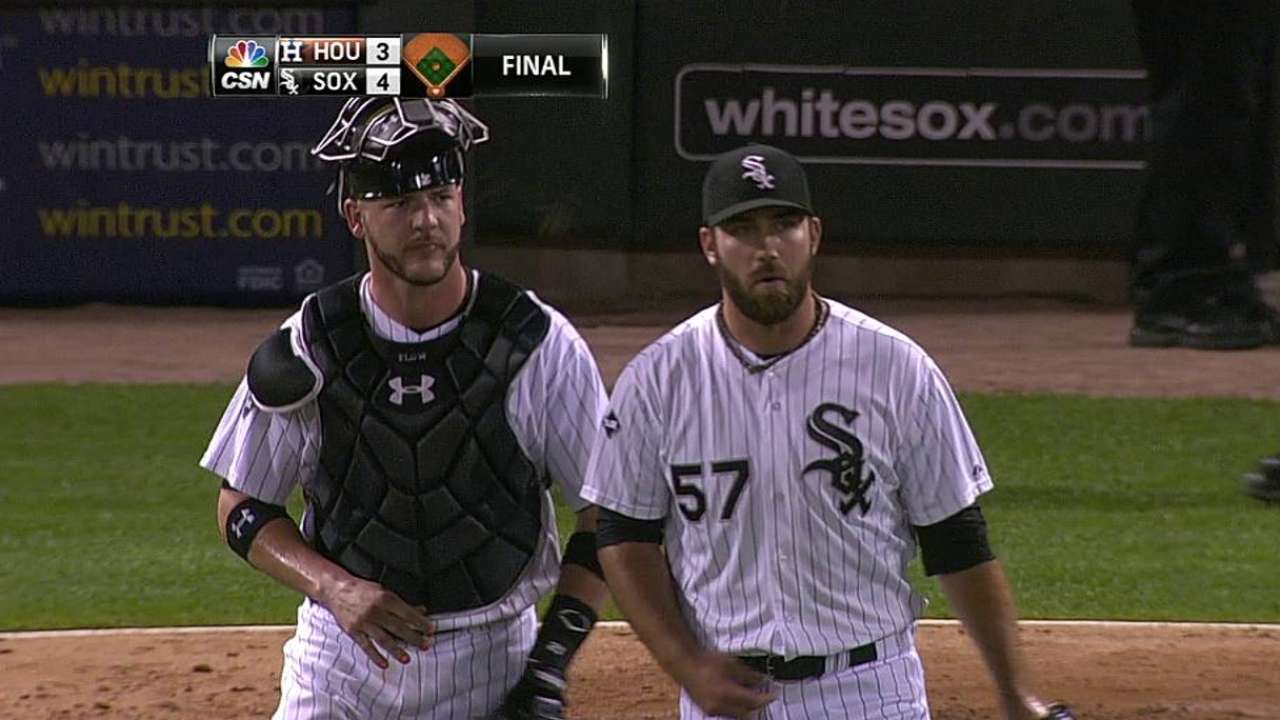 CHICAGO -- The White Sox do not have a set closer to take the ball with a lead in the ninth inning.
And that statement apparently holds true from pitch to pitch, let alone inning to inning, as shown during a 4-3 victory over the Astros before 28,210 at U.S. Cellular Field on Saturday night.
Jake Petricka was entrusted with the task of getting the final three outs from the Astros (40-58), but walked Robbie Grossman to put the tying run on base to open the inning. One out later, Marwin Gonzalez singled off of first baseman Jose Abreu's glove to put the winning run on base.
At that point, Zach Putnam began to warm up in the bullpen.
"I wasn't necessarily expecting that," Putnam said. "I have every faith Petricka could have closed that out, but I'm happy for the opportunity."
That opportunity didn't come immediately. Petricka struck out Jose Altuve, one of the game's most consistent hitters during the 2014 season, before manager Robin Ventura came to the mound and signaled for Putnam to face left-handed-hitting Jason Castro with two outs and two on. Petricka has limited left-handed hitters to a .253 average, while lefties have hit Putnam at a .250 clip, so there wasn't much difference.
Ventura simply thought Putnam vs. Castro was a better matchup. Without a clear-cut closer, Ventura has the option to make this sort of move.
"Unfortunately, I don't have a guy that you're just going to leave out there, saying that's your closer," Ventura said. "I like Put's swing-and-missability with some lefties and that's the reason."
Castro took a first-pitch fastball for a strike, followed by a swing and a miss and two foul balls off of Putnam's splitter. That splitter has helped make Putnam a bullpen force this season, but Putnam and catcher Tyler Flowers decided to change Castro's eye level by going to a cutter.
That plan worked, as Castro swung through for strike three to help the White Sox (47-51) improve to 5-1 over their last six home games.
"We got to the point where he was sitting on the split, so we could either try to bounce one further or elevate a fastball and see what happens from there," said Flowers, who had his first three-hit game since April 24. "No sense in taking the risk of throwing another split, maybe hanging it."
"He threw down the cutter there and wanted it elevated," Putnam said. "I trust Tyler more than I trust myself."
This ninth-inning call made by Ventura followed an interesting seventh, when Grossman and Enrique Hernandez singled to hope the frame against Javy Guerra and Gonzalez moved them to second and third with a sacrifice bunt against Ronald Belisario. Ventura elected to have Belisario face Altuve and his .335 average, with Belisario striking out the leadoff man on three pitches.
Belisario then intentionally walked Castro, who finished the night at .226, to take on George Springer with the bases loaded. Springer had homered off of Hector Noesi (4-7) leading off the fourth, but the interesting choice worked in the South Siders' favor as Springer rolled out to third baseman Conor Gillaspie.
"Again, you're looking at what the matchups are and what you feel gives your guy the best chance," Ventura said.
"We just did not get the big hit tonight," Houston manager Bo Porter said. "We had the guys up there that we would want up there, and were just not able to come up with the big hit."
Houston southpaw Dallas Keuchel (9-6) entered the evening with a .221 average against and a .274 on-base percentage when facing left-handed hitters. The left-handed-hitting White Sox trio of Adam Eaton, Gillaspie and Alejandro De Aza finished 6-for-9 against Keuchel with one walk, one RBI and one run scored to spark the team's second straight win after the All-Star break.
For the second straight night, it was De Aza who scored the winning run with Flowers driving him home. De Aza reached base with a one-out triple in the fifth and scored on Flowers' double to left-center.
Noesi produced the club's 15th quality start in the last 22 games by allowing three runs on six hits over six innings and striking out two. Hernandez's one-out single in the third ended a string of 29 straight hitters retired by the White Sox, dating back to the second inning of Friday night's victory.
Keuchel yielded at least two runners in all five innings, finishing with 12 hits and two walks. But 11 men left on base by the White Sox forced Ventura's managerial wheels to spin late in order to preserve the team's sixth win in its last 10 games.
"There's definitely an element of fun to it," said Putnam of the closer uncertainty. "We don't know from game to game who is going to have that ninth if it's a save opportunity."
Scott Merkin is a reporter for MLB.com. Read his blog, Merk's Works, and follow him on Twitter @scottmerkin. This story was not subject to the approval of Major League Baseball or its clubs.