Reds fall to Yanks, off to slow start in second half
Simon allows four runs in five innings before Hoover struggles in sixth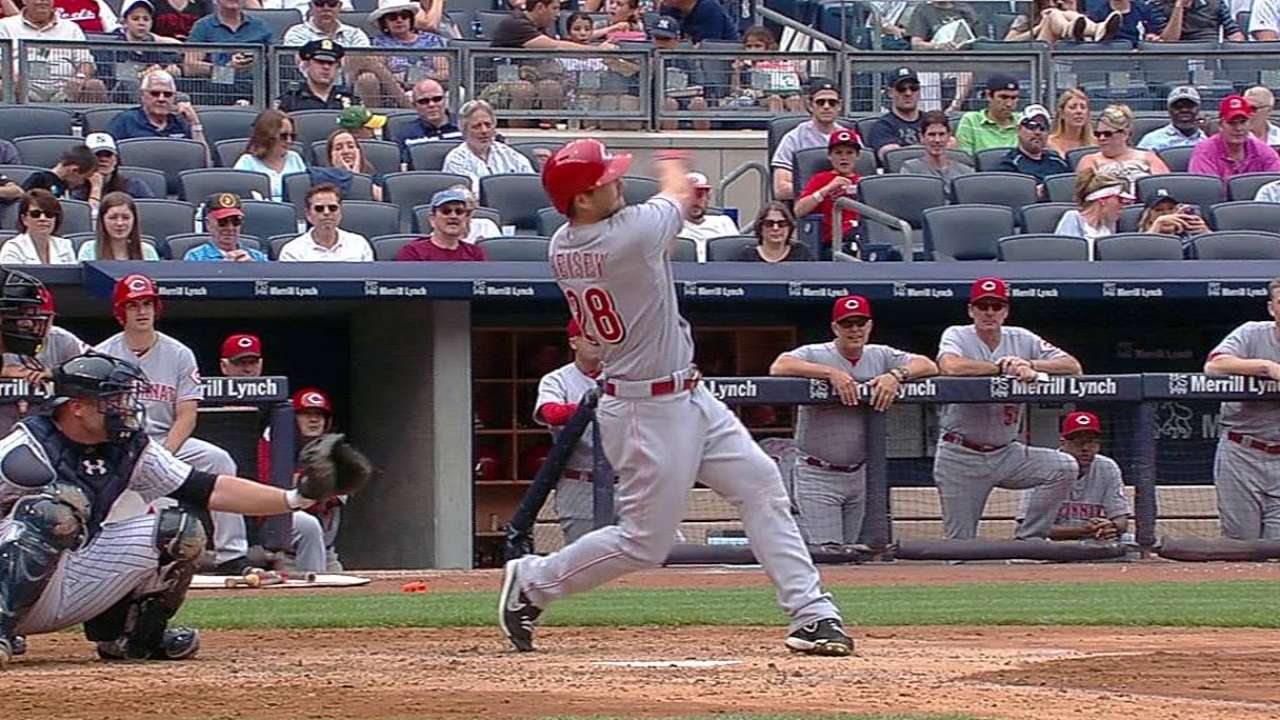 NEW YORK -- While the Reds were on quite a roll at the end of the first half, a myriad of injuries made the four days off at the All-Star break extremely welcomed. Instead of returning fresh and ready to tackle the second half, there are some troubling developments after two losses vs. the Yankees.
A 7-1 loss to the Yankees on Saturday assured the Reds a losing three-game series -- only their second series loss in the last 12.
Through two second-half games, the offense hasn't looked good. Here's the tally:
• Cincinnati has more strikeouts (23) than hits (14). That included 13 K's on Saturday.
• There has been only one Reds walk in two games. It came on Friday in the second inning from Jay Bruce.
• Catalyst Billy Hamilton is 1-for-8, while Bruce is 0-for-7 with three strikeouts on Saturday.
"We're certainly not a 13-strikeout-a-game team," Reds manager Bryan Price said. "Twenty-three strikeouts in two games ... it can't be a part of our offensive personality if we expect to be successful."
Yankees starter Brandon McCarthy, pitching for the first time at home for his new team, struck out nine batters without a walk over his six innings. McCarthy, acquired from the D-backs on July 6, entered the day 3-10 with a 4.80 ERA and 0-2 with a 14.73 ERA in three career starts against the Reds.
The only run against McCarthy and the Yankees' pitching staff came on Chris Heisey's homer to left field with one out in the fifth inning.
"His sinker was moving a lot. He didn't really throw that curveball too much," said third baseman Todd Frazier, who was 2-for-4. "He was hitting his spots, and jamming us a little bit. You saw a couple of broken bats, myself included. He had one of those days. ... At the same time, we have to pick it up a little bit. Even though it's game two of the second half, we still have to figure out a way to get more runs."
In five innings of work, Reds All-Star starting pitcher Alfredo Simon gave up four runs (two earned) and five hits with one walk and four strikeouts. Cincinnati came in 8-0 over Simon's last eight starts, with the right-hander getting six of the victories.
Simon left the clubhouse before reporters were granted access following the game. Price felt his pitcher's curveball lacked effectiveness and it cost him.
"A lot of times, I think he was trying to go below the zone with a finishing pitch," Price said. "A couple of those situations with guys in scoring position, our infield in, [Simon] used the curveball to try to finish the hitter below the zone for a strikeout there, and [they] put it in play for both hits and sacrifice flies. So it just wasn't really a great pitch. It's a pitch that's been pretty reliable for him in the past, it just wasn't today."
With two outs in the bottom of the second inning, Simon's 0-2 breaking ball to Carlos Beltran was deposited into the right-field seats for a solo homer and the game's first run. The next two runs came as a result of defensive mistakes by a team with the fewest errors in the Majors.
Starting the New York third inning, Brian Roberts lifted what seemed to be a routine fly ball to right-center field. Bruce ran and seemed to glove the ball before it popped out for a two-base error. That led to an unearned run on Brett Gardner's RBI single through the right side of a drawn-in infield.
Following back-to-back singles by Roberts and Kelly Johnson in the fifth inning, a passed ball by All-Star catcher Devin Mesoraco advanced the runners. Another unearned run scored on Gardner's sacrifice fly. Derek Jeter's RBI single to center field made it a 4-1 game.
"A couple of uncharacteristic plays that got some things going," Price said.
J.J. Hoover took over for the Reds in the sixth inning, and although there were no hard-hit balls, he still allowed four costly ground-ball singles for three more runs. It was Johnson's slow roller down the first-base line that scored two of them and created more daylight.
"Really in the end, we didn't have an outstanding pitched game, outstanding defensive game and didn't do anything productive offensively, and that's just not going to work against anybody," Price said.
Mark Sheldon is a reporter for MLB.com. Read his blog, Mark My Word, and follow him on Twitter @m_sheldon. This story was not subject to the approval of Major League Baseball or its clubs.