McCarthy dominant in notching first Yanks win
Righty fans nine in six innings; Beltran homers, Gardner has three RBIs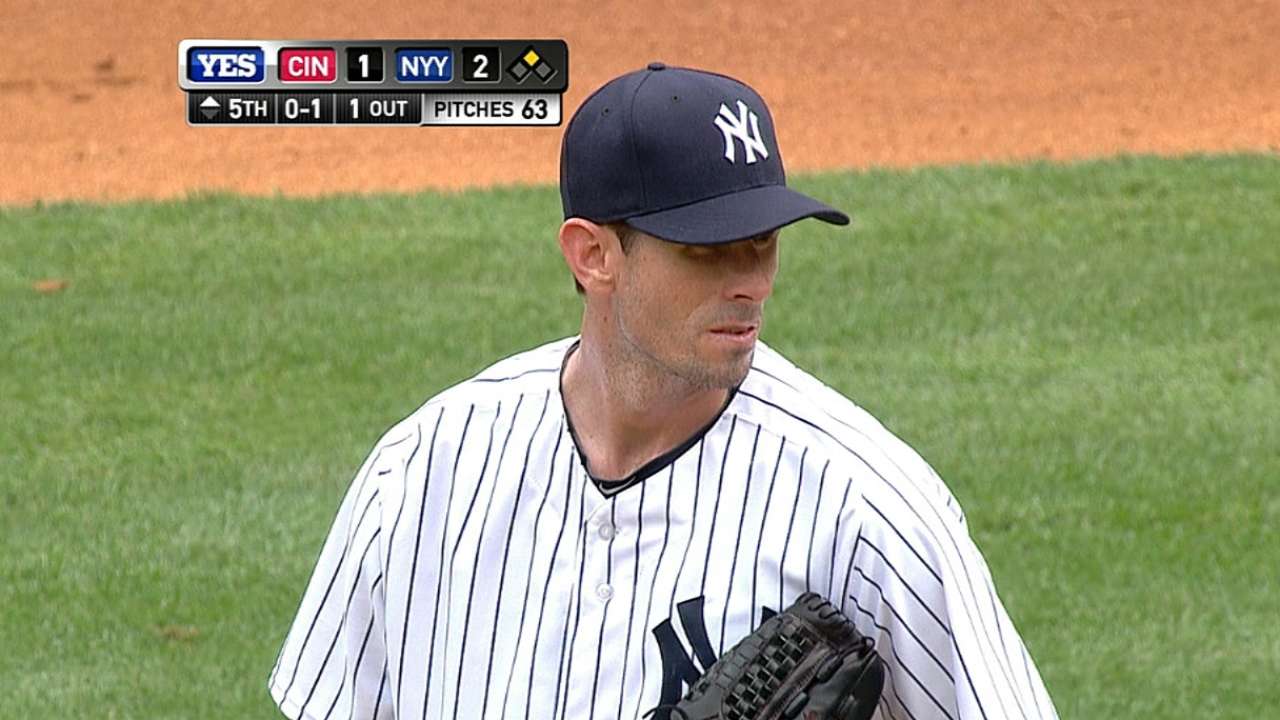 NEW YORK -- The Yankees continue to work the phones searching for upgrades to their starting rotation, but Brandon McCarthy's dominant home debut suggests that one of their moves may already be paying dividends.
Embracing his relocation to the Bronx as a much-needed fresh start, McCarthy struck out nine over six strong innings to earn his first victory in a new uniform as the Yankees defeated the Reds, 7-1, on Saturday at Yankee Stadium.
"You're pitching for the Yankees, and that's an opportunity no matter what the circumstances are," McCarthy said. "For me, it's at a point of my career where I really wanted to be challenged. I really wanted to be in a pennant race."
Brett Gardner drove in three runs and Carlos Beltran homered as the Yankees won their second straight game coming out of the All-Star break, improving to 12-7 in Interleague Play this season.
"I think our pitching has been there all year; guys have stepped up and played key roles," catcher Brian McCann said. "I think we're going to start swinging the bats a lot better."
McCarthy was advertised as something of a reclamation project when the Yankees acquired the right-hander along with cash considerations from the D-backs on July 6. McCarthy was just 3-10 with a 5.01 ERA in 18 starts for Arizona, where he'd been searching for answers.
The veteran may have found a solution, reincorporating a cutter that McCarthy said the D-backs asked him to scrap. Yankees pitching coach Larry Rothschild told McCarthy to put the pitch back in his toolbox, combining it Saturday with a mid-90s power sinker to keep the Reds off-balance.
"I was excited right when I got here; it was one of the first things they said," McCarthy said. "We went over some things, and I said, 'That actually works out very well, because it was something that I was going to say.'
"I knew there were things that I could be doing, that there were other sequences that I could be using that could get more out of my stuff. I was just even more excited that they looked at it as a positive."
McCarthy scattered six hits without a walk, permitting only Chris Heisey's fifth-inning homer -- which came on a cutter up in the zone, but a pitch that McCarthy said that he wouldn't stress too much about.
He'd prefer to focus on the positives; McCarthy struck out the side in both the fourth and sixth innings, and credited McCann for calling a great game that allowed the hurler to nod and throw. McCann said that it was made easy by McCarthy's "top-of-the-rotation stuff."
"He's got the ability to do what he did tonight every fifth day. I truly believe that," McCann said. "I think his stuff has always been there. What I saw today and from his first start, he's got it."
The Yankees produced four runs (two earned) over five innings against Reds starter Alfredo Simon before busting the game open with three runs in the sixth.
"We fell behind early," Reds manager Bryan Price said. "We just weren't able to really get ourselves back in the game at any point."
In his second game back from the seven-day concussion disabled list, Beltran put New York on the board in the second inning with his 10th home run of the year, a solo shot to right field on a hanging 0-2 curveball.
"I was thinking to try and stay in the middle of the field, and he just threw a pitch up in the strike zone and I was able to hit it good," Beltran said.
Yankees manager Joe Girardi has said that situational hitting would be a key for the second-half drive, and they practiced some of that. Cincinnati right fielder Jay Bruce dropped a routine Brian Roberts fly ball opening the third inning, setting up Gardner's run-scoring single through the drawn-in infield.
Gardner lifted a sacrifice fly and Derek Jeter collected a run-scoring single in the fifth off Simon, who permitted five hits while walking one and striking out four.
"I thought we took advantage of some miscues on their part," Girardi said. "We had some really good at-bats, guys moving runners over, getting some big hits when we needed to. We faced a tough pitcher today and we put good at-bats on him."
Facing J.J. Hoover in the sixth, Kelly Johnson dribbled a two-run single past the first-base bag and Gardner connected for another sac fly as the Yankees shifted into cruise control with a commanding lead.
Adam Warren, Shawn Kelley and Matt Thornton finished up with three innings of scoreless, one-hit relief to preserve the victory for McCarthy, who would love to keep giving the Yankees one less thing to worry about.
"To be able to get back in, throwing well and feeling like myself again, I'm starting a new page where you get to prove yourself and everything that happened earlier this season is gone," McCarthy said. "It's been really nice."
Bryan Hoch is a reporter for MLB.com. Follow him on Twitter @bryanhoch and read his MLBlog, Bombers Beat. This story was not subject to the approval of Major League Baseball or its clubs.