VerHagen's debut unravels after big inning
Rookie allows three runs in decisive fifth frame against Tribe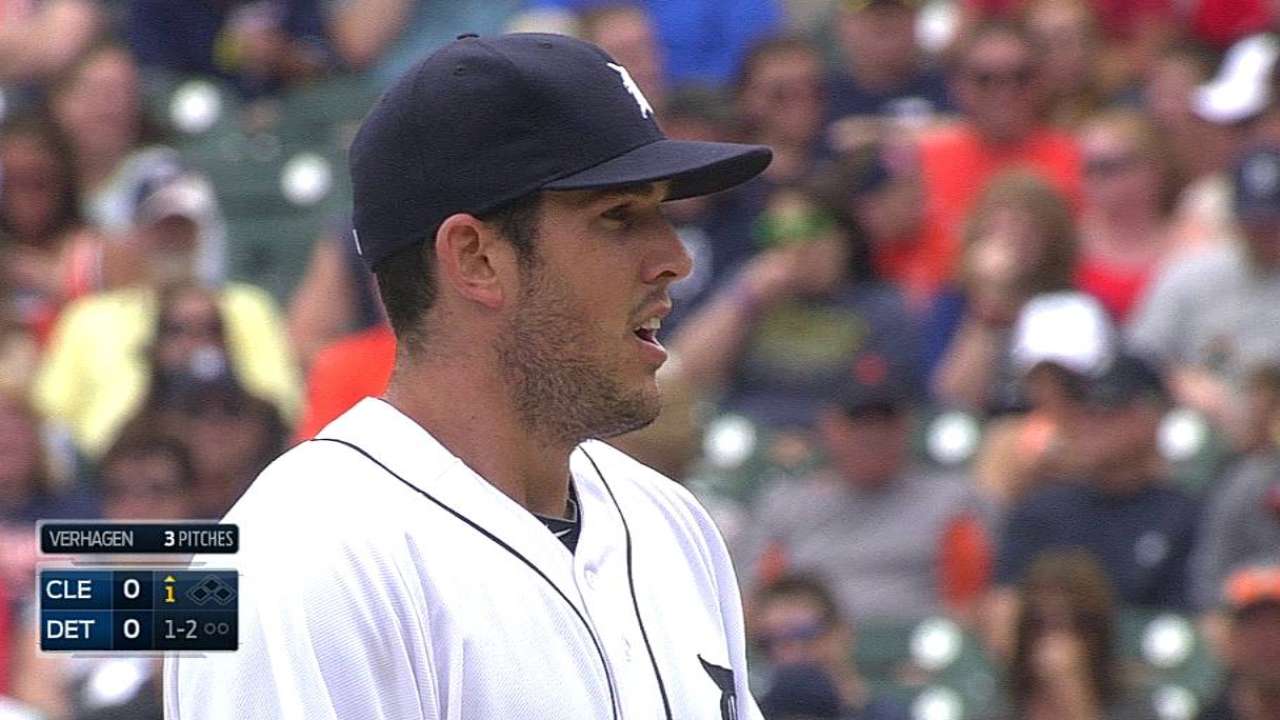 DETROIT -- Drew VerHagen's parents flew up from Dallas. So did two of his good friends. Other family members drove over from Buffalo. His stepbrother, he said, drove over from Chicago. His girlfriend's family flew up from Tennessee.
"All over," VerHagen said after meeting with them in the bowels of Comerica Park following his Major League debut.
The hitters came from Cleveland, but they took a little while to show up. Corey Kluber ensured the hitters from Detroit never did, holding down the Tigers' offense in a 6-2 loss to open Saturday's day-night doubleheader at Comerica Park.
It was the kind of matchup that happens in a doubleheader -- a youngster called up for a spot start opposite an established opponent. Considering the Indians' ability to pound right-handed pitchers with a bevy of formidable threats from the left side, it was especially unfavorable.
For four innings, VerHagen made it work.
"I think, just realizing it was a cool opportunity for me, I wasn't really worried," he said. "I just kind of took it all in."
In the process, he brought up memories of former Tigers prospect Andy Van Hekken. It wasn't just about the name.
Van Hekken was a Tigers left-hander who shut out the Indians at Comerica Park in his Major League debut in 2002 at age 23. He made just four more starts as a Tiger, then bounced around the Minor Leagues, independent ball and finally overseas.
VerHagen came with a bigger resume, having starred in college at Vanderbilt before being drafted in the fourth round two years ago. The sinkerballing right-hander vaulted past lefty Robbie Ray to earn the start by keeping the ball on the ground and efficiently retiring hitters at Triple-A Toledo.
His season high in strikeouts there this season is six. On Saturday, VerHagen struck out four of the first six Indians batters he faced.
"It's hard," said Indians manager Terry Francona, "because until you do see him, you can [only] look at video or scouting reports, but ... he was flipping that breaking ball over just enough early."
Nobody in the Indians' organization had seen him personally since he faced Triple-A Columbus in mid-April. J.D. Martinez was still a Mud Hen then.
"I think to the start the game, they wanted to make him throw strikes," catcher Bryan Holaday said.
VerHagen took advantage. His first Major League hitter was his first strikeout, Jason Kipnis swinging and missing at a split-finger changeup VerHagen picked up from Hens pitching coach Al Nipper. Lonnie Chisenhall whiffed on the same pitch leading off the second. It took a first-pitch bunt single by Michael Brantley to earn Cleveland its lone base hit through four innings.
Even after the swings and misses stopped the second time through the order, the outs continued. VerHagen needed just eight pitches to retire the middle of the Indians' lineup in the fourth. It was not, however, a good sign.
"They know he's a young guy, and they were pretty patient the first time through the lineup," Holaday said. "And then they started being a little more aggressive."
The same Indians who swung and missed seven times in the first three innings did so only once in the fourth and fifth.
"Just behind in the count, they were more comfortable in the box, I think," VerHagen said. "And I left a few balls up in the zone, too."
Though Austin Jackson didn't get a good read on Nick Swisher's drive to straightaway center, Swisher hit it deep enough that Jackson would've needed a highlight-reel play to run it down. Chisenhall scored as the ball rolled to the wall, then Swisher came around to score after back-to-back singles by Yan Gomes and David Murphy.
An acrobatic stop and double play by Ian Kinsler merely delayed the damage. VerHagen fell behind to Kipnis, then paid with an RBI single for a 3-0 lead.
Though Detroit made up one run in the fifth, it took a double-pump by Kipnis at second base on Jackson's slow roller to get the run home. Kluber (10-6) retired 10 in a row from there, half of them by strikeouts, on his way to 10 strikeouts over 8 2/3 innings of two-run ball.
It was Kluber's sixth straight quality start against the Tigers, pitching at least seven innings in the last three.
"I don't think there's a magic formula to it," Kluber said. "I just think it's making better pitches against them."
Jason Beck is a reporter for MLB.com. Read Beck's Blog and follow him on Twitter @beckjason. This story was not subject to the approval of Major League Baseball or its clubs.