Kluber sets pace in Tribe's win over Tigers
Right-hander fans 10 over 8 2/3 innings in matinee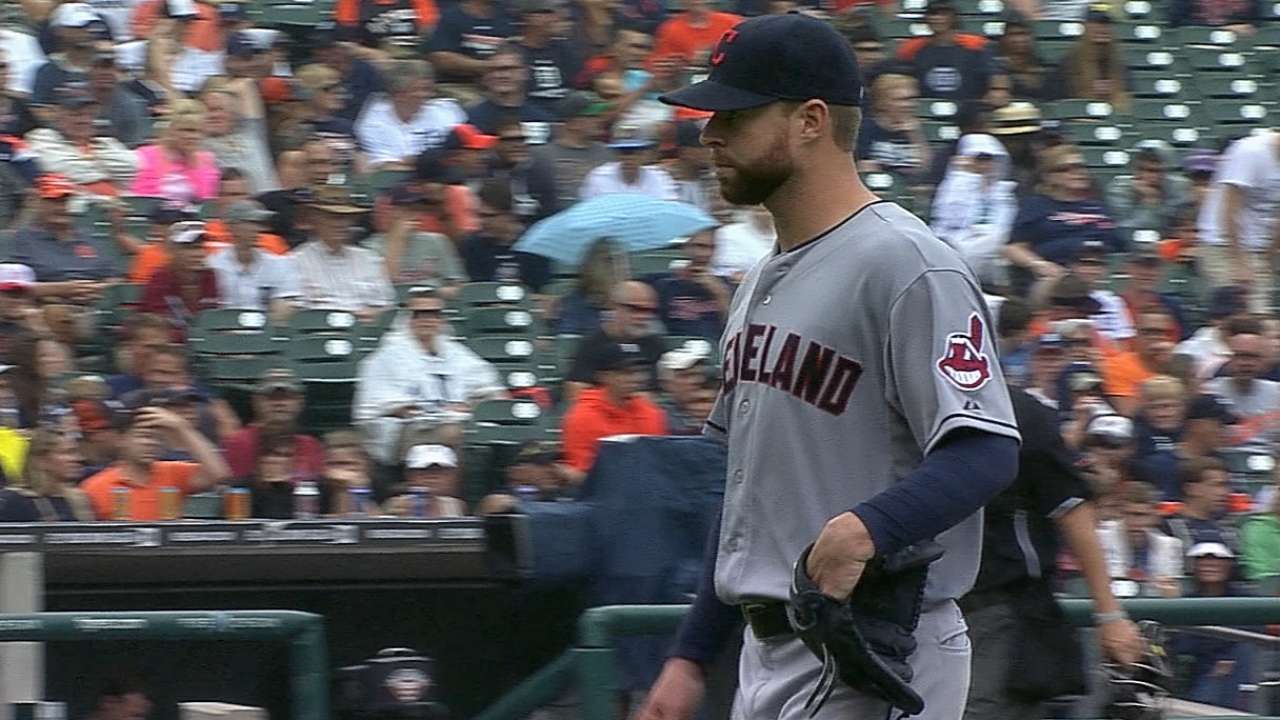 DETROIT -- Corey Kluber did not look toward the dugout. The Indians starter needed just one more out to collect his second complete game of the season and, as far as the right-hander was concerned, he was going to finish what he started on Saturday. That is when he sensed that Cleveland manager Terry Francona was on his way to the mound.
"I was already on the rubber, ready to throw the next pitch," Kluber said. "Then, I saw him coming out. Obviously, I can't do anything about it then."
Kluber did plenty, pitching into the ninth inning in a dominant effort that set the tone for a 6-2 win in the opener of a doubleheader against the Tigers. When Francona sat down and planned for the twin bill at Comerica Park, he felt confident in having Kluber take the ball for the first game.
The righty has been the most reliable arm on Cleveland's staff, chewing up innings and giving the bullpen some relief. Once again, he lived up to expectations.
"He was terrific," Francona said. "He commanded his fastball -- especially to his glove side, and with all those right-handed hitters up there. Then, he could spin his breaking ball off of that. He was really good. Yeah, that's what you're looking for."
Over 8 2/3 innings, Kluber handled the Tigers' potent lineup with apparent ease, limiting Detroit to two runs on seven hits and ending with 10 strikeouts and one walk over 114 pitches. In the process, Kluber equaled a single-season club record with four starts consisting of at least 10 strikeouts and no more than one walk. Hall of Famer Dennis Eckersley also achieved that feat for Cleveland in 1976.
Dating back to May 1, Kluber has gone 8-3 with a 2.53 ERA across 15 starts, during which he has piled up 117 strikeouts against 23 walks in 103 1/3 innings for Cleveland (49-47). More recently, the Indians' rotation leader has spun a 2.20 ERA with 48 strikeouts in 49 innings over his last seven turns for the Tribe.
"He throws hard. He's got a sinker, cutter, slider, curveball," Tigers manager Brad Ausmus said. "He used the outside corner to righties very well today, using his cutter and his sinker out there. He's tough. He's one of the better pitchers in the league."
On the season, Kluber is now 10-6 with a 2.95 ERA across 21 starts.
"He's been huge," Indians third baseman Lonnie Chisenhall said. "Every time he goes out, it seems like he's giving us seven-plus innings and keeping us in a really good spot to win the game. He did that today, and I'm sure the bullpen is pretty happy about it."
After a strong first half, Kluber narrowly missed earning a spot on the American League All-Star team, following a fourth-place finish in the Final Vote. The right-hander is not one to let personal goals get in the way of the bigger picture, and it was clear on Saturday afternoon that the All-Star snub did not affect the pitcher one way or another.
"I located my fastball pretty well, for the most part," Kluber said. "I pitched inside enough to keep them honest. That way, they weren't able to just reach out there and sit on the stuff away."
Cleveland's offense struck first with three runs in the fifth against Tigers rookie Drew VerHagen, who was making his Major League debut. Chisenhall led off the fifth with a walk and Nick Swisher followed by drilling a pitch over center fielder Austin Jackson's head for an RBI double.
David Murphy and Jason Kipnis both later added RBI singles, helping the Indians grab a 3-0 advantage in VerHagen's final inning of work. Murphy and Kipnis each added another RBI single later in the game, providing Cleveland with some offensive insurance.
"Fortunately, we scrapped for a couple [runs]," Francona said. "And we actually, after [VerHagen left the game], I thought we did a pretty good job of having chances almost every inning."
Kluber's first misstep came in the home half of the fifth, when he issued a leadoff walk to Eugenio Suarez before giving up a single to Bryan Holaday. A pair of defensive gems -- one by Kipnis on a double play and another via a diving grab by Chisenhall -- helped the pitcher limit the damage to one run.
In the ninth inning, Detroit slugger Miguel Cabrera doubled and scored against Kluber, who was pulled from the contest after yielding a two-base hit with two outs to Nick Castellanos.
"I couldn't quite make it," Kluber said with a smirk.
Seven pitches later, Indians reliever Bryan Shaw recorded the final out.
"If I'd [managed] with my heart, I'd have left him in," Francona said of Kluber. "I know everybody wants to stay in and finish, and he probably deserved to. But you hate to see a guy work really hard after he's thrown that many pitches. I just don't think that helps him for his next start."
Jordan Bastian is a reporter for MLB.com. Read his blog, Major League Bastian, and follow him on Twitter @MLBastian. This story was not subject to the approval of Major League Baseball or its clubs.