Pipeline Preview: Futures Game aces set for duel
Teammates on the U.S. team last week, Owens and Norris square off in N.H.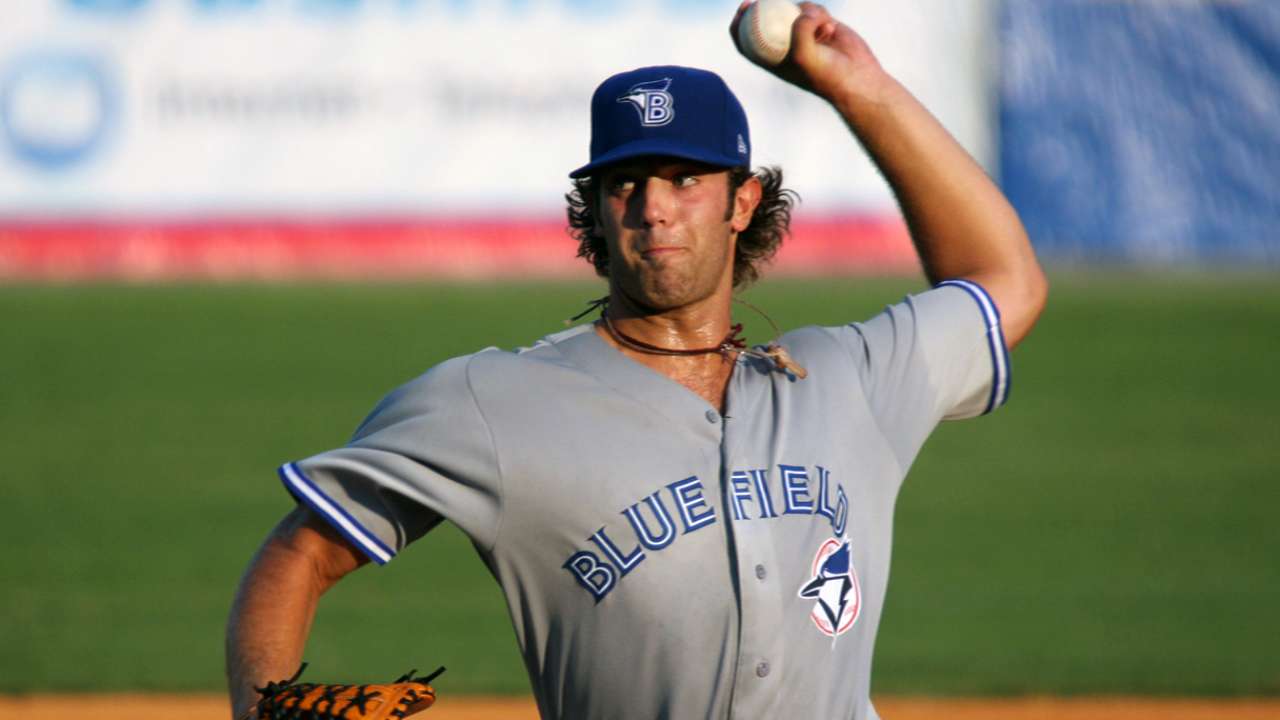 Henry Owens and Daniel Norris have been two of the best left-handers in the Minor Leagues this season. They pitched back-to-back for the U.S. team in the Sirus XM All-Star Futures Game last weekend, and both have already struck out more than 100 batters.
Saturday, they are scheduled to face each other for the first time as Norris, the Blue Jays' No. 3 prospect, and Double-A New Hampshire host Owens, the Red Sox top prospect, and Portland at 7:05 p.m. ET. Fans can watch the game on MiLB.TV.
Owens, ranked No. 25 on MLBPipeline.com's Top 100 Prospects list, has been spectacular for the Sea Dogs this season. He is 12-3 with a 2.21 ERA, and he has struck out 111 batters and walked 40 in 105 2/3 innings. In doing so, Owens leads the Eastern League in wins, ERA, strikeouts and WHIP (1.03).
And Owens has been at his best of late. He enters Saturday on an eight-start winning streak, and in his last start before going to Minneapolis for the All-Star festivities, he struck out a season-high 11 batters and allowed one run in eight innings.
Norris, No. 92 on the Top 100, began the season with Class A Advanced Dunedin. After a stellar first half (he went 6-0 with a 1.22 ERA and 76 strikeouts in 66 1/3 innings), he was promoted to New Hampshire after the Florida State League All-Star break. He hasn't been quite as good since the promotion, but he has adjusted to the more advanced competition well. In four starts with New Hampshire, he is 1-0 with a 4.24 ERA and has struck out 25 batters while walking eight in 17 innings.
At the Futures Game, Owens earned the starting nod for the U.S. team and struck out one batter in a scoreless inning. Norris followed him on the mound and tossed a perfect inning, whiffing one as well. Now, less than a week after they were teammates on the big stage, they will face off in what should be an enticing pitchers' duel in the Eastern League.
In addition to Owens and Norris, several other pitchers ranked on the Top 100 are scheduled to start Saturday, including Archie Bradley (No. 4), Kyle Crick (No. 26), Lucas Giolito (No. 35), Braden Shipley (No. 58), Justin Nicolino (No. 61), Rafael Montero (No. 65), Jose Berrios (No. 70), Trey Ball (No. 76), Pierce Johnson (No. 80) and Nick Kingham (No. 83). Fans can watch Nicolino, Montero, Berrios, Ball and Kingham on MiLB.TV, beginning with Ball and Class A Greenville hosting Asheville in a doubleheader at 5 p.m. ET.
Top prospect probables:
Miguel Almonte (Royals' No. 5), Wilmington vs. Lynchburg
Cody Anderson (Indians' No. 3), Akron vs. Erie
Tyler Anderson (Rockies' No. 10), Tulsa vs. Arkansas
Ball (Red Sox No. 7), Greenville vs. Asheville
Chris Beck (White Sox No. 8), Birmingham vs. Mississippi
Berrios (Twins' No. 5), New Britain at Reading
Bradley (D-backs' No. 1), Mobile vs. Chattanooga
Michael Clevinger (Angels' No. 9), Inland Empire vs. Stockton
Alex Colome (Rays' No. 5), Durham at Gwinnett
Kyle Crick (Giants' No. 1), Richmond vs. Harrisburg
Zach Davies (Orioles' No. 12), Bowie at Altoona
Michael Feliz (Astros' No. 8), Quad Cities vs. Lake County
Grayson Garvin (Rays' No. 18), Montgomery vs. Jackson
Giolito (Nationals' No. 1), Hagerstown at Delmarva
Johnson (Cubs' No. 8), Tennessee at Huntsville
Mike Kickham (Giants' No. 17), Fresno vs. El Paso
Kingham (Pirates' No. 8), Indianapolis at Columbus
Branden Kline (Orioles' No. 14), Frederick vs. Winston-Salem
Matt Koch (Mets' No. 19), St. Lucie at Brevard County
Austin Kubitza (Tigers' No. 19), West Michigan vs. Burlington
Trevor May (Twins' No. 11), Rochester at Norfolk
Montero (Mets' No. 2), Las Vegas at Salt Lake
Nicolino (Marlins' No. 3), Jacksonville vs. Pensacola
Norris (Blue Jays' No. 3), New Hampshire vs. Portland
Owens (Red Sox No. 1), Portland at New Hampshire
Chris Reed (Dodgers' No. 6), Chattanooga at Mobile
Victor Sanchez (Mariners' No. 6), Jackson at Montgomery
Luis Severino (Yankees' No. 9), Trenton at Binghamton
Shipley (D-backs' No. 2), Visalia at High Desert
Matt Smoral (Blue Jays' No. 20), Bluefield at Pulaski
Ryne Stanek (Rays' No. 10), Charlotte vs. Lakeland
Teddy Stankiewicz (Red Sox No. 17), Greenville vs. Asheville
Seth Streich (A's No. 16), Stockton at Inland Empire
Lewis Thorpe (Twins' No. 6), Cedar Rapids vs. Fort Wayne
Nick Travieso (Reds' No. 7), Dayton at Wisconsin
Tom Windle (Dodgers' No. 7), Rancho Cucamonga at Bakersfield
Teddy Cahill is a reporter for MLB.com. Follow him on Twitter at @tedcahill. This story was not subject to the approval of Major League Baseball or its clubs.