Harang drops pitchers' duel to Hamels, Phillies
Braves 'stayed in the game' due to strong effort from veteran righty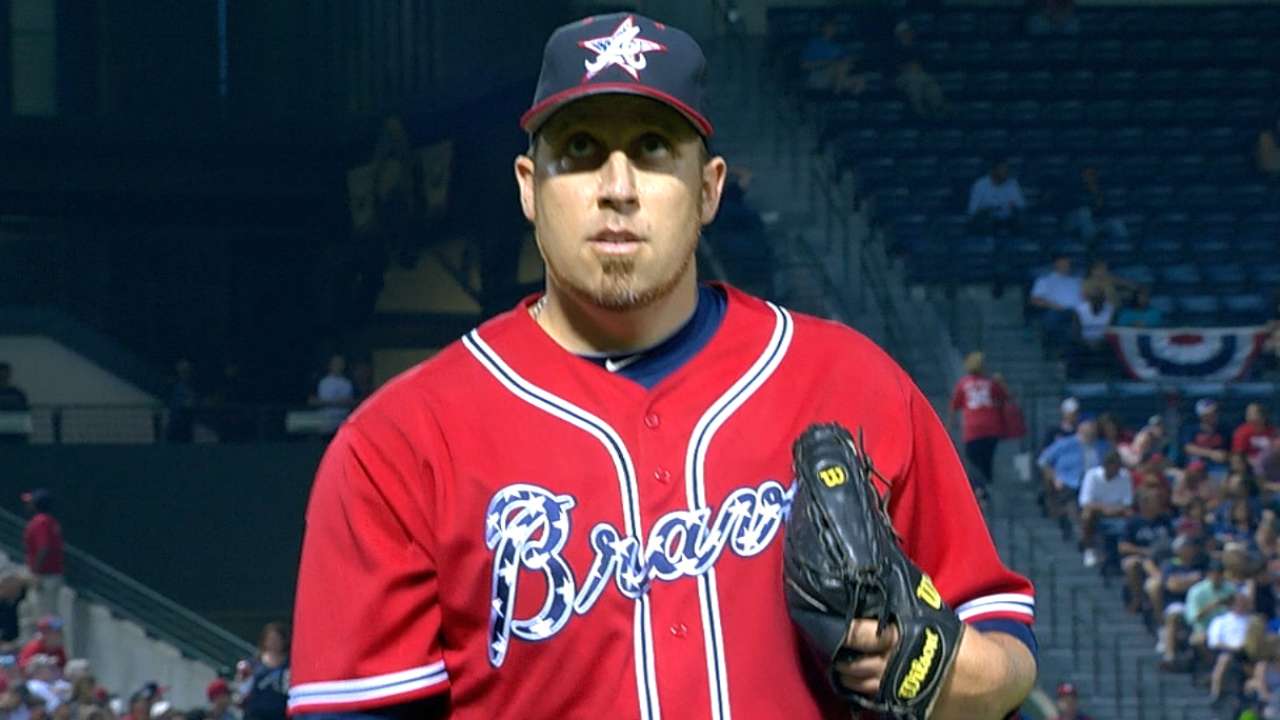 ATLANTA -- One night after getting nine two-out hits, a little more two-out magic was not enough for the Braves to break through in a dominant outing by Cole Hamels. The Phillies rode their ace to a 2-1 victory on Saturday night at Turner Field.
The defeat drops Atlanta back into a first-place tie with Washington in the National League East.
Hamels went right at the Braves, tossing 71 of his 95 pitches for strikes. The southpaw gave up only run on four hits in seven innings, fanning nine batters, walking none and no-hitting Atlanta until Tommy La Stella doubled with two outs in the fifth.
"He got into that third inning, fourth inning and you're thinking, 'Oh, man,' this isn't good," Braves third baseman Chris Johnson said. "It's hard. We couldn't really get his pitch count up because he was throwing a lot of strikes. So you couldn't go up there and just take pitches, because you would have been down. If you go up there and swing, his stuff's moving all over the place, so you're down."
Hamels did not need much run support, so when Jimmy Rollins became the first Major Leaguer to take reliever Shae Simmons deep, the Phillies jumped ahead for good. Rollins sent a two-run shot over the right-field wall in the seventh that eluded an impressive climb by Jason Heyward and dealt the hard-throwing rookie his first career loss.
It also snapped a scoreless tie made possible by six scoreless six innings from Braves starter Aaron Harang, who recorded his 17th quality start and his 15th outing allowing two earned runs or fewer in what continues to be a bounce-back season for the veteran.
Harang threw 103 pitches as he gave up five hits and walked three, but he never let a runner cross the plate. He put at least one Philadelphia player on base in every inning but the second, putting the leadoff man on base three times.
Perhaps his most dangerous frame came when he loaded the bases with one out in the third, with Ryan Howard and Marlon Byrd coming to the plate. However, Harang got Howard to fly out and Byrd to ground into a fielder's choice to end the threat.
"I didn't feel as sharp as usual," Harang said. "I was a little erratic, trying to figure some things out, but once I kind of calmed down and was able to [get] through the third there, the game went a little bit smoother for me."
"I've kind of gotten used to him now," Braves manager Fredi Gonzalez said. "He's not going to give in. He may walk a guy or may walk another guy to get to the guy he knows he can get out, and that's being a veteran. That's a guy who's been in the league for a long time."
After Simmons surrendered the homer to Rollins, Atlanta finally got to Hamels in the seventh. Justin Upton got into scoring position with a two-out double and came home on Johnson's double that bounced off second baseman Chase Utley's glove and into left field.
The Braves seemed to finally gain some momentum when umpires denied Philadelphia manager Ryne Sandberg's challenge that Johnson was out at second, but La Stella could not come through a second time against Hamels, striking out.
"I thought Utley was going to catch it at first, but it was nice he didn't," Johnson said. "Once the ball hit off his glove, I was trying to get into scoring position for Tommy. Tommy's come up with some big hits, so I wanted to give him a chance."
Hamels' gem made two baserunning blunders loom large for Atlanta. Pinch hitter Tyler Pastornicky led off the sixth with a single, but he was thrown out at second after Hamels caught him off-guard with a pickoff throw to first. Two innings later, B.J. Upton reached base with a two-out infield single, but he was caught stealing to end that threat.
"He kept us off balance there for seven innings," Gonzalez said, "but we stayed in the game."
Joe Morgan is an associate reporter for MLB.com. This story was not subject to the approval of Major League Baseball or its clubs.