Rollins provides Hamels support in superb start
Lefty K's nine over seven one-run frames; two-run shot boosts Phils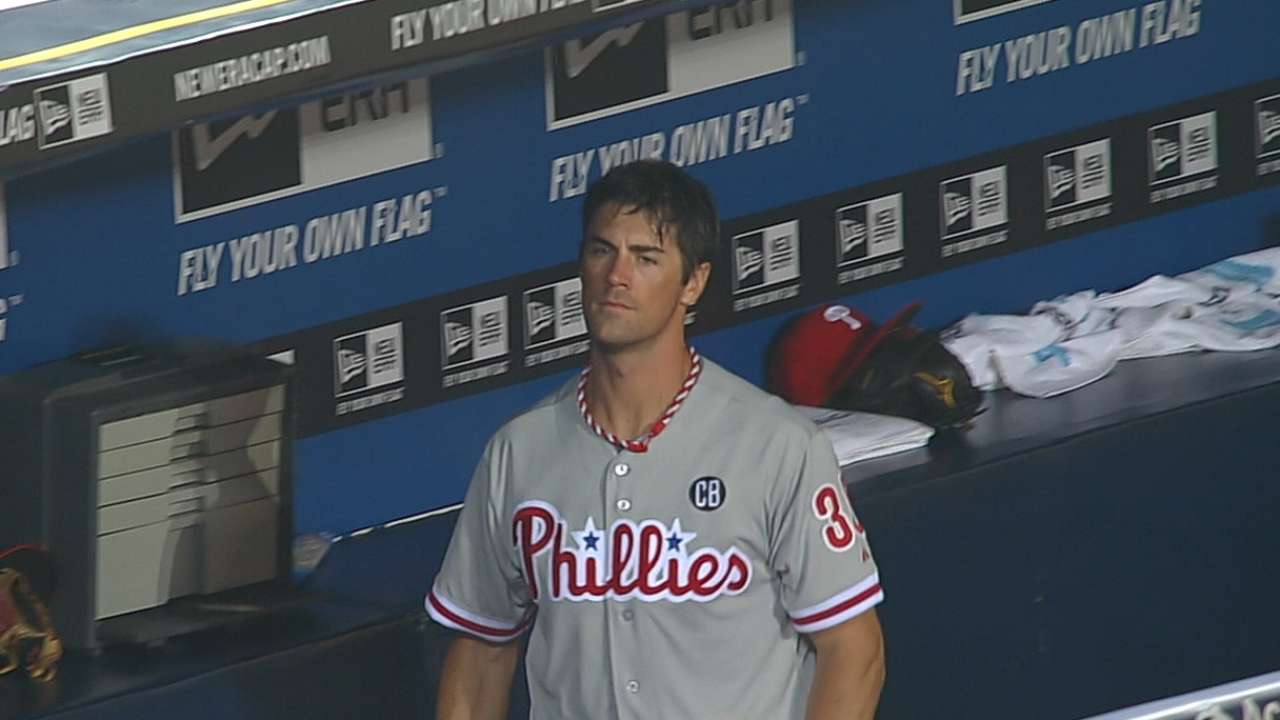 ATLANTA -- Some nights just have a magical feel to them.
Saturday night at Turner Field was that kind of night for Cole Hamels. He knew it from the time he left the bullpen.
"Definitely, mentally I was pretty clear and everything just felt really easy," said Hamels, following his masterful seven-inning effort. "Just feeling that last touch of the baseball, really having a good understanding of where it's going to go the moment it leaves your hand. Sometimes you don't necessarily have that all the time."
Hamels (4-5) controlled the proceedings and the Braves for a while, flirting with history. He held the Braves without a hit for 4 2/3 innings, allowing one run and four hits with nine strikeouts as the Phillies evened up the weekend set with a 2-1 victory over the Braves.
"I thought he had an opportunity to throw a no-hitter, the way his stuff was," shortstop Jimmy Rollins said. "He was throwing his cutter well, his curveball was good. He didn't use his changeup as much as he normally does. He went with his curveball, and he was getting a lot of swings and misses."
Rollins provided all of the Phils' scoring, breaking a scoreless tie with one out in the seventh as he drove a 2-2 pitch from reliever Shae Simmons (1-1) over the wall in right. The two-run shot, Rollins' 12th dinger of the season, drove in Grady Sizemore, who had doubled for his third hit of the night.
It was a feeling of relief for Rollins, who hit the ball hard to right field in three previous at-bats but had nothing to show for it. He also was relieved the ball got through the wind.
"I said, 'Finally!' I knew that one wasn't right at them," said Rollins of his 211th career homer. "I've played here with the wind blowing in and I've seen guys cut through it, but only when it's low. You accept that first row and it counts for just as many runs as if it went 20 rows deep."
"[Hamels] wanted run support? We'll give him run support," said manager Ryne Sandberg with a laugh.
Run support hasn't usually been a laughing matter for Hamels this season, as he has pitched at least seven innings 12 times in 14 starts with an ERA of 2.12 since May 11, yet only has a 4-3 record with seven no-decisions.
On Saturday night, Hamels' "he deserved better" label was shelved thanks to the Rollins blast, some tremendous defense and another stellar effort by the bullpen, which threw two more scoreless frames.
Hamels was brilliant, recording his ninth career effort of at least seven innings and at least nine strikeouts without a walk -- it was his first since Sept. 18, 2011 against St. Louis. But what made Saturday night unique was his decision to nearly abandon his changeup.
"I was able to really commit and really execute pitches," Hamels said. "I didn't even get myself to even throw my changeup as much. I know that's my out pitch, but when you're not even able to go to your best pitch and you're getting them out ahead, the confidence kind of builds from there."
Hamels struck out at least one hitter in every inning and didn't allow a hit until Braves second baseman Tommy La Stella doubled to left-center with two outs in the fourth. The only other batter to reach over the first five innings was right fielder Jason Heyward, who was hit with a pitch. Hamels retired 10 in a row after hitting Heyward. After the double, he allowed a single by pinch-hitter Tyler Pastornicky leading off the sixth, then proceeded to pick him off.
Hamels' main weapon of choice was his fastball, which was almost unhittable.
"He was attacking with his fastball all night," said catcher Cameron Rupp. "It was running away, and sometimes he threw it and it would cut. You've got one pitch doing two different things it's hard to put a good swing on the ball."
It turns out this two-seam fastball is something of a new toy for him.
"It's something I've been working on the past couple of games, trying to throw more two-seamers," Hamels said. "I definitely know where to start it on the plate a little bit better to where guys are actually going to swing. It's been kind of a fun pitch that I've been working on with Cliff [Lee] and A.J. Burnett] and [Kyle Kendrick]. When you're actually able to have the results from it, you get a little bit more giddy to get out there again and go out and throw that same pitch."
Atlanta cut the lead to 2-1 in the seventh on a double by Justin Upton, then a double by Chris Johnson on a ball hit up the middle that deflected off a diving Chase Utley's glove and caromed into short left. Left fielder Domonic Brown's throw was just late at second. The Phillies sought a video review, but the call was upheld. Hamels would strike out La Stella to strand the tying run at second.
The Phils, who touched up Atlanta starter Aaron Harang for eight earned runs and 13 hits in a June 18 meeting at Turner Field, were shut out on five hits by him through six innings this time, although they littered the basepaths in the process.
The Phillies put at least one runner on in every inning, stranding a pair of runners in the first, leaving the bases loaded in the third and wasting leadoff men reaching in four of the first six innings. The Phils matched their season-high by leaving 10 men on base and going 2-for-8 with runners in scoring position.
"We had plenty of opportunities," said Rollins. "But Cole was pitching. So I don't know the makeup of opportunities we have when he pitches. We scored just enough as usual when he pitches. When he does get the win, it's just enough."
Relievers Ken Giles and Jonathan Papelbon each threw a scoreless inning to seal Hamels' win. Giles got some help from Rupp to end the eighth, as the catcher cut down Braves center fielder B.J. Upton, who attempted to steal second and move into scoring position.
"That was filthy," said Rollins.
"He got a little bit of a late jump I think," Rupp said. "If he gets a good jump, then I probably don't throw him out. But Kenny was quick to the plate, gave me a chance and he was out."
Papelbon sealed his 23rd save with an easy 1-2-3 ninth.
Jon Cooper is a contributor to MLB.com. This story was not subject to the approval of Major League Baseball or its clubs.