Napoli's Monster jack powers Sox past Royals
De La Rosa fires seven solid innings to help secure series victory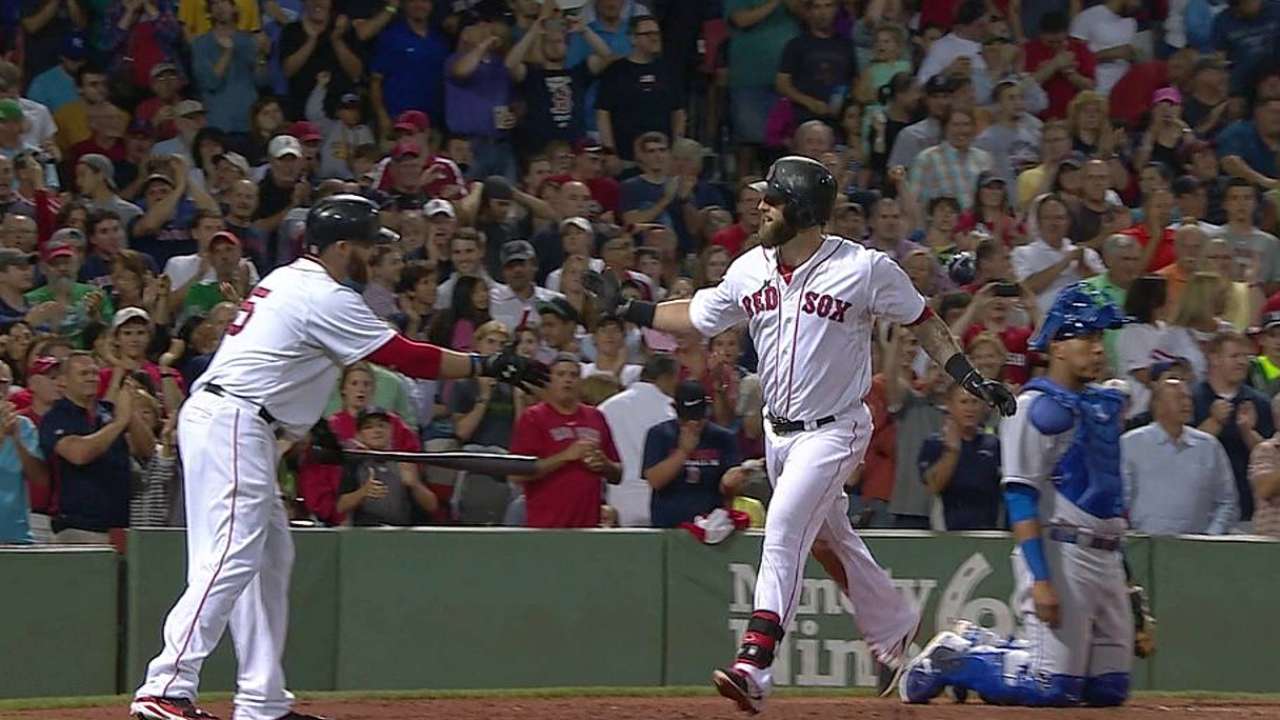 BOSTON -- A majestic home run from a veteran slugger. Another strong outing from a young and promising starter. And some stingy work by the bullpen.
That's what took place on Saturday night at Fenway Park, giving further proof that the Red Sox might at last be putting together that run everyone has been waiting for.
Backed by Rubby De La Rosa's latest dominant performance at home, and a moon shot by Mike Napoli, Boston edged the Royals, 2-1.
"We won a couple one-run ballgames; hadn't won too many of those in the first half," said Napoli, who belted a go-ahead homer over the Green Monster in the sixth inning. "Just going out there and trying to execute. Hopefully things start turning our way."
Though they still have a lot of climbing to do in the standings, the Red Sox have won six of their last seven.
"I just think more than anything, it's just depth," Jonny Gomes said. "I thought there in the beginning, the core guys put a lot of weight on their shoulders. If Jon Lester toes the rubber, it turns into a must win. It was like David Ortiz, [Dustin Pedroia] and Nap must drive in runs. Now, there's just more length throughout everything."
Behind Lester, Boston will go for a three-game sweep on Sunday afternoon, which would be a nice sendoff to a seven-game road trip through Toronto and Tampa Bay.
"We've had our fair share of one-run games, let's be honest," manager John Farrell said. "Of late, we've won a number of them here in Fenway, whether it's the walk-off variety or shutting things down with Koji [Uehara] coming in, in the ninth inning."
Uehara applied the finishing touches on this one, firing an 11-pitch ninth for his 20th save.
De La Rosa (3-2, 2.64 ERA) turned in yet another strong performance, holding the Royals to five hits and a run over seven innings. De La Rosa walked four, but he minimized the damage.
"It's fun to pitch here," De La Rosa said. "I feel comfortable here. I feel everything works. I like the mound here. I love the fans."
At Fenway, De La Rosa is 3-0 with a 1.38 ERA.
"He obviously feels comfortable," Farrell said. "The environment and the energy that is created here at Fenway, seemingly he thrives on it and channels it clearly in the right way."
In his return to the lineup, Shane Victorino went 1-for-3.
With the game tied at 1 in the sixth, Napoli worked a 3-1 count against Danny Duffy and mauled a slot shot over the light tower above the Monster.
"I got into a hitters count, 3-1, just trying to hit something hard from there. Got a pitch up to handle, then drove it," Napoli said.
It was the 11th homer of the season for Napoli, who still might have his best power stretch of the season in front of him.
"We need everyone's bat in the second half, given where we are currently," Farrell said. "But a big home run tonight -- obviously the difference in this one."
The Royals struck for a quick run against De La Rosa in the third, as Jarrod Dyson drilled a triple to center and Omar Infante got him home on a sacrifice fly to center.
When the Red Sox made a miscue behind De La Rosa in the fourth -- a popup that Gomes and Holt converged on, only to have Gomes drop it -- the righty didn't get frazzled. Instead, he got out of the inning unscathed.
The Red Sox got something going in the fourth when Napoli blooped a one-out single to center and Gomes followed with a walk. Then, a break, as Victorino spun a grounder that went right through shortstop Alcides Escobar for an error. Napoli raced around third for the tying run.
Next time, Napoli could trot around the bases.
Perhaps if Duffy could do it over again, he would have worked around Napoli on the 3-1 pitch.
"I was saying that as I was walking off the mound, but it is what it is. Hindsight's always 20-20," Duffy said. "Something inside just told me to go after him, so I paid the price. I threw a fastball. I thought it was pretty well located, but it might have caught a little too much of the plate and he was ready for it, to say the least."
Ian Browne is a reporter for MLB.com. Read his blog, Brownie Points, and follow him on Twitter @IanMBrowne. This story was not subject to the approval of Major League Baseball or its clubs.