Donaldson's walk-off blast caps A's rally in ninth
Oakland was trailing O's by two runs entering final frame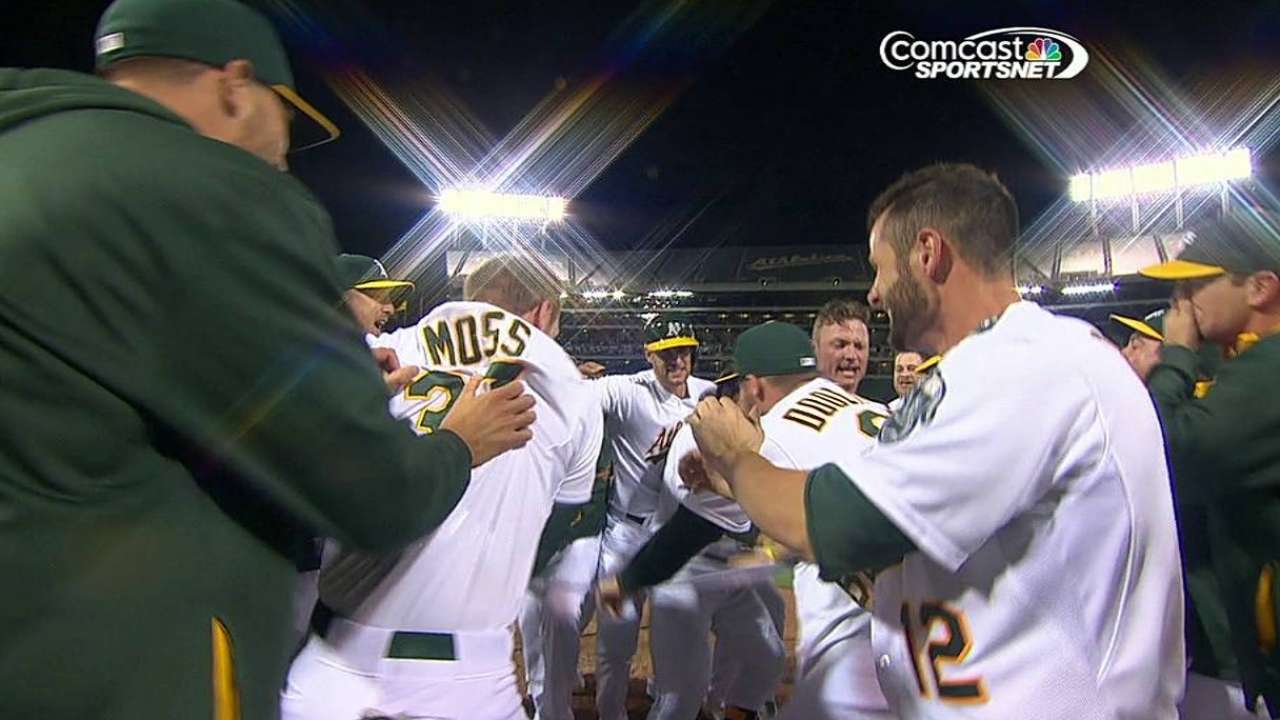 OAKLAND -- Manny Machado wrote a pretty good story Friday night in Oakland. Josh Donaldson erased it all on a walk-off, three-run homer and inked an even better one for the A's.
The first-place A's, winners of a 5-4 thriller, were none too happy last month when Machado tossed his bat toward reliever Fernando Abad, particularly after he had already hit catcher Derek Norris with it twice on backswings -- two days after he got in Donaldson's face following a tag.
Then Machado descended upon the Coliseum on Friday to face the A's for the first time since the rift in Baltimore, which led to him serving a five-game suspension, and hit a go-ahead homer off Jeff Samardzija in the seventh inning.
"Certainly there's a little irony involved in the whole thing," said A's manager Bob Melvin, smiling. "I don't think, as the game started, either team was thinking about that. Our fans came out and certainly there was some heckling and so forth, but I think Machado handled it pretty well and certainly ended up with a huge home run.
"But when you see JD come up in the ninth, you kind of have that feeling, 'Really? Could this happen?' And it did."
With runners at the corners and no out, Donaldson simply wanted to hit a fly ball off closer Zach Britton. He slammed a first-pitch sinker to center field for the A's seventh walk-off win of the season.
"That was a really, really long fly ball," said Brandon Moss.
"That's my best pitch," said Britton. "He put a good swing on a good pitch."
Moss was on first base when he heard the blast, after moving Yoenis Cespedes to third base on a bloop single to right.
"That's an incredible moment," Moss said. "We were all pumped up. We had been struggling offensively all day, and when he comes through like that, it's almost expected, but at the same time you can't put those expectations on the guy all the time. But that was a good swing. A really good swing."
"I enjoy those moments," said Donaldson. "It's one of those things where you've got to try to relish the opportunity, and any time I can step up to the plate with an at-bat to help our team win the game or win the game right there, I feel better about it."
Samardzija surely felt better.
The right-hander gave the A's seven innings in his third start in green and gold but was touched for a pair of two-run homers along the way, including a shot by Jonathan Schoop in the fifth after hitting J.J. Hardy with a pitch.
"I think you'll see as the year goes on, as his career goes on, that JD is best in big situations," Samardzija said. "He loves those spots. I've been here for two weeks and can already tell that. He gets those big eyes and gets excited. That's the guy you want up in that situation.
"The first thing I said when I came here was, 'I love how these guys play the game, from the first out to the last out. They don't quit.'"
"We always have a feeling here at home, when we're within shouting distance," said Melvin, "that we have a chance to win. We're always thinking good things are going to happen."
The A's managed just four hits before the ninth, including Norris' game-tying solo shot off righty Chris Tillman in the fifth, giving the catcher nine homers on the year and 25 in his career -- including 11 that have either tied the game or given the A's the lead.
For Donaldson, it was his 21st long ball of the year. He had 24 all of last year.
And four total in Monday's Gillette Home Run Derby.
"Everybody kept saying how it was going to mess my swing up," said Donaldson, grinning. "Maybe it's the fact that I didn't hit a lot of homers in the Home Run Derby. So with that being said, I think I saved a couple."
Jane Lee is a reporter for MLB.com. This story was not subject to the approval of Major League Baseball or its clubs.