Padres stumble late after rally in four-run fifth
Mets break through in ninth; Kennedy struggles through five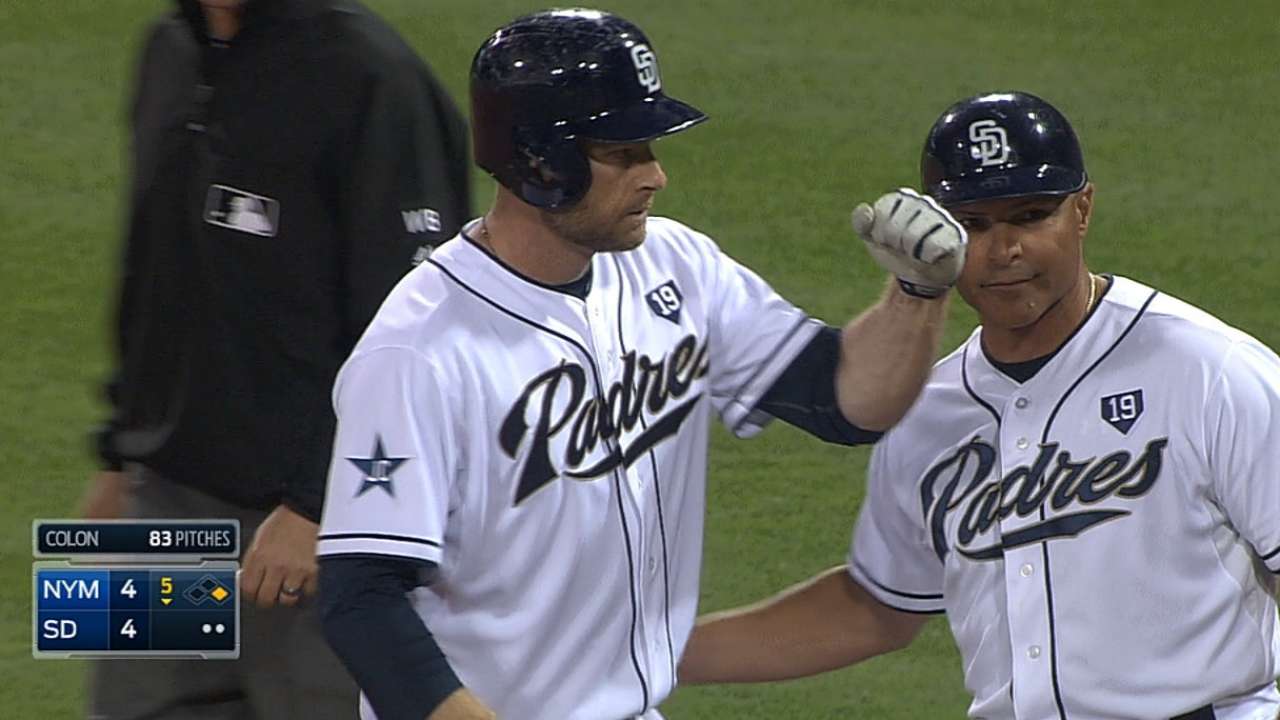 SAN DIEGO -- Joaquin Benoit, the Padres' new closer, didn't blow a save on Friday night in the ninth inning. But he did give up a game-winning RBI single to Travis d'Arnaud, as the Padres fell to the Mets, 5-4, in their first game after the All-Star break.
Benoit slides into the closer's role after the Padres traded Huston Street to the Angels on Friday night -- and with Street unavailable, Benoit's first go-round as the go-to guy in the bullpen didn't turn out well.
"Trying to fill his shoes is really going to be hard for me," said Benoit, who spent time last season as the closer for Detroit. "I did it last year and I'm in the same situation now, trying to fill a spot. Hopefully I can do what he was doing."
In the final frame, Benoit (3-2) gave up a leadoff walk to Curtis Granderson, who advanced to second and third on groundouts. Lucas Duda was intentionally walked before d'Arnaud struck the final blow.
"I just tried to keep my eye on the ball and put a swing on it," d'Arnaud said. "Fortunately, it found a gap."
San Diego (41-55) has now lost eight of 10 after a five-game winning streak briefly inspired hope of jumping back into the edges of playoff contention in the National League. New York (46-50), meanwhile, has won nine of 11.
The Padres had been on the losing end of consecutive shutouts to the Dodgers before the All-Star break, and extended their scoreless streak to 25 innings before finally breaking through in the fifth inning for four runs against Bartolo Colon to tie the game. Chase Headley had the big hit, a two-run single that tied it at 4.
Kennedy labored through five innings, giving up four runs and six hits with three walks and four strikeouts. He needed 105 pitches to complete his outing, with 32 coming in New York's three-run first inning.
Kennedy allowed a leadoff single to Granderson, hit Duda with a curveball in the dirt and then left a fastball over the middle of the plate that d'Arnaud laced up the middle for an RBI single. After a walk to Kirk Nieuwenhuis loaded the bases, Juan Lagares blooped a single to center to drive in two more runs and put the Padres in a 3-0 hole.
The Mets tacked on another in the third when Duda hit a leadoff double and was later plated on an RBI groundout by Nieuwenhuis.
Kennedy's uneven outing marked the first time since June 25 that a Padres starter allowed more than three earned runs in a start, snapping a streak of 16 consecutive games. The streak was tied for the longest in franchise history and was the longest such streak by a Major League team this season.
The Padres valiantly drew even in the fifth against Colon, who had given up just one hit up to that point. Chris Nelson had an RBI single for his first Padres hit before another RBI single from Alexi Amarista and Headley's game-tying knock, which gave him a team-high 31 RBIs on the season.
But the Mets' bullpen did its job after that, as Jeurys Familia (2-3) picked up the win and Jenrry Mejia closed it out for his 11th save.
It was the first loss of the season for San Diego when scoring four or more runs at home.
Will Laws is an associate reporter for MLB.com. This story was not subject to the approval of Major League Baseball or its clubs.