d'Arnaud picks up Mets with ninth-inning RBI
NY stays hot to open 10-game trip; Colon labors through illness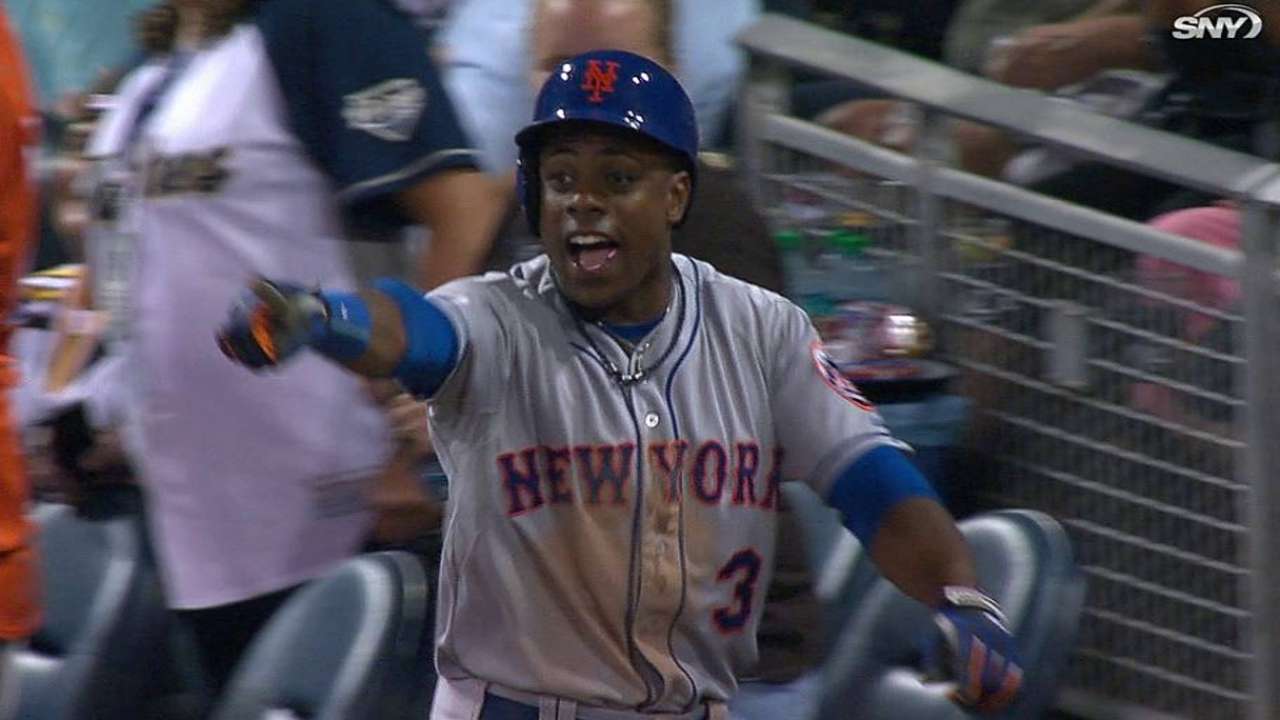 SAN DIEGO -- Mets general manager Sandy Alderson welcomed his team back from the All-Star break Friday with a challenge of sorts. As the non-waiver Trade Deadline approaches, Alderson said he will shape his strategy around how the Mets perform on their 10-day road trip though San Diego, Seattle and Milwaukee.
Should the Mets continue playing as well as they did prior to the All-Star break, Alderson intimated, he will seriously consider adding pieces to the roster. Should they falter, no guarantees.
It's up to the players then, and one game into their trip everything is going according to plan. Travis d'Arnaud hit a go-ahead single in the ninth inning Friday night at Petco Park, leading the Mets to a 5-4 victory over the Padres for their ninth win in 11 games.
"It meant a lot," manager Terry Collins said. "It really showed the guys that they're still in that zone right now."
Curtis Granderson opened the ninth by drawing a walk off Joaquin Benoit, the de facto closer for a shorthanded Padres team that traded Huston Street to the Angels earlier in the day. Granderson then moved to third base on two consecutive groundouts, and, after Benoit intentionally walked Lucas Duda, d'Arnaud punched a single through the right side of the infield. As Granderson jogged home, he pointed to the visiting dugout, where his teammates were wildly waving towels in support.
"I just tried to keep my eye on the ball and put a good swing on it," d'Arnaud said. "Fortunately, it found a gap."
The Mets did plenty of early damage against Padres starter Ian Kennedy, stringing together three runs on three hits in the first inning, and a fourth on Kirk Nieuwenhuis' RBI groundout in the third. But the Mets also left six men on base over the first four innings, allowing Kennedy to scrape his way through a five-inning, four-run outing.
That kept the Padres, who did not put a runner on base until the third, in the game. They responded by plating four runs off Mets starter Bartolo Colon in the fifth inning, the big blow coming on Chase Headley's two-out, two-run, game-tying double. Battling a stomach ailment, Colon said through an interpreter that he considered coming out of the game early but did his best to battle through the discomfort.
He did, and d'Arnaud's hit bailed the Mets out in the end.
"When you're winning, it's not just one phase of the game that's going good," Collins said. "It's pretty much all of it."
It was similar to what the Mets accomplished prior to the All-Star break, winning eight of 10 on their most successful homestand in four years. That stretch imbued the Mets with enough confidence, for the first time, to begin talking realistically about adding pieces at the Trade Deadline. Previously, most rumors had centered around trading away Colon, Daniel Murphy or other higher-priced veterans -- rather than importing significant big league talent to Flushing, which the Mets have not done in seven years.
The poster child of their resurgence has been d'Arnaud, who made his big league debut at Petco Park last August. Coming into this season amid high expectations, d'Arnaud stumbled to such an extent that the Mets optioned him to Triple-A Las Vegas in June. But his recovery was immediate, and d'Arnaud has not stopped hitting since his return; he has reached base safely in 16 of his last 17 games, batting .318 with three home runs and 11 RBIs over that span.
"He's made some adjustments at the plate," Collins said. "His confidence is soaring. He's seeing the ball good. His confidence is great. There's a lot of things going on, and that's why he's hitting where he's hitting."
Along with the turnarounds of Ruben Tejada, Granderson and others, d'Arnaud's renaissance has helped the Mets salvage a season that was rapidly spiraling out of control in June. Now the Mets are surging. Although they entered the night with somewhere between a 3- and 17-percent chance to make the playoffs, according to various statistical projection systems, they scoff at those numbers.
"Somebody says we have a 3-percent chance," Alderson said. "If you ask the guys on the field, they probably think we've got a little better chance than that."
Anthony DiComo is a reporter for MLB.com. Follow him on Twitter @AnthonyDicomo. This story was not subject to the approval of Major League Baseball or its clubs.