Home run bug sidetracks Dickey in loss to Rangers
Ex-Blue Jay Arencibia's three-run shot breaks game open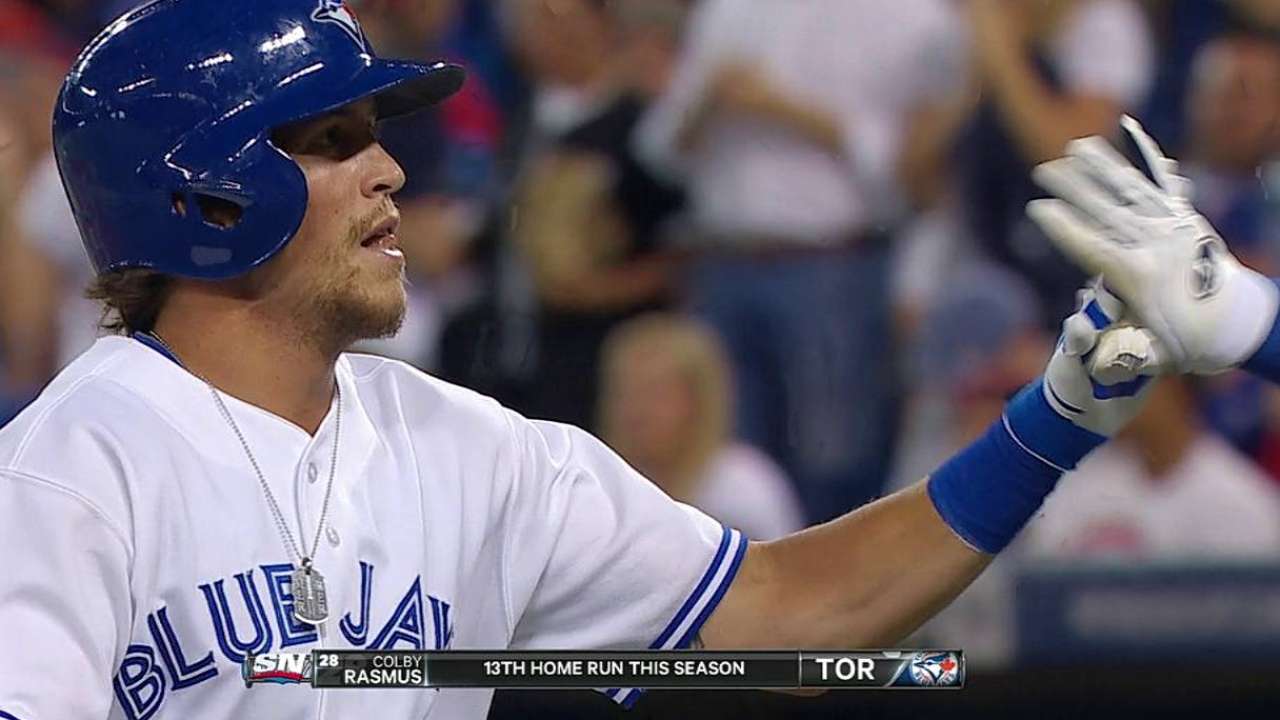 TORONTO -- After battling Yu Darvish through four innings, R.A Dickey couldn't hold his solid start together on Friday night against the Rangers.
The long ball, which Dickey had eluded in his previous three starts, reared its ugly head at the most inopportune times as the Blue Jays lost for the ninth time in the past 11 games.
The 39-year-old knuckleballer allowed a homer to lead off the fifth and a three-run shot to former Blue Jay J.P. Arencibia in the seventh as the Rangers topped the Blue Jays, 5-1, at Rogers Centre in the series opener.
"That's kinda become the motif, unfortunately," said Dickey, who has lost six of his last seven starts. "I'll be cruising along and then in that seventh inning I threw a couple of really good knuckleballs they got singles on and then J.P. timed one up right ... and he hit a home run. Next thing you know we're down five runs to one of the best pitchers in the league."
Through four innings, it was a pitchers' duel. Darvish and Dickey combined to allow three hits, one walk and 10 strikeouts as the game motored along without any meaningful offensive sparks.
But in the fifth, just as it's happened several times over the course of the season, Dickey caught a snag. Adrian Beltre led off the frame with a home run to put the visitors on the board. After Dickey hit Arencibia with a pitch, Rougned Odor cracked an RBI triple to right field and it was 2-0 Texas.
As Dickey stumbled, Darvish continued to cruise. The two-run lead was enough padding for the right-hander, who improved to 9-5 as he cut through the Blue Jays offense with 12 strikeouts over 6 2/3 innings.
Several times Darvish nullified Blue Jay threats, registering back-to-back strikeouts of Juan Francisco and Josh Thole with one out and two runners on in the second and fanning Jose Bautista with a runner in scoring position to end the third. Darvish gave up one earned run on five hits while walking three.
"Guys like Darvish, I don't care what your lineup is, they're gonna cut you up good and limit your opportunities," said Blue Jays manager John Gibbons. "We had a couple tonight and we didn't cash in. We've been in a offensive drought for a while now."
The Blue Jays offense, which was so prolific earlier this season, has indeed dried up as of late. Injuries to Adam Lind and Edwin Encarnacion have severely hampered production, and the team that led the Major Leagues in runs scored in May has scored three runs or fewer in eight of its last 11 games.
Colby Rasmus snapped a team homerless streak of 42 innings with a home run in the seventh, the lone spark from an otherwise docile showing at the plate from the Toronto offense.
The Rangers, on the other hand, benefited from timely hitting, and it was Arencibia's shot that put the game out of reach. The former Blue Jays catcher got ahold of a knuckleball with two on and sent Dickey's offering over the left-field wall for a 5-0 Rangers lead. Dickey pitched seven innings and allowed five earned runs on six hits with seven strikeouts and two homers.
Arencibia, who had a turbulent season with the Blue Jays in 2013, was met with boos in each of his four plate appearances, but silenced his critics with one swing.
"It's definitely better as an opposing player if you get booed," said Arencibia, who was non-tendered by the Blue Jays last December. "I have a lot of great memories here and that's definitely not going to do anything to take it away. It's kind of flattering when they boo you, it gives you a little bit more fire."
The struggling Blue Jays find themselves tied with the Yankees for second place in the American League East, four games back of the division-leading Orioles as the second half of the season got underway.
Jamie Ross is an associate reporter for MLB.com. This story was not subject to the approval of Major League Baseball or its clubs.