Pena's two homers not enough against Yanks
Reds come up just short as Leake allows four runs over seven innings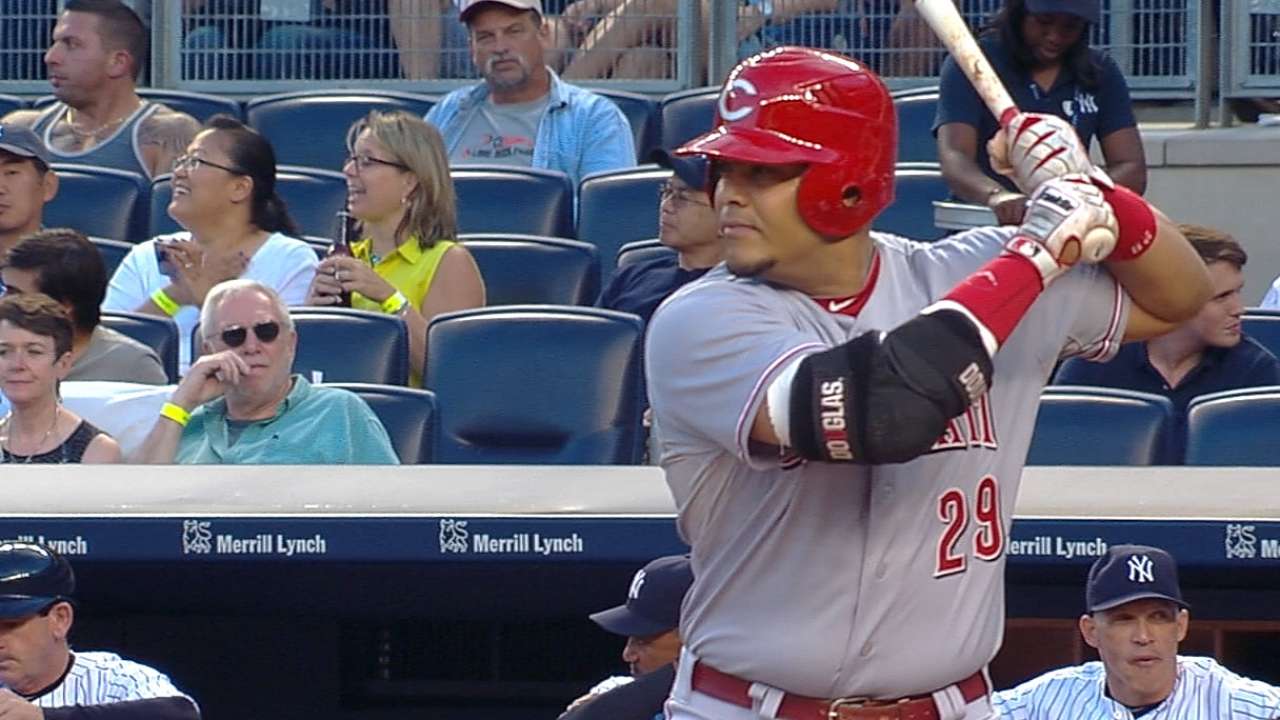 NEW YORK -- The Reds seemed to spend the week prior to the All-Star break weaving some stunning comebacks and never feeling out of a game when trailing.
On Friday night, as they returned to action vs. the Yankees, the series opener was never far from their grasp. But save for Brayan Pena, the big hits and sustained rallies remained on hiatus. Pena hit two homers, but the Reds were 4-3 losers to New York.
"You have to give them a lot of credit. They scored some runs and then their bullpen did the rest," Pena said. "For us, it was one of those games where we were grinding a little bit, first game back from the All-Star [break]. We were trying to get back on track."
Cincinnati, which won eight of 11 heading into the break, played catchup from the beginning but stayed in the game because of Pena.
Facing Yankees starter David Phelps to lead off the third inning, he hit the first pitch for a no-doubt homer to right field. It was Pena's first home run since May 4, after a stretch of 136 at-bats.
Leading off again in the seventh against Phelps, Pena lofted a 2-2 pitch for what looked like a lazy fly ball to right field. The ball kept carrying and cleared the wall to give Pena the first two-homer game of his career.
"It's something that's not going to happen that often. Hopefully, it does," said Pena, who has five homers for the season and has often been filling in for Joey Votto at first base.
The only other run on the Reds' ledger came in the fourth inning, when Zack Cozart hit a leadoff single and scored from third base as Devin Mesoraco reached on a Derek Jeter fielding error at shortstop. Phelps pitched into the seventh inning and struck out seven, including five on called third strikes.
Reds starter Mike Leake gave up four earned runs and eight hits over seven innings with two walks and five strikeouts. After he had won three straight starts, he's won just one of his last four.
"He wasn't as sharp as he's been, but he competed well and gave us a chance," Reds manager Bryan Price said. "We just caught a guy who was a little bit better today."
The Yankees' first two runs came after the leadoff hitter reached and scored on two-out hits. Leake's first batter of the night, Brett Gardner, was hit by a pitch and scored on a double by Brian McCann. In the third inning on the heels of Pena's first homer, Jeter hit a leadoff single and came home on a Carlos Beltran single to center field.
"[They] were kind of the ones that [frustrated me]," Leake said of the two-out runs. "It was bad pitches, the pitch selection was probably bad for those guys I was facing."
Those runs may have been irritating, but in the fifth inning of a 2-2 game, Leake finally gave up a hit that really stung. Following a Jeter single, Jacoby Ellsbury crushed a 1-1 Leake cutter to right field for a two-run homer.
"It was a cutter that backed up," Leake said. "It was still a decent location. He was able to drop his hands and hurt me."
After Pena made it a one-run game in the seventh, Phelps gave up a single to the next batter, Chris Heisey. With one out, the Yankees turned to All-Star setup man Dellin Betances, who worked 1 2/3 scoreless innings, which included closing down the seventh with a 99-mph fastball that struck out Cozart. David Robertson closed it out in the ninth as the two relievers combined to retire eight of the last nine batters.
The game was costly as the Brewers won and extended their lead on the Reds back to 2 1/2 games in the National League Central.
"You have to shake it off and be ready for tomorrow," Pena said. "It's an early game. There is no time to feel sorry for ourselves."
Mark Sheldon is a reporter for MLB.com. Read his blog, Mark My Word, and follow him on Twitter @m_sheldon. This story was not subject to the approval of Major League Baseball or its clubs.