Free-agent trio carries Yanks to win over Reds
Ellsbury, Beltran, McCann provide the offense, back solid Phelps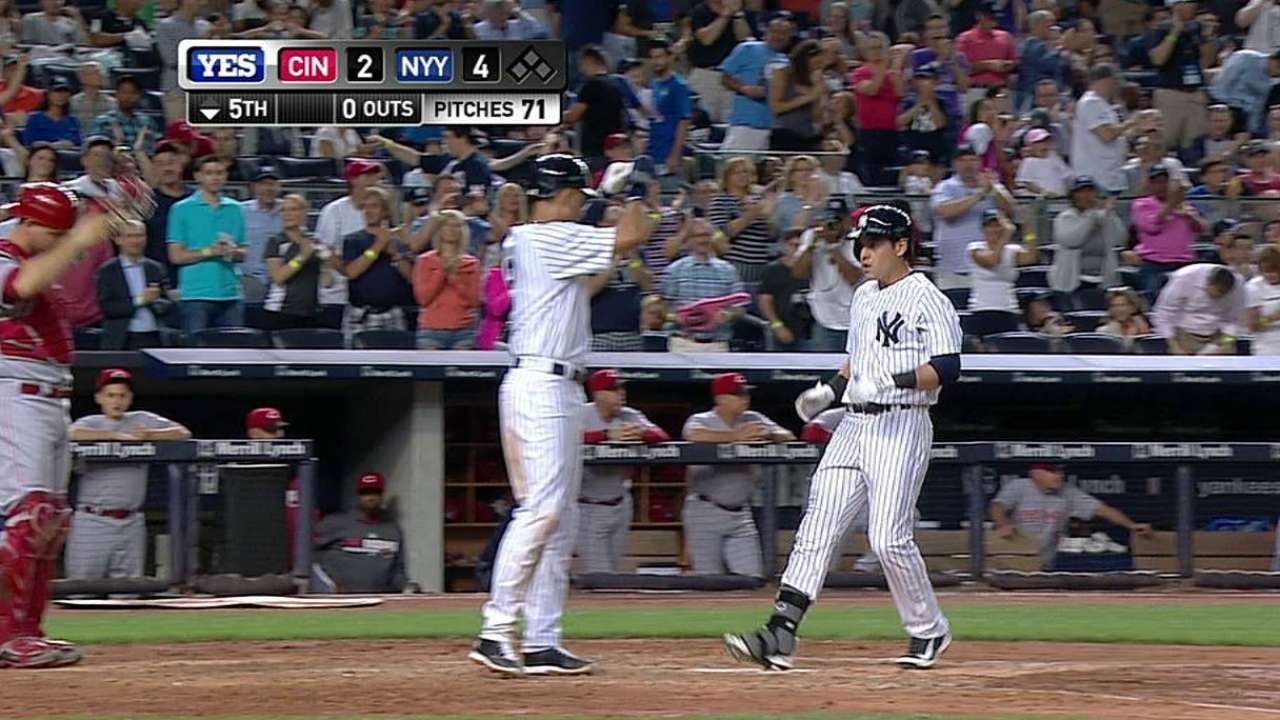 NEW YORK -- The Yankees spent big money in free agency this past offseason trying to improve their lineup, yet have struggled at times this season to score runs and rank near the bottom of the American League in that category.
Friday night was closer to what the Yankees had in mind when they shelled out $153 million to sign Jacoby Ellsbury, $85 million to lock up Brian McCann and $45 million for Carlos Beltran.
Ellsbury hit a tiebreaking two-run home run, while Beltran and McCann each collected an RBI to lead the Yankees to a 4-3 victory over the Reds in front of 47,372 fans at Yankee Stadium.
"We know that they're accomplished hitters," Yankees manager Joe Girardi said. "We know that they're going to contribute and believe that they're going to contribute big in the second half."
The Yankees got another solid outing from right-hander David Phelps. He allowed three runs (two earned) in 6 1/3 innings while striking out seven. In his last seven starts, Phelps (4-4) is 3-0 and has allowed two earned runs or fewer in six of those starts.
His recent consistency is even more important considering the Yankees' depleted starting rotation.
Before the game, general manager Brian Cashman announced that left-hander CC Sabathia will have season-ending surgery on his right knee. It was not a surprise, as the team feared this could happen since the issues with his knee returned after a Minor League start July 2, but it still did not lessen the blow.
The Yankees are without four-fifths of their Opening Day starting rotation. Sabathia and Ivan Nova (Tommy John surgery) are lost for the year. Michael Pineda (right shoulder) is out until at least August and Masahiro Tanaka (partially torn UCL in right elbow) is out for at least six weeks and trying to avoid season-ending surgery.
"Regardless of what the shape of our rotation looks like, I pride myself on being consistent. ... When our rotation does take hits, I kind of put it on myself to step up," Phelps said. "I've been here longer than some of our other guys that have been throwing for us, and the better that I can do, the better it is for our team, the better it is for our staff."
Prior to the game, Girardi talked about how McCann and Beltran were extremely important to helping the team make a run toward the postseason in the second half.
McCann eliminated a toe-tap in his swing earlier this month, and it seems to be working nicely. During his last 11 games, McCann is batting .356 with four runs, three doubles, a home run and four RBIs.
He continued his resurgence at the start of this game, putting the Yankees on the board in the first inning with an RBI double to drive in Brett Gardner.
"I've been feeling pretty good at the plate for the last 10 to 12 games," McCann said. "So hopefully, I can keep that up and drive in some runs."
The Reds (51-45) tied the game in the third on a home run by Brayan Pena, but the Yankees retook the lead with a run-scoring single by Beltran in the bottom of the inning. Beltran went 2-for-4 in his first game back from the seven-day concussion disabled list.
"As a player, you always want to do well," Beltran said. "We're competitive. We play every day. You want to start the right way all the time. You have to focus on the season [being] long and you have to believe in yourself, believe in your abilities."
A pair of errors by Yankees infielders led to the Reds scoring an unearned run in the fourth inning to tie the game at 2. Then Ellsbury lined a two-run home run to right field in the fifth inning off Reds starter Mike Leake (7-8) to give the Yankees a 4-2 advantage.
Pena took advantage of the short porch in right field with a home run to begin the seventh inning and cut the deficit to 4-3.
Phelps left the game in the seventh, and the Yankees' bullpen sealed the win. Dellin Betances struck out three in 1 2/3 scoreless innings, and David Robertson pitched a scoreless ninth for his 24th save of the year.
"It's always nice to see guys swing the bats well in a win," Ellsbury said. "[McCann and Beltran] are very good hitters. They've been great hitters for a long time, so I never worry about them. Definitely a nice win."
Jamal Collier is an associate reporter for MLB.com. This story was not subject to the approval of Major League Baseball or its clubs.