Rizzo tees off twice, but Cubs drop desert opener
All-Star's sixth career multi-homer game can't stave off D-backs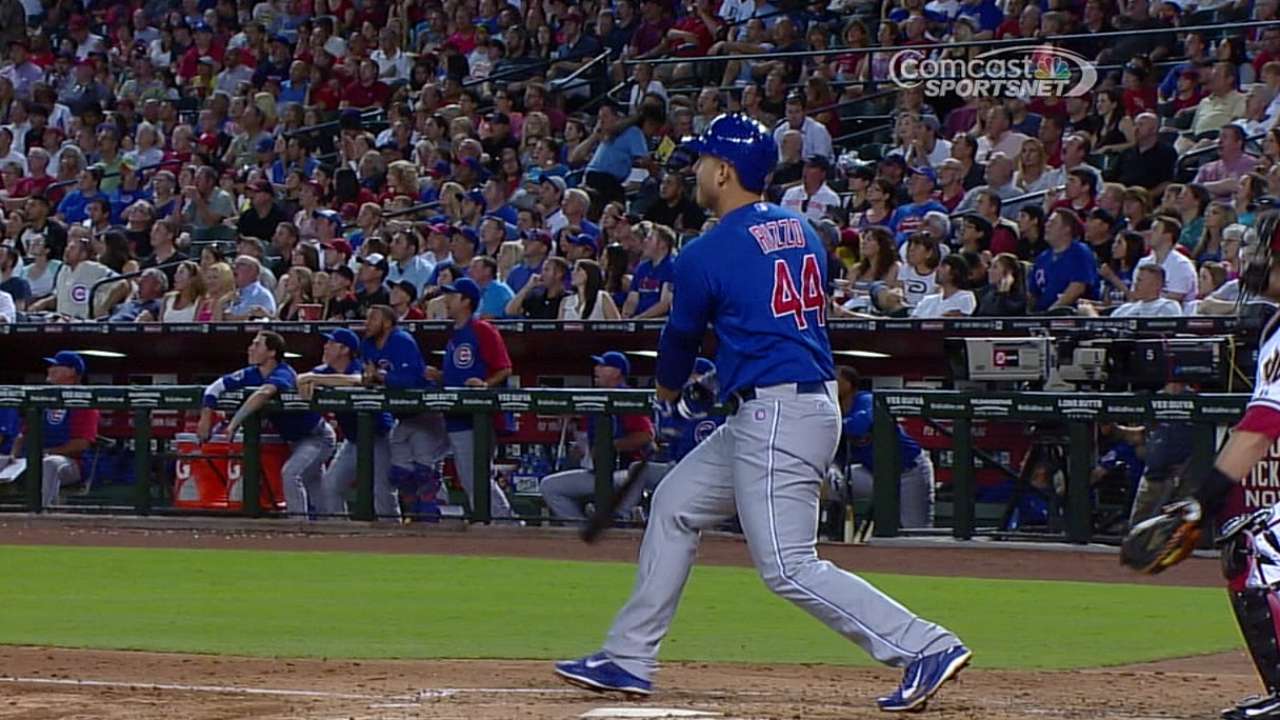 PHOENIX -- When Anthony Rizzo was in the National League clubhouse for the All-Star Game this week, he found himself lockered next to the Phillies' Chase Utley.
"I grew up a huge Chase Utley fan," Rizzo said. "Next to him is [Giancarlo] Stanton, next to him is [Andrew] McCutchen. It was a great experience and something I'll never forget. Now, I want to keep working and getting better."
Rizzo got off to a good start in the second half Friday night, but the rest of the Cubs couldn't keep up.
Fresh from his first All-Star Game appearance, Rizzo smacked a two-run home run in the fourth and a lead-off shot in the sixth for homers Nos. 21 and 22 this season, but it wasn't enough as the Diamondbacks rallied for a 5-4 victory over the Cubs.
"'Riz' had an All-Star night," Cubs manager Rick Renteria said.
Paul Goldschmidt hit a solo home run and Didi Gregorius hit a pair of RBI singles to spark the Diamondbacks' comeback in front of 32,619 at Chase Field.
Rizzo, one of three NL players to reach 20 home runs by the All-Star break, launched his first homer with one out in the fourth and a runner at second, connecting against starter Trevor Cahill. The Cubs then made it 3-0 when Luis Valbuena doubled and scored one out later on Ryan Sweeney's single.
But with one out in the D-backs' fifth, Chicago starter Edwin Jackson gave up four straight singles, including run-scoring hits by Gregorius and pinch-hitter Nick Evans.
Rizzo greeted lefty Eury De La Rosa with home run No. 22 in the sixth as the first baseman notched his sixth career multi-homer game and second this year. He also hit a pair May 31 against the Brewers. Rizzo now sits one home run shy of matching his entire 2013 season total.
"It'd be nice to pass that mark," Rizzo said. "You want to keep having good at-bats and not try to hit home runs, just try to hit the ball hard. Good things tend to happen."
His second home run was his seventh of the season off a lefty.
"I just put two good swings on the ball -- that's it," Rizzo said.
"He's playing well," Arizona manager Kirk Gibson said of Rizzo. "He's hurt us. We made some mistakes against him, and he made us pay."
During the break, Rizzo didn't get any time away from baseball. Instead, he took batting practice for two days and got one at-bat in the All-Star Game.
"I just enjoyed my time, I enjoyed the whole experience," he said. "No one on those teams knows if they will ever play in another All-Star Game. I treated it like it could be [my last one], too. ... Being there is great but the focus is here in Chicago on this team."
Jackson took a completely different approach last week and escaped from baseball.
"I took a vacation, cleared my mind, relaxed, and didn't think about baseball until Wednesday, Thursday," Jackson said. "Baseball was the furthest thing from my mind. Coming into the second half, it was all zeros."
Jackson served up Goldschmidt's solo home run with one out in the sixth, which pulled the D-backs within one at 4-3. He was then lifted and Renteria used four pitchers in the inning, but the D-backs were able to tie the game on Gerardo Parra's sacrifice fly and took the lead on Gregorius' RBI single.
"I thought [Jackson] did his job," Renteria said. "I know he's the guy we seem to pick on, and I thought he did a great job today."
Jackson is targeted because of his large contract and disappointing 2013 season. He finished last year 8-18 with a 4.98 ERA; he did not get a decision on Friday and now is 5-10 with a 5.61 ERA. He wiped the slate clean after the break.
"Whatever happened in the first half is the first half," Jackson said. "There's a lot of baseball left. It's about how you finish. You finish up strong, the first half will be kind of forgotten. You just live in the present."
Carrie Muskat is a reporter for MLB.com. She writes a blog, Muskat Ramblings, and you can follow her on Twitter @CarrieMuskat. This story was not subject to the approval of Major League Baseball or its clubs.