Machado's big blast wasted as A's rally off 'pen
Britton allows three straight hits in ninth, including a walk-off homer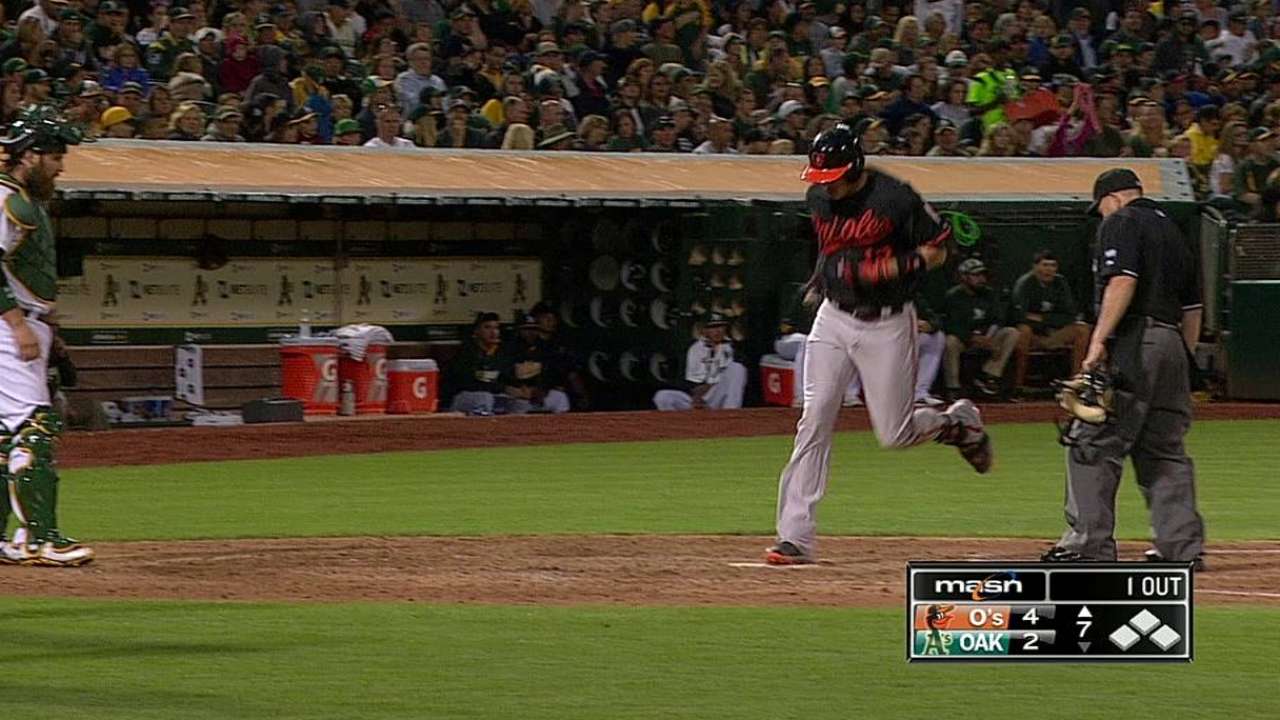 OAKLAND -- The storyline seemed perfect for the Orioles heading into the bottom of the ninth at the Coliseum on Friday night. Manny Machado, who had been bombarded with boos all night long, was positioned to be the hero after he ripped a two-run homer in the seventh inning to give Baltimore a 4-2 lead. The O's looked poised to improve to a season-best 11 games over .500.
But with two bloops and a blast, that all fell apart in the blink of an eye. Closer Zach Britton gave up a walk-off, three-run homer to Josh Donaldson, and the A's snatched the series opener out of the All-Star break, 5-4.
The final inning began with two soft hits off Britton -- an infield chopper by Yoenis Cespedes and a broken-bat blooper by Brandon Moss. Then, Donaldson crushed Britton's first-pitch offering over the left-center-field wall, sending the Coliseum crowd of 27,232 into hysterics and handing the O's a stunning loss.
"Sinker -- that's my best pitch," said Britton, who had tossed 10 straight scoreless innings since his previous blown save on June 20 at Yankee Stadium. "He put a good swing on a good pitch. You kind of just tip your cap to him."
"That's the life and world of a pitcher," said Orioles manager Buck Showalter. "It happens, they're a good team. We've done it to other people before."
Donaldson, who was at the center of the first of several incidents involving Machado last month in Baltimore, wasn't thinking too much about revenge.
"I try not to get caught up in all that jazz," Donaldson said. "He had a really good day today, but we're trying to win the game. Fortunately enough, my teammates put me in an opportunity where I could win the game."
It's been six weeks since Machado's controversy in Baltimore, but the Oakland faithful made it clear on Friday that they are not quite ready to forgive and forget. With signs and costumes in tow, the fans expressed their heartfelt disapproval of Machado throughout the night.
But the 22-year-old responded with a crucial home run against Jeff Samardzija on a slider in the seventh. He went 2-for-4 and has now reached base safely in a career-best 17 consecutive games.
"Real proud of him," said Showalter. "I think it was expected in some ways, but he had fun with it. He responded the only way that the best players in the world can."
"Felt great," Machado said of the home run. "I hit the ball well finally, and I've just got to continue doing it, continue hitting the ball well and making some good at-bats, and everything else will take care of itself."
Right-hander Chris Tillman limited Oakland to two runs in 6 2/3 innings, giving up four hits and one walk and tallying six strikeouts. It was his eighth straight outing of three earned runs or fewer.
The A's struck first in the third inning on John Jaso's RBI double, but Jonathan Schoop hit a two-run blast in the fifth to put the Orioles ahead. Derek Norris proceeded to tie the game with a homer in the bottom of the fifth.
Tillman was relieved by Tommy Hunter, who tossed 1 1/3 scoreless frames, and Baltimore appeared well on its way to victory. But the A's -- who boast the Majors' best record -- had the last laugh against the American League East leaders.
"Two good teams, small margin of error," Showalter said. "I thought Tilly presented himself well against a good team, Tommy threw the ball well. Zach made one bad pitch."
Samardzija, whom the A's recently acquired from the Cubs, looked comfortable for much of the night, but the O's managed to touch him up for four runs, the most he's allowed in his three starts with Oakland.
Nonetheless, a victory was not in the cards for Baltimore on Friday night. The A's showed their ability to strike at any moment.
"Britton ... throws probably the best left-handed sinker in the game," Donaldson said. "He's throwing 96, as well. Honestly, I'm just trying to get a pitch that I can hit in the air."
Donaldson got that pitch, and the O's fell to 42-4 when leading after eight innings.
Aaron Leibowitz is an associate reporter for MLB.com. This story was not subject to the approval of Major League Baseball or its clubs.