Cahill bends, doesn't break in return as D-backs rally
Arizona erases three-run deficit before Reed survives scare in ninth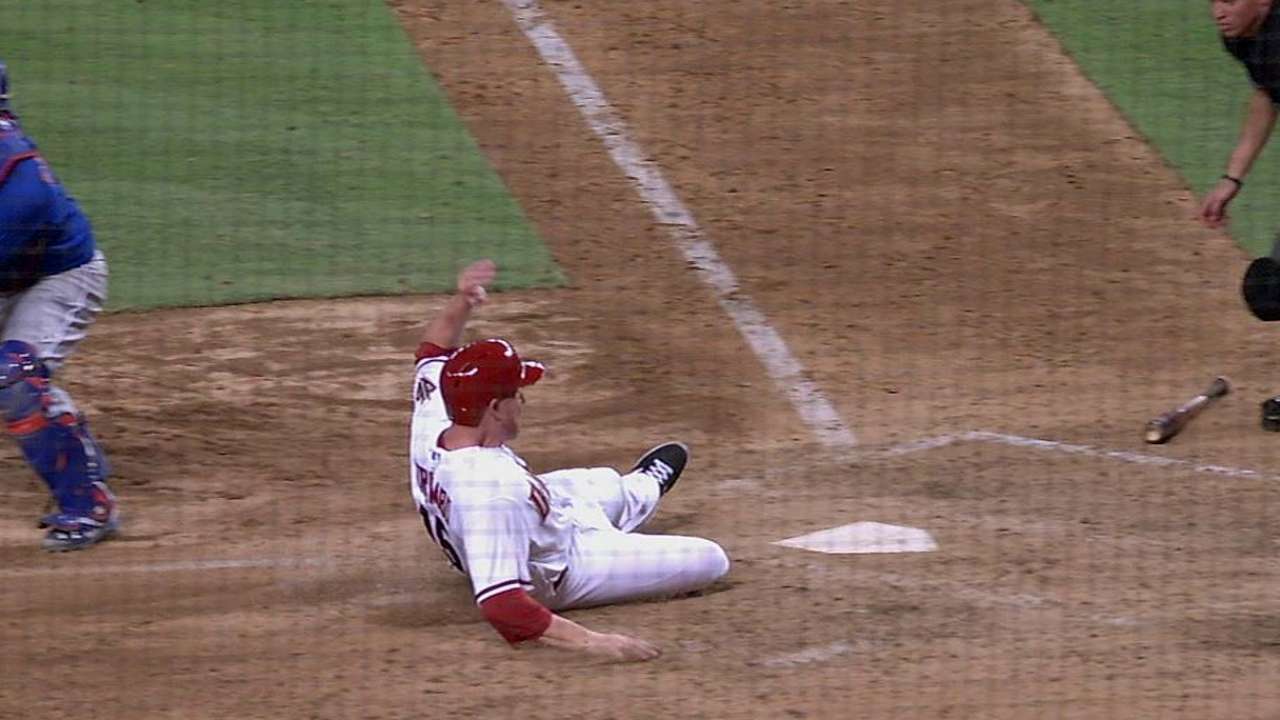 PHOENIX -- Trevor Cahill's return to the Chase Field mound on Friday wasn't exceptional. He didn't strike out 10 batters or pitch a perfect game, the goal he jokingly set for himself when asked on Thursday.
But Cahill's first start for the D-backs since April 13 was a step in the right direction for the 26-year-old former All-Star. He gave his team a chance to win, which could not be said for the majority of his previous starts this season.
Cahill went five innings before being lifted for a pinch-hitter in his first start since being recalled from Triple-A Reno. Although he didn't pick up a victory, the D-backs came back from the 3-0 deficit Cahill put them in to start the second half with a 5-4 victory.
"I felt pretty good," Cahill said. "I was definitely a little bit nervous."
Added manager Kirk Gibson: "It was a good starting point."
Cahill had innings where he looked totally in control -- he threw eight and six pitches in his first and last innings, respectively. But there was one frame in which he ran into trouble.
Cahill walked rookie second baseman Arismendy Alcantara to start the fourth, forcing himself into the stretch, which he said has been challenging for him.
"Still kind of a work in progress," Cahill said. "Felt good out of the windup … but the stretch doesn't feel as comfortable -- still making improvements."
What followed couldn't have made him feel better about pitching out of the stretch. All-Star first baseman Anthony Rizzo launched a sinker left over the middle of the plate out of the park to right-center field, hitting the first of two home runs on Friday and giving up the Cubs a 2-0 lead.
"'Riz' had an All-Star night," Cubs manager Rick Renteria said.
The Cubs tacked on a third run on a single by right fielder Ryan Sweeney, but unlike in earlier starts, Cahill didn't implode. He came out to pitch the fifth and retired the side in order before being removed during the D-backs' fifth-inning rally.
"We just wanted to get him in there, get him some good work," Gibson said. "We were behind, so I'm going to go for it right there."
Cahill's replacement, pinch-hitter Nick Evans, played a key role in getting the D-backs back into the game. Evans hit the last of four straight singles that netted a pair of runs in the bottom of the fifth and brought the D-backs within a run.
The D-backs finished off their comeback in the bottom of the sixth thanks to an opposite-field home run by Paul Goldschmidt and another set of singles - this time from Miguel Montero, Mark Trumbo and Martin Prado -- which set up a game-tying sacrifice fly by Gerardo Parra and the go-ahead single by Didi Gregorius.
"I've been … struggling against lefties," Gregorius said. "Just trying to see the ball, trying to put the ball in play and find the hole."
But late leads have not been a sure thing of late for the D-backs. Closer Addison Reed had blown two of his previous four save opportunities entering Friday's game, and ran into trouble again vs. the Cubs.
Reed got the first out on a line drive by third baseman Luis Valbuena, but then he walked center fielder Justin Ruggiano, who got all the way to third on a stolen base and a throwing error by Montero.
It's a situation Reed may have crumbled in previously, but he survived Friday by inducing a pop out and a strike out to end the game.
Adam Lichtenstein is an associate reporter for MLB.com. This story was not subject to the approval of Major League Baseball or its clubs.