Mariners lose marathon battle despite stellar relief
Bullpen puts up eight shutout innings, including four from Wilhelmsen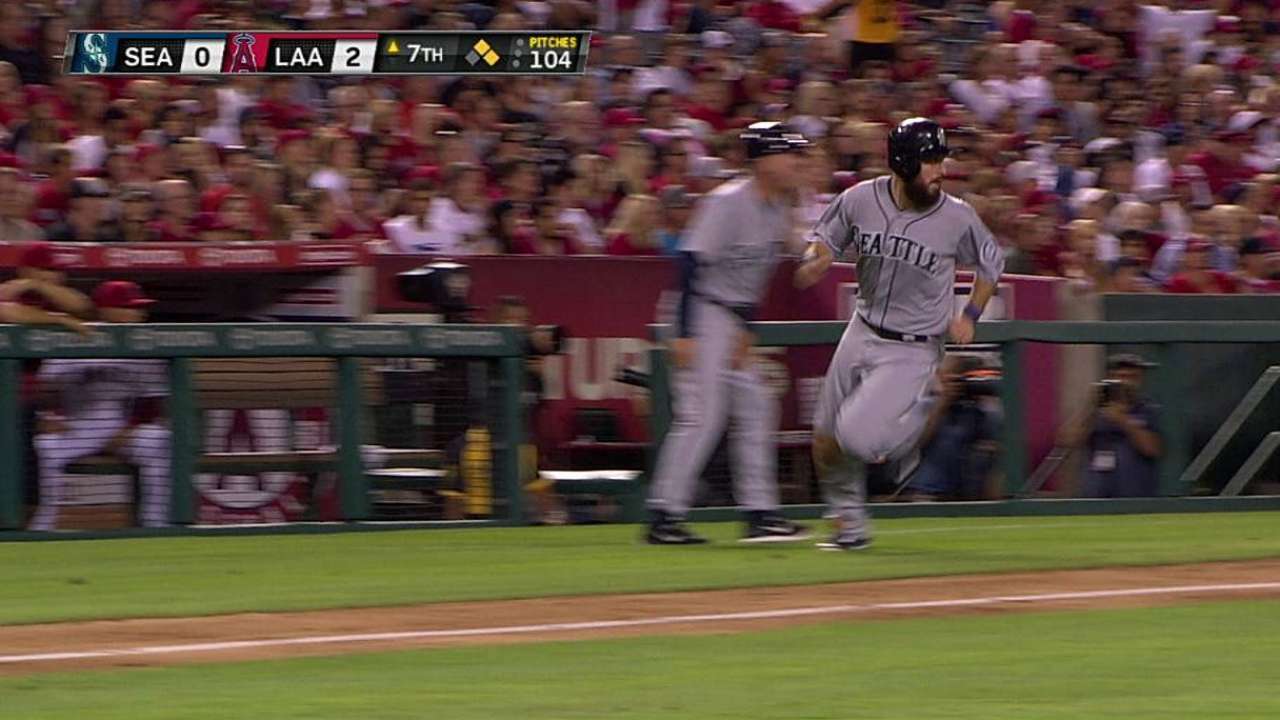 ANAHEIM -- Manager Lloyd McClendon said the Mariners' bullpen has been great all year, and Friday night/Saturday morning was no exception.
Except that, the Angels bullpen was just a tad better in a 16-inning, 3-2 victory at Angel Stadium, as pinch-hitter Efren Navarro ended the marathon at five hours, 14 minutes with a two-out RBI off Dominic Leone (2-2), the Mariners' seventh reliever.
Seattle's bullpen pitched 8 2/3 scoreless innings before Navarro delivered the winner. Former closer Tom Wilhelmsen went a career-high four innings, allowing just one hit from the 12th through the 15th.
"He did an outstanding job," McClendon said. "I was going to take him out after three, but he said he had another inning. So he saved us."
For an inning, anyway.
Wilhelmsen said he couldn't remember when he'd last pitched four innings at any level, except that "it's been a long time."
"We all are doing everything we can to win," he said. "Everybody is. I told him [McClendon] I had another inning in me. ... It was a tough one [to lose]."
The Mariners bullpen came in with a Major League-best 2.39 ERA.
"Our bullpen has been great all year," McClendon said. "Tonight was no different. It was a tough challenge against a team like that.
"We certainly had opportunities. So did they. That's the way it goes. "
Asked if it was extra-tough to lose such a long game -- the fifth game of at least 14 innings in Angels-Mariners history -- McClendon said: "It's not good, but we'll survive."
Mariners starter Hisashi Iwakuma, although he said he felt out of sorts all night because of the All-Star break, worked seven strong innings, allowing two runs on six hits and striking out three while not walking a batter.
He's walked just eight in 15 starts, and threw 56 strikes in 77 pitches against the Angels.
Iwakuma said his exit, despite such a low pitch count, did not have anything to do with his career-high, 8 2/3-inning outing in his last start, July 12 against the A's, when the threw 104 pitches.
"To be honest, I felt I was able to do my part and pitch seven innings," he said. "It was the first day of the second half, and it was difficult to pitch after four days off.
"The feel of pitching is just not the same after four days off. It's just different. Totally different. I was worried about my command going into the game, but as the game went along I was able to have some command."
It was a weird night beyond the length of the game. Mariners All-Star second baseman Robinson Cano extended his hitting streak to eight games with four hits in his 38th multihit game. But Cano lost a double leading off the 10th to an umpire review that determined his popup slide took him off the bag when Angels shortstop John McDonald tagged him. So the hit reverted to a single, and the Mariners lost a scoring chance as well.
"It was a popup slide, and he came off the bag," McClendon said. "The challenge for the players [with replay review] is to play the game a little different than they used to play."
There was also an umpire review in the 16th, when Mike Trout -- who scored the winner on Navarro's hit -- doubled with one out, and McClendon thought Trout missed first base. But the review determined he just nicked the inside corner, so the double was confirmed.
Earl Bloom is a contributor to MLB.com. This story was not subject to the approval of Major League Baseball or its clubs.