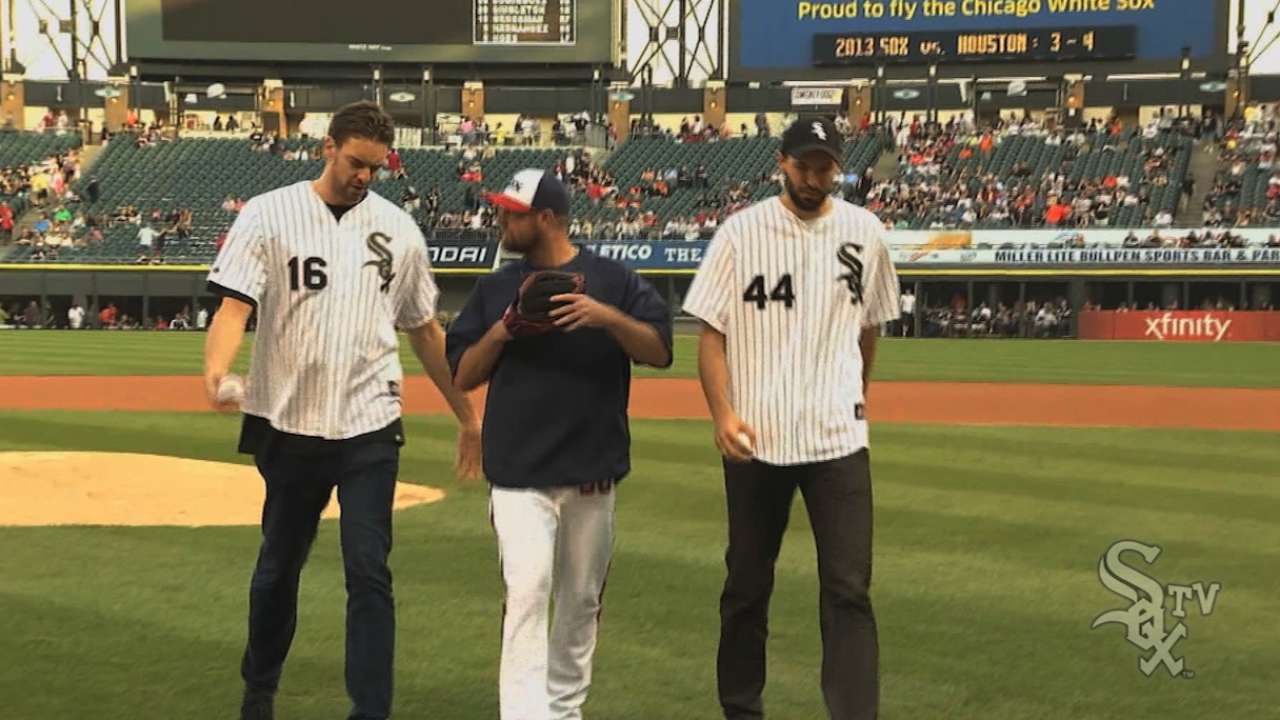 • Ozzie Guillen, who guided the 2005 White Sox to the World Series title and managed eight years on the South Side before departing for the Marlins after the '11 season, told the Chicago Sun-Times over the All-Star break that he would like to manage the White Sox again when Ventura doesn't want the job anymore. He stressed in the article that there was no disrespect meant to his friend currently at the helm, but it's a special job to him.
Ventura said Friday that he was not bothered by the comments from his former teammate.
"You mean not filtering it? I understand that part of him. I've understood that part of him for a long time," Ventura said. "That's him. I think everybody knew that his feelings would be like that before so it's not surprising."
Ventura added that if he isn't managing anymore, he doesn't care who's doing it "so it would be fine if it was [Guillen]." Hahn didn't see the quotes over the All-Star break, but pointed out that his focus "is on winning multiple championships with Robin Ventura."
• Chien-Ming Wang made his debut with Triple-A Charlotte on Friday night, after the White Sox signed the veteran right-hander to a Minor League deal. At 34, Wang provides veteran rotation depth more than fitting into the ongoing reshaping process.
"We've tried this a couple times with limited success," said Hahn. "It's just a matter about having depth so that if something should happen in Chicago, we've got another option to come give us a professional outing.
"You sort of know what you're going to get there; he's going to throw strikes and keep the ball on the ground. It is conceivable that, if there's a need here, we would turn to him."
• White Sox ace Chris Sale, who allowed one run during one inning in Tuesday's All-Star Game at Target Field, gets his first second-half start Monday against the Royals. He will have 11 days off between regular-season starts.
"That's part of pushing him back until next week," said Ventura. "He gets the full complement of rest and everything else that he deserves because he's gone pretty hard that first half."
• Outfielder Avisail Garcia took part in early infield work Friday. But the prognosis that he has been lost for the '14 season following April surgery on his left shoulder has not changed.
"It really is impressive that he's at the point he's at now," said Hahn. "To project out where that's going to take us at this point would be pure guesswork."
• Matt Lindstrom threw a side session at home in Idaho over the All-Star break and plans to throw another one on Saturday. Lindstrom is working his way back from left ankle surgery after injuring it while closing a game on May 19 in Kansas City.
• Pau Gasol and Nikola Mirotic, who were introduced as new members of the Chicago Bulls early Friday, threw out ceremonial first pitches Friday night.
Scott Merkin is a reporter for MLB.com. Read his blog, Merk's Works, and follow him on Twitter @scottmerkin. This story was not subject to the approval of Major League Baseball or its clubs.