Gibson shaky, bats quiet in loss to Rays
Plouffe's two-run shot all Twins offense can muster at home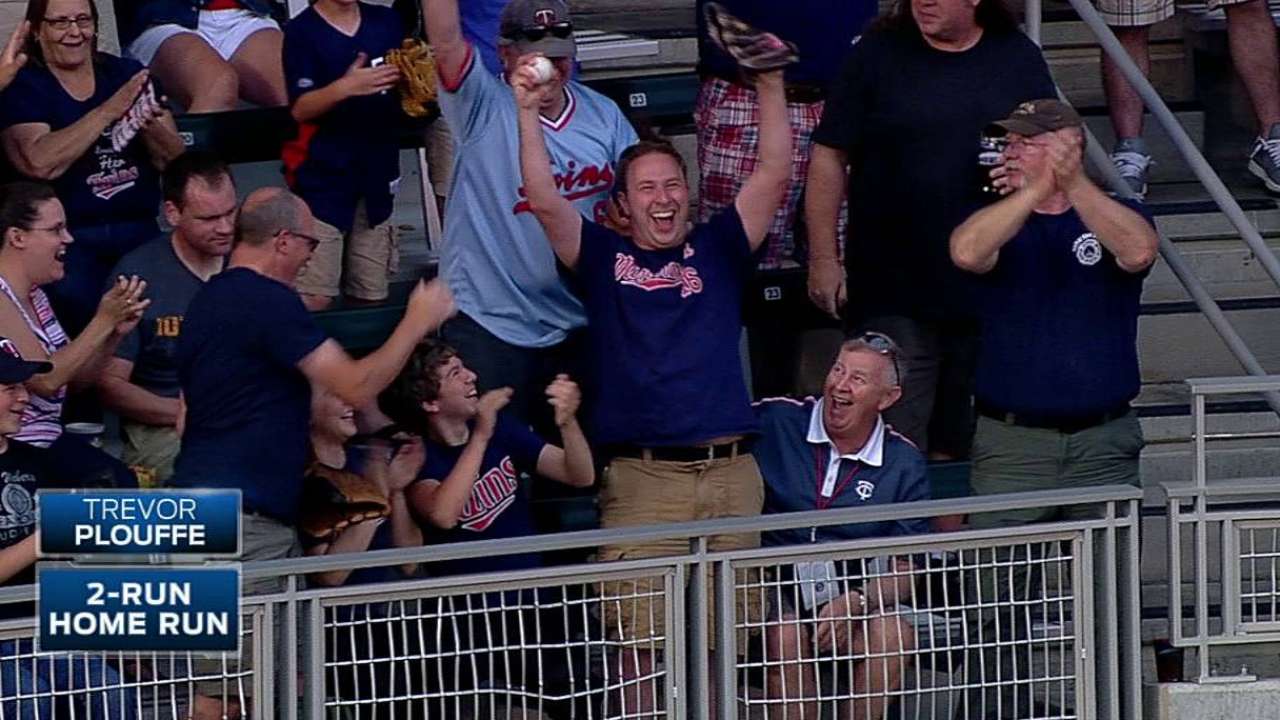 MINNEAPOLIS -- It's too early to tell if the Twins' offensive explosion entering the All-Star break was a mirage, but the initial outlook is not promising.
After tagging Colorado for a combined 22 runs in the final two games of the first half, Minnesota faltered in a 6-2 loss against Tampa Bay at Target Field on Friday night.
The offense was in an early hole after Kyle Gibson, who allowed one hit in the first two frames, struggled badly in the third. He gave up a single to rookie Curt Casali to lead off the inning, and then suffered a bit of bad luck.
Desmond Jennings hit a grounder right back at Gibson, who couldn't handle the shot cleanly. Unfortunately, the ball was headed right for second baseman Brian Dozier -- playing a middle shift -- and would have been a near-certain double play before Gibson accidentally redirected it.
"If I field my position in the third inning we get a double play," Gibson said. "Or, as it turns out, if I let the ball go, Dozier's right in the middle on a shift and the defense gets me out of the inning."
Gibson promptly walked Ben Zobrist to load the bases with Evan Longoria coming to the plate.
"You try to keep [Longoria] out of situations with runners in scoring position," manager Ron Gardenhire said. "Unfortunately for us, he got in one."
With two outs, Longoria pounded a 2-0 fastball to deep right-center for a double that scored all three runners and staked the Rays to an early 3-0 lead.
"I just missed my spot," Gibson said. "I tried to go in, and I just pulled it across the plate."
The opposite-field hit flew over Oswaldo Arcia's outstretched glove and off the wall to clear the bases.
"Can he catch it?" Gardenhire asked. "I don't know, but that's not an easy play. Rocket hit to the wall and you're on a dead sprint."
Down by three, Minnesota's offense responded with a brief pulse in the bottom half. Dozier got on base with a single off Alex Cobb, and then Trevor Plouffe answered with a two-run home run. The blast -- Plouffe's seventh of the season and first since July 6 -- traveled 378 feet and narrowly got over the left-field wall.
"He put a nice swing on that," Gardenhire said. "He stayed on it and drove it out of the ballpark. Got us right back into it after we'd given up three."
But two innings later, Tampa Bay found a way to widen the gap. Gibson gave up a single to Kevin Kiermaier to lead off the fifth -- a play that was initially called an out, but was overturned via manager's challenge -- and then Zobrist knocked a line drive into the right-field porch to make it 5-2.
From there, the Twins' offense -- 0-for-6 with runners in scoring position -- stalled out.
The team put two runners on with one out in the fifth, but Kendrys Morales and Plouffe couldn't produce. Then, Cobb and reliever Brad Boxberger loaded the bases with two outs for Danny Santana in the sixth, but the recently reinstated Santana grounded out to end the last threat Minnesota could muster.
"You've got to take the pressure off [the pitcher] sometimes," Gardenhire said. "But still, you have a job to do as a starting pitcher, and that's to keep the guys in the game. Try to stay away from big innings. That's something we have to be more consistent with."
Gibson went 6 1/3 innings, but surrendered six runs for the second time in three starts. He put a runner on in the seventh before being replaced by Matt Guerrier, who promptly gave up an RBI single to Joyce.
"That's the hard part about pitching: Finding ways to work through six, seven innings when you don't have your best stuff," Gibson said. "There's times when I've done that, and tonight would've been one of those nights, but I got beat in a couple situations."
That play would end the scoring, thanks to an impotent Twins offense that suffered another run-starved defeat in front of the home crowd. Meanwhile, the Rays stayed hot and picked up their seventh win in 10 games.
"I was really impressed with our guys today -- the game that we played after that many days off," manager Joe Maddon said. "We pretty much picked up where we left off going into the All-Star break."
With Colorado in the rearview mirror, the Twins weren't able to say the same.
Alex M. Smith is an associate reporter for MLB.com. Follow him on Twitter @asmiff. This story was not subject to the approval of Major League Baseball or its clubs.