Lohse limits damage to lead Brewers past Nats
Gennett, Davis each knock solo homers as Crew bests Strasburg again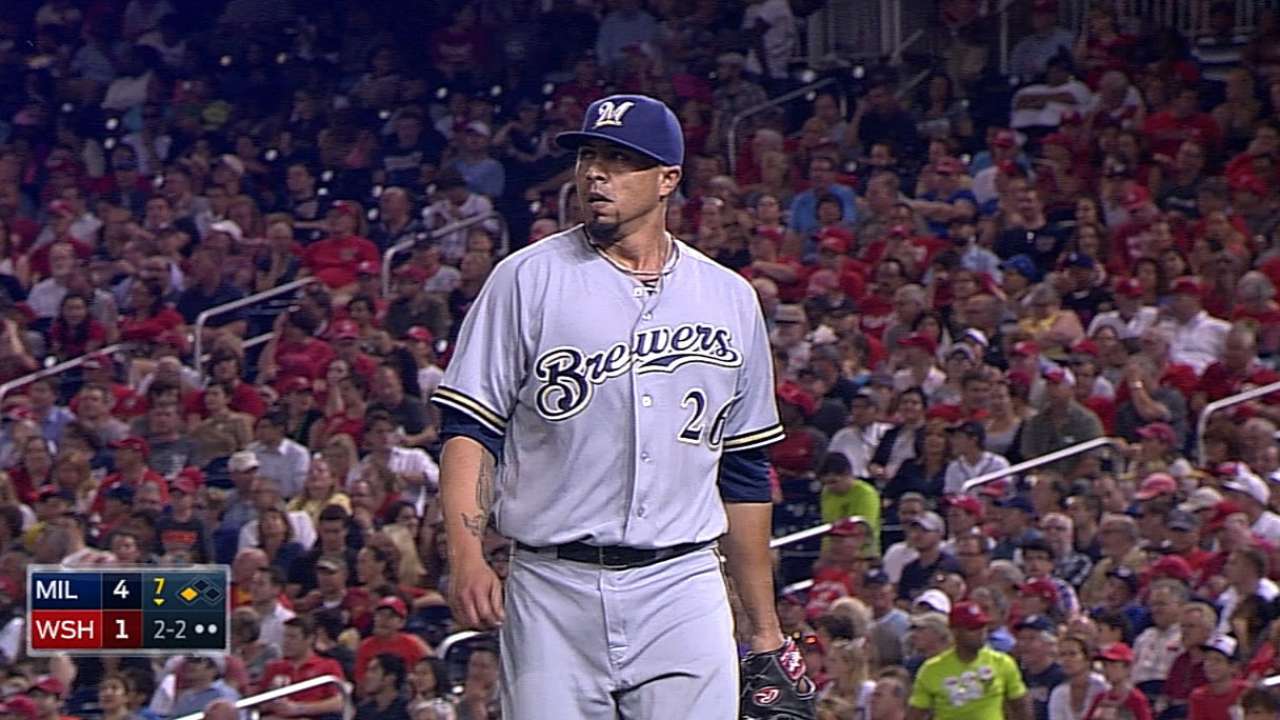 WASHINGTON -- Refreshed, on the road, and with their savviest starting pitcher holding the ball, the Brewers were well-positioned to return from the All-Star break Friday to put a first-half fade behind them.
A 4-2 win over the Nationals was a solid start. Scooter Gennett and Khris Davis homered -- again -- off Washington ace Stephen Strasburg, and Kyle Lohse practiced damage control for seven innings to match Wily Peralta's team-best 10th victory.
"That," Lohse said with a sigh, "was survival."
The Brewers' 29th win on the road matched the A's and Dodgers for most in the Major Leagues.
The Brewers enjoyed another day in first place in the National League Central, where they have resided alone or with company each of the last 111 days. Lohse made most of his pitches from the stretch. He surrendered a hit to the leadoff man in five of his seven innings and at least one hit in all seven innings, but the Nationals touched him for only one run on 10 hits in that span. Lohse walked no batters and struck out three in the sort of bend-but-don't-break outing reserved previously this season for Phillies left-hander Cliff Lee. Before Friday, Lee was the only pitcher this season to surrender 10 or more hits, but one or zero runs. Lee has done it twice.
The only other Brewers pitcher to do it in the past 21 years was Ben Sheets, who allowed 11 Pirates hits but only one run in a complete-game victory in May 2008.
Over the past 10 seasons, that "feat" had been accomplished only 39 times during the regular season in all of Major League Baseball. Lohse made No. 40.
"I think it was five of the seven innings they led off with a hit," said Lohse, whose count was accurate. "I was thinking of starting off innings out of the stretch, but I didn't want everyone to know I was aware of it."
Washington's only run against him scored in the fourth inning, when Ryan Zimmerman and Ian Desmond each doubled. Two innings earlier, the Nationals were similarly well-positioned, with runners at first and second with one out, but Lohse induced one of his two double plays.
"It almost seems like when guys get on base, he gets even tougher," said Nationals center fielder Denard Span, who singled three times against Lohse. "That's what makes him such a good pitcher."
Brewers manager Ron Roenicke trusted Lohse with the seventh inning in part because one key reliever -- left-hander Will Smith -- was unavailable due to pregame back spasms. So Lohse worked a scoreless final frame, Rob Wooten and Zach Duke combined for the eighth inning and Francisco Rodriguez rebounded from Bryce Harper's leadoff home run in the ninth to log his 28th save.
Asked whether this win brought particular satisfaction because of its toll, Lohse said, "Tomorrow, after I recover. It was pretty stressful. That's what pitching is about though. When you don't have your best stuff, you still have to make pitches."
"I thought he threw well, but there were runners on every inning," Roenicke said. "It was just a battle for him. Some of the pitches I saw [hit] were good pitches."
Gennett provided Lohse an early lead when he connected with Strasburg's fourth pitch of the evening, and first off-speed pitch, for a one-out solo home run. Davis hit one of his own with one out in the second inning.
That young Brewers duo had gotten to Strasburg before. On June 25 at Miller Park, the only other start this season in which Strasburg had surrendered multiple home runs, Gennett hit his first career grand slam and Davis delivered a solo shot on the way to a 9-2 Brewers win.
"A guy like him, with his stuff, how he can just keep pumping in 96, 97 [mph], it's always nice to get ahead early and try to tack on some more," Gennett said. "I don't hit too many home runs. I don't know if it's coincidence or if I see the ball good off of him, but he's got really good stuff. I think it's somewhat of a coincidence."
The Brewers added insurance against Strasburg in the third inning, when Gennett worked a two-out walk and moved to third base on Ryan Braun's double. When Aramis Ramirez's single fell in front of Nationals right fielder Jayson Werth, the Brewers' lead was extended to 4-0.
Including their romp of the Cardinals in the first-half finale, the Brewers have won two games in a row after losing 11 of the previous 13.
Adam McCalvy is a reporter for MLB.com. Read his blog, Brew Beat, and follow him on Twitter at @AdamMcCalvy. This story was not subject to the approval of Major League Baseball or its clubs.