Nationals unable to find big hit, drop out of first
Harper launches solo homer, but offense falls short against Brewers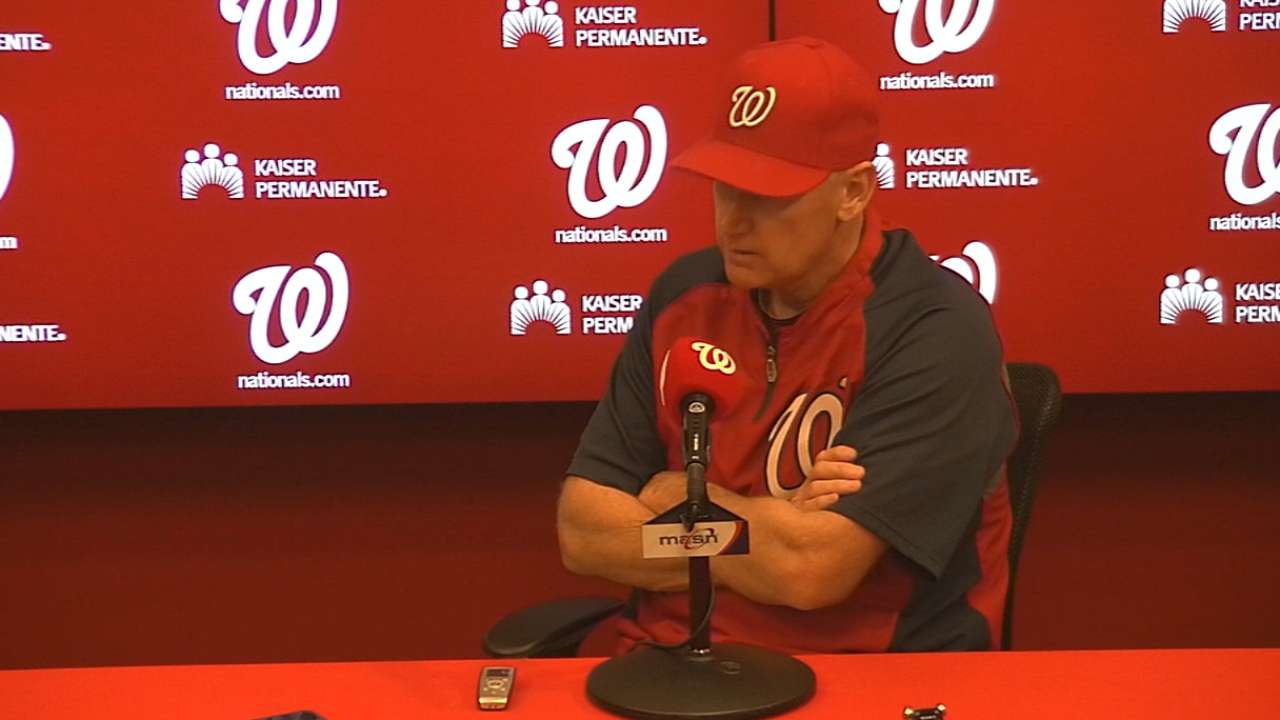 WASHINGTON -- On June 25, right-hander Stephen Strasburg was hit hard as the Brewers pounded the Nationals, 9-2, at Miller Park. On Friday night, Strasburg wasn't bad against Milwaukee at Nationals Park, but the Nationals still lost the game, 4-2.
With the loss, the Nationals are now a game behind the Braves in the National League East. Atlanta defeated the Phillies, 6-4, at Turner Field on the same day.
Strasburg lasted seven innings, allowed four runs on seven hits and struck out nine batters. However, Milwaukee was able to get to Strasburg in the first three innings. In the first, Scooter Gennett, the same player who hit a grand slam on the rocky June start, swung at a 2-0 pitch and hit a solo home run over the right-field wall.
"I don't hit too many home runs," Gennett said. "I don't know if it's coincidence or if I see the ball good off of [Strasburg], but he's got really good stuff. I think it's somewhat of a coincidence."
An inning later, Milwaukee took a 2-0 lead on a home run by Khris Davis. In the third, Gennett walked and Ryan Braun doubled to put runners on second and third. Aramis Ramirez followed and blooped a single to right field, scoring Gennett and Braun.
Strasburg said he missed his spot on a couple of pitches, but he was most frustrated about the pitch to Ramirez.
"[Ramirez] is a pretty good hitter and you want weak contact," Strasburg said. "I have to do a better job of making him hit it on the ground next time."
Strasburg settled down after that and shut out the Brewers the next four innings.
"[The Brewers] hit a couple of solo homers," Nationals manager Matt Williams said. "Those are not the ones that got us. The one that got us was the good pitch to Ramirez. He hit a ball to right field with guys at second and third. If he gets that out, it's a different game.
"With Stras as a fastball pitcher, they are a home run-hitting club. That's going to happen sometimes. If you are going to hit a home run, you want it to be a solo home run."
Brewers right-hander Kyle Lohse pitched seven solid innings. He allowed one run on 10 hits. The Nationals had opportunities to score more than one run, but they went 1-for-8 with runners in scoring position.
The Nats' best opportunity to score occurred in the second inning. Washington had runners on first and third with no outs, but Ian Desmond popped up to first baseman Mark Reynolds and Wilson Ramos hit into a double play to end the threat.
'That's baseball, dude. Sometimes, it happens," Williams said. "It's a credit to their pitching. [Lohse] makes good pitches. He is a really good pitcher. And it's a question of us not taking advantage of the opportunities tonight. That's why we play tomorrow, so we have to go do that."
The Nationals scored their first run in the fourth inning when Ryan Zimmerman scored on a double by Desmond.
Of the seven innings that Lohse pitched, the Nationals had a leadoff hitter on base during five of those innings.
"I was thinking of starting off innings out of the stretch, but I didn't want everyone to know I was aware of it," Loshe said.
Denard Span, who had three hits in the game, believed Lohse was at his best when runners were on base.
"He will throw anything at any given time," Span said. "He has three or four pitches and he threw them all for strikes. He just knows how to pitch. It seems like he gets better and better the older he gets," Span said.
Bryce Harper delivered the Nats' final run in the ninth inning on a solo homer off Francisco Rodriguez, his third, to cap a 3-for-4 night. It helped that Harper decided to change his stance during the All-Star break.
"He stood up just a touch more to get on top of the baseball," Williams said. "He lowered his hands a little bit, probably more direct to the ball. He worked on that during the break. He looked good up there tonight. He hit the ball hard tonight."
Bill Ladson is a reporter for MLB.com and writes an MLBlog, All Nats All the time. He also could be found on Twitter @WashingNats. This story was not subject to the approval of Major League Baseball or its clubs.