Burnett continues to struggle against Braves in loss
Hurler allows six runs on 10 hits; Howard chips in two-run single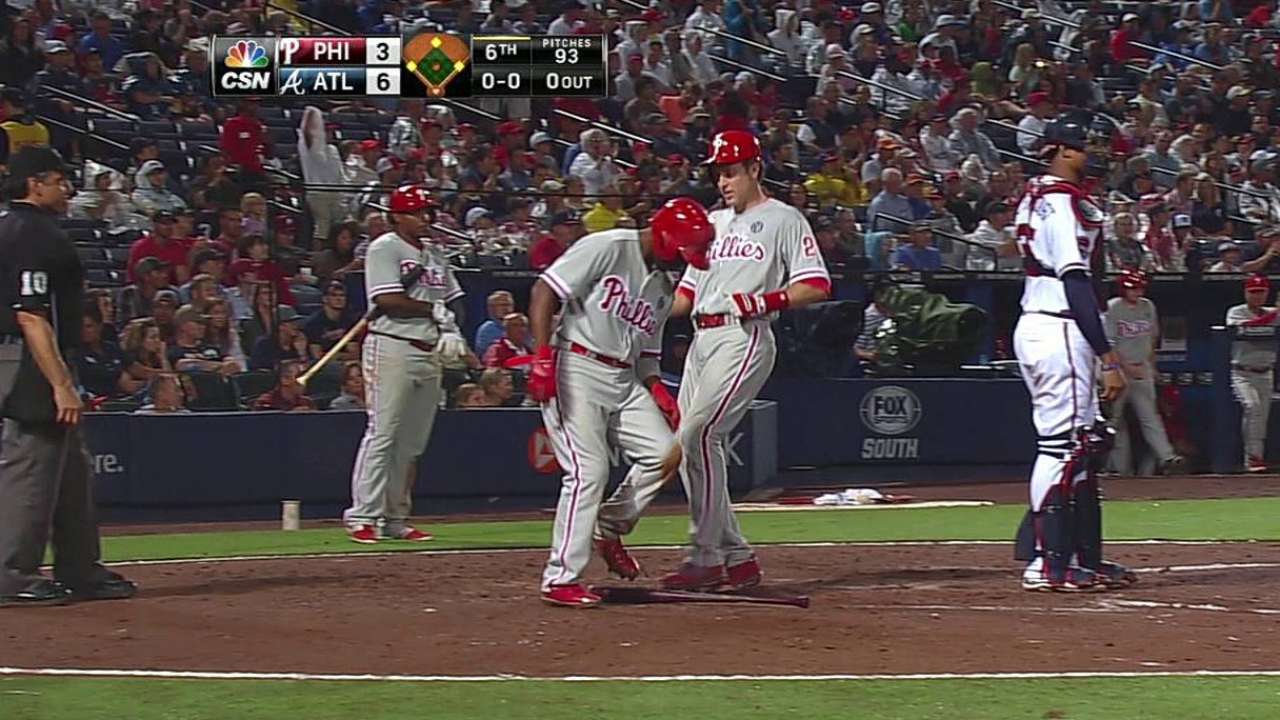 ATLANTA -- When the Braves leave Turner Field, you can put A.J. Burnett at the head of the line of volunteers to swing the wrecking ball.
The ballpark continues to be a house of horrors for Burnett (6-9), who fell to 1-10 all-time in 13 career starts in Atlanta with an ERA of 5.17 as the Phillies dropped their second-half opener, 6-4, on Friday night.
"Everything was up. I was off," said Burnett, who is 4-3 with a 1.68 ERA against the Braves away from Turner Field. "My changeups were up. My curveball was up. A few innings in the middle, I got it where I wanted to, but I was inconsistent, and you can't pitch against this club and be inconsistent."
The loss was the Phils' ninth in their last 11 games against NL East teams and 20th in 28 division games since May 11.
"Not the start we wanted to the second half," said Phillies manager Ryne Sandberg. "We had some good at-bats, though. Put some men on base. It felt good jumping out early, with the two runs early, but they came right back with the four runs."
Things started well for Burnett, who sought wins in back-to-back starts for the second time this season, and the first since April 27 at Arizona and May 3 against Washington.
He had an easy first inning and was staked to a 2-0 lead in the second, thanks to a Cody Asche sacrifice fly and a Cameron Rupp RBI single off Atlanta starter Ervin Santana (8-6). That would have been more than enough for the Burnett who shut down the Braves on April 17, as he allowed no runs and three hits over seven and received a no-decision in the 1-0 loss.
It wasn't enough for the Burnett of Friday night, who was visibly frustrated as he left the mound after retiring the side in the fifth, which would be his final inning.
"Six runs in five innings pretty much nails it on the head," Burnett said. "You want to come out and you've got the early lead. Shutdown inning's important. You want to pound those in. A pitch here, a pitch there -- you've got to make pitches, and obviously, in counts I should have made pitches, I didn't. That's the bottom line."
The second inning started badly when Burnett allowed a leadoff home run to Braves right fielder Jason Heyward, only the second blast he's allowed in his last six starts. Burnett appeared to right the ship, retiring the next two hitters, but then the boat sprung a leak.
"The big at-bat was not getting the pitcher out in the second inning, and then it snowballed after that," said Sandberg. "But A.J. was having a hard time getting the third out. Nine of the 10 hits he gave up were with two outs, and they clumped them together and put the four runs [in the second inning] and the two runs [in the fifth] up in that fashion. I believe five of the six runs came with two outs."
Atlanta strung together four straight two-out hits, starting when rookie catcher Christian Bethancourt lined a single to left three pitches after a curveball got away and sailed over his head. Santana followed, parachuting a popup between second baseman Chase Utley and right fielder Marlon Byrd.
"It looked like a little confusion on the communication," said Sandberg.
B.J. Upton's RBI double to left-center and Andrelton Simmons' two-run single followed, and suddenly the Phils were down, 4-2.
Two-out lightning struck Burnett again in the fifth, as Atlanta put together three straight hits to add two runs.
Burnett struck out five and walked one in the outing. The six runs and 10 hits were the most he's allowed in eight starts since June 4 at Washington, while his five-inning appearance was his shortest since May 20 at Miami.
"I think he was laboring pretty good," said Sandberg, who pulled his starter after 77 pitches (53 for strikes). "He missed over the plate with some pitches for some of those hits, trying to go to the corners and the ball was coming back to the middle."
Burnett, who tied Dwight Gooden for 48th place all-time with his five strikeouts, giving him 2,293 for his career, refused to use the All-Star Break as an excuse.
"I feel I should make a pitch if I don't pitch in a week, whether we have a break or not," Burnett said. "I made pitches to get to that point. I didn't make pitches after that. I have no excuses. I didn't get it done."
The Phils, who went 3-for-4 with runners in scoring position, didn't get it done enough offensively, either. They ran into bad luck even when they put men on, and sometimes even when they got hits.
In the third, Utley followed a one-out walk to Jimmy Rollins by hitting into a 4-6-3 double play. In the fifth, Asche was credited with an infield hit, which, although it extended his hitting streak to 10 games, also ended the inning, because Grady Sizemore was unable to evade the batted ball.
The Phillies' luck changed temporarily in the sixth when Rollins, who got on base three times, reached on a Freddie Freeman error. Utley then doubled into the corner in right and Ryan Howard drove them both in with a broken-bat single to left. The two-run hit gave him 120 career RBIs against Atlanta, the most by any player against the Braves since the start of 2006 -- 39 more than Washington's Ryan Zimmerman, who's next.
Howard was hitting .228 (8-for-35) against Atlanta, and he had been in the throes of an 0-for-13 drought.
But any good-luck omen was quashed, as the Phillies would go hitless over the final three innings, with the only baserunner, Rollins, getting thrown out trying to advance to second in the eighth as Utley struck out on a 3-2 pitch.
The Phillies could be encouraged by the work of the bullpen, as Jeff Manship, Antonio Bastardo, and Justin De Fratus each hurled a perfect frame of relief.
Sandberg is still encouraged about the second half, and he expects his players to be as well.
"The guys bounce back each day and they come back to win a game," Sandberg said. "That's been the demeanor of the guys and that'll continue. Come out tomorrow, have a game tomorrow. We have Cole [Hamels] on the mound. So I look forward to that."
Jon Cooper is a contributor to MLB.com. This story was not subject to the approval of Major League Baseball or its clubs.