Clutch two-out knocks lift Braves to open second half
Heyward homers, drives in two as every starter reaches base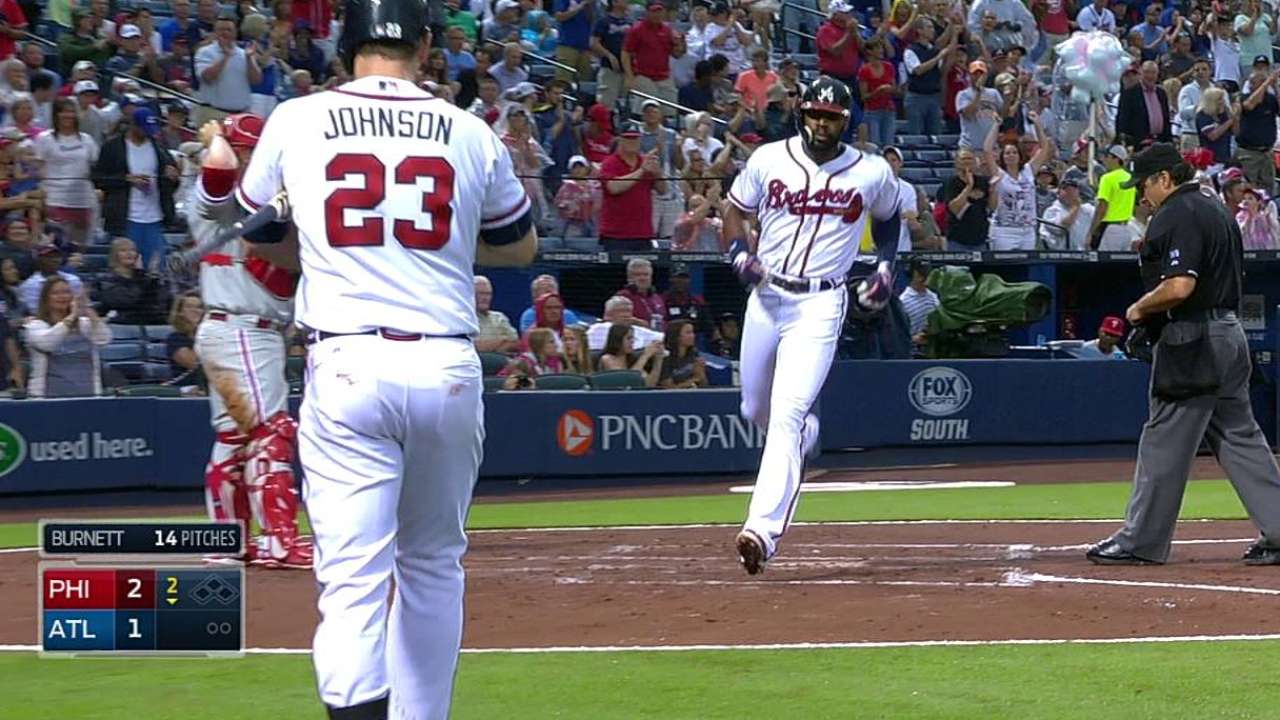 ATLANTA -- In a tight race with the Nationals atop the National League East, the Braves opened up the second half playing postseason-minded baseball. Atlanta tallied nine two-out hits in a 6-4 win against the Phillies on Friday night at Turner Field.
Every player in the starting lineup reached base as the Braves took the offensive momentum they generated in Chicago prior to the All-Star break and used it to win for the 15th time in the past 21 games and improve their record against the NL East to 26-17.
"That's the way we've been playing some baseball lately," Jason Heyward said. "Manufacturing stuff, getting timely hits and putting up good ABs and making that pitcher work for that extra out."
Christian Bethancourt, Ervin Santana, B.J. Upton and Andrelton Simmons recorded four consecutive two-out hits in a four-run second that gave Atlanta the lead for good, but the club's two-out production three innings later proved crucial.
Justin Upton smacked a two-out double to right field off A.J. Burnett in the fifth and scored on a base hit by Heyward, who had recorded the first of his two RBIs with a line-drive solo home run to lead off the second.
Following a Chris Johnson single, Tommy La Stella improved his batting average with runners in scoring position to .316 (12-for-38) with an RBI single that capped a more-than-suitable cushion for Santana opposite Burnett, who took the loss.
"Everything was up. I was off," Burnett said. "My changeups were up. Heyward hit a changeup up. My curveball was up. A few innings in the middle, I got it where I wanted to, but I was inconsistent, and you can't pitch against this club and be inconsistent."
Meanwhile, Santana seems mired in a middle ground.
He recorded a 1.99 ERA in his first six starts before posting a 6.44 mark in his next six. Santana has compiled a 3.92 ERA in his most recent six turns, recording five quality starts, including his six innings of four runs (three earned) on Friday night.
The right-hander threw seven of his first nine pitches for strikes before struggling with his command near the end of the first and into the second inning. Sixteen of Santana's next 31 pitches were balls, as he issued two walks and gave up two runs.
"A little bit, a couple of pitches up," Santana said, when asked if he was missing locations early. "After that inning, I just regrouped and I threw strikes."
Santana nearly walked Burnett, who was trying to lay down a sacrifice bunt, before getting the hurler to ground into an inning-ending 3-6-4 double play on a full count. First baseman Freddie Freeman, drawn in for a bunt, snagged the sharp grounder and got the play started.
"That was unbelievably improvised by Freeman, really," Braves manager Fredi Gonzalez said. "We don't even work on that play. And for him to get the slash by A.J. -- it wasn't a bunt -- and for him to hold his ground on that ball and then turn it to Simmons.
"There's a lot of moving pieces there that you don't really work on that play. And then Simmons hit La Stella coming from second base position covering first base; it was one of the best plays I've seen anybody make."
Santana regained his command and issued only one walk the rest of the way. He gave up two runs in the sixth, but those were the product of a Freeman error and perhaps fatigue. His 104 pitches are the fourth-most he has thrown in 18 starts.
Shae Simmons, Jordan Walden and Craig Kimbrel locked it down once Santana exited, thanks to stellar defensive plays by Bethancourt and Heyward.
Walden walked Jimmy Rollins to lead off the eight, but Bethancourt nabbed the shortstop trying to take second on a third strike to Chase Utley in the dirt. Heyward followed it up by robbing Ryan Howard of a hit with a diving catch, preserving Atlanta's two-run lead.
"That's going to win it. That's going to win the game for us," Heyward said. "I'm not worried about us scoring runs, but we're just going to have to play good defense and get ourselves out of jams and prevent the big hit."
Washington lost to Milwaukee on Friday night, giving Atlanta a one-game lead in the NL East. This win against the Phillies will not win the division for the Braves, but more games like it will as the second half plays out.
"The games in the first half obviously count for the same amount, but now we're kind of getting down to that second half, that last stretch," Johnson said. "We've got to start playing well, and hopefully we can stay at the top."
Joe Morgan is an associate reporter for MLB.com. This story was not subject to the approval of Major League Baseball or its clubs.