Indians rise for seven-run seventh to rip Tigers
Kipnis clubs two HRs, including go-ahead, after Tribe's six quiet innings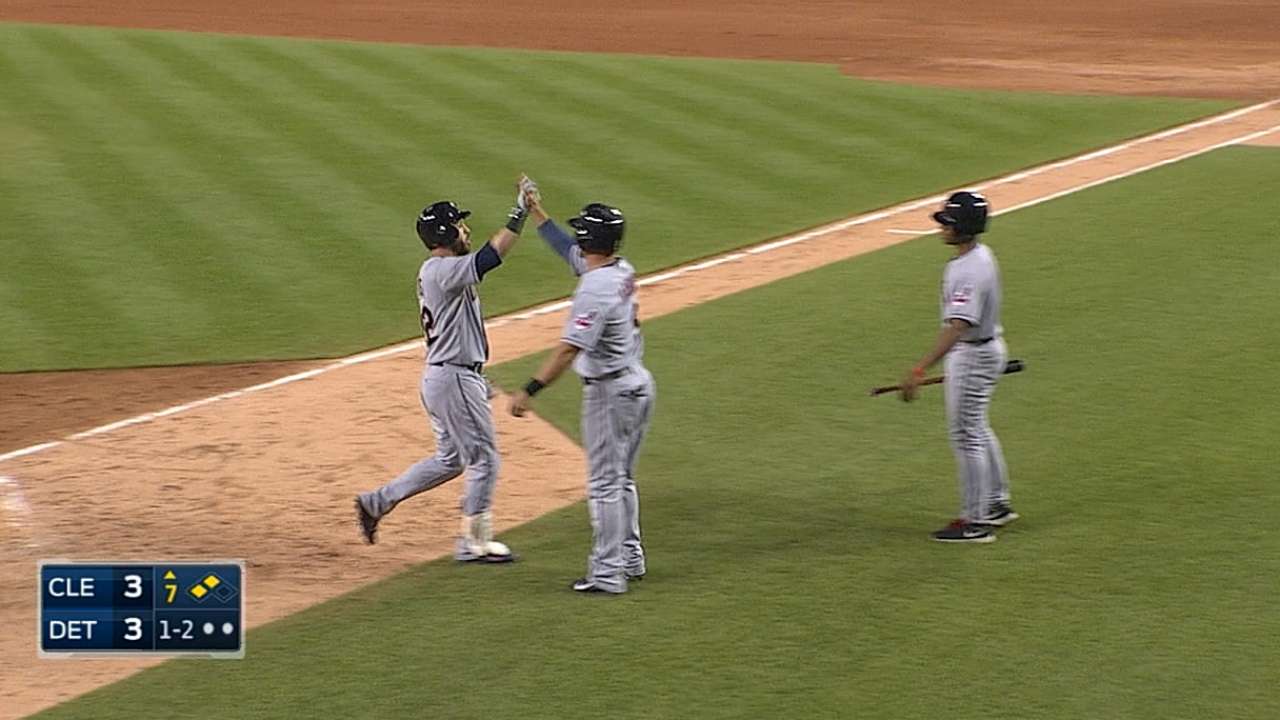 DETROIT -- It played out like a classic boxing match on Friday night for the Indians. Cleveland did what it could to survive early on, waiting until the heavyweight tired before striking. The Tribe's moment of attack arrived in the seventh.
Following six stellar innings from Detroit starter Anibal Sanchez, the Indians pounded out seven runs in an overwhelming seventh en route to a 9-3 victory to begin the season's second half with a bang. The offensive outpouring -- led by two homers from Jason Kipnis -- backed another solid effort from Cleveland right-hander Trevor Bauer.
"It's not just one guy doing something," Kipnis said. "It was top to bottom, the lineup was coming around, guys were swinging the bats. Like we've always said, we have a lot of guys in this lineup that can put up crooked numbers at any time. So, if we can get going, hopefully this is a catalyst for something else."
After pulling into the All-Star break with an even record, the Indians (48-47) understood the importance of their first road trip following the intermission. In a span of 10 days, Cleveland will play 11 divisional games, including four this weekend against the American League Central-leading Tigers.
Every series matters from here on out, but every date with the Tigers is a chance to gain ground in the standings.
For most of Friday night, it appeared as though Detroit (53-39) would have its way with Cleveland once again. Bauer played damage control through the first four innings, limiting the Tigers to three runs on five hits. In the third inning, Detroit loaded the bases with one out, but Bauer held the opposition to a sacrifice fly from Ian Kinsler.
The Tigers opened the fourth with three straight hits, including an RBI double from Torii Hunter, who later stole third and scored on the play thanks to a wild throwing error by catcher Yan Gomes. Cleveland leads the Majors with 77 errors, which is an area the club knows it needs to clean up over the course of the final two-plus months in order to contend.
Bauer felt fortunate to keep the score as close as he did.
"It was a struggle for me," Bauer said. "I felt out of sync a little bit. I couldn't locate my fastball up in the zone. Everything was down and the offspeed was up, which is generally not a good combination for me. But I hung in there."
Sanchez headed into the seventh armed with a 3-0 lead -- one that felt larger than the scoreboard indicated. The Tigers right-hander was greeted by the heart of Cleveland's lineup, which was getting its third look at him of the night. All-Star Michael Brantley, who had four hits, led off with a single, Carlos Santana drew a walk and Lonnie Chisenhall added a base hit to load the bases with no outs.
Nick Swisher then drove a pitch from Sanchez into the right-center-field gap, scoring two and cutting Detroit's lead to 3-2. Tigers manager Brad Ausmus then handed the ball to reliever Ian Krol, who surrendered an RBI double to pinch-hitter Ryan Raburn, who sliced the offering down the right-field line to pull the contest into a 3-3 deadlock.
"[Sanchez] was real crisp up until that point," Ausmus said. "It was almost like he hit a wall."
The Indians kept the onslaught going against reliever Al Alburquerque, who nearly escaped the inning with back-to-back strikeouts of Gomes and Chris Dickerson. With two outs, though, Kipnis launched a 1-2 pitch from the reliever deep to right for a three-run homer, ending a power outage of 218 plate appearances for the second baseman that dated back to April 21.
"I mean, I haven't even done it in [batting practice], I feel like, in two months," Kipnis said with a laugh. "So, it was nice. They were like, 'You were sprinting around.' I was like, 'I forgot what it feels like. I don't remember.' It's good. It was good just because it was a big time in the game."
One pitch later, shortstop Asdrubal Cabrera drilled a home run of his own -- his ninth shot of the season -- to push the Tribe to a 7-3 advantage. When the smoke cleared, Sanchez was charged with four runs on six hits in six-plus innings, in which he struck out seven and walked one.
In the ninth inning, Kipnis collected his second home run of the night and fifth of the season, helping the Indians to an 8-3 lead. It marked the first multi-homer game for Cleveland's second baseman since May 26, 2012, against the White Sox.
"He's such a good player that, even when he's not swinging great," Indians manager Terry Francona said, "he still has a presence at the plate and he's going to battle. He'll get real hot. Maybe today is the day when you start seeing not just hits, but a lot of production with it."
Bauer (4-4) earned the win behind his six solid innings of work, which included five strikeouts, one walk and six hits scattered. The seven-run rally allowed the right-hander to bow out of the ballgame at 101 pitches, setting things up nicely for Cleveland's bullpen to deliver the knockout.
Francona laughed when asked if he would've prefered having his offense score a little earlier in the game.
"As long as we score before we have to go home," said the manager.
Jordan Bastian is a reporter for MLB.com. Read his blog, Major League Bastian, and follow him on Twitter @MLBastian. This story was not subject to the approval of Major League Baseball or its clubs.