One small step for man, four MLB moon-landing facts
While Armstrong set foot on moon 45 years ago, baseball also had big moments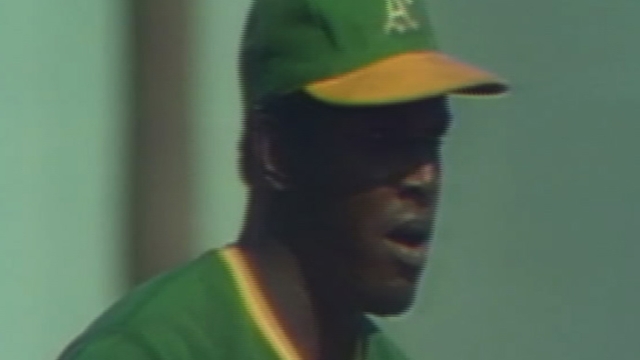 Forty-five years ago, at 11:56 p.m. ET on July 20, 1969, Neil Armstrong became the first man to set foot on the moon. He said, "That's one small step for a man, one giant leap for mankind," and along with astronaut teammates Edwin "Buzz" Aldrin and Michael Collins, they helped change human history.
There were things happening that day on the surface of Earth, too, such as 20 teams in action in Major League Baseball.
Here are four things to know about that momentous day 45 years ago … on Planet Baseball:
1. Historic homer
Gaylord Perry was a 30-year-old future Hall of Famer pitching for the San Francisco Giants. Five years earlier, in 1964, he was taking batting practice and was being watched by his manager, Alvin Dark, and a Bay Area reporter, Harry Jupiter.
"I was good friends with Harry, and he and Alvin were watching me in the cage, and Harry said something like, 'You know, Perry isn't a bad hitter. He might hit a home run or two for you,'" Perry told MLB.com in 2009. "Of course, Alvin saw a whole lot that he liked in my pitching and saw a whole lot that he didn't like in my hitting, and he said, 'Mark my words. A man will land on the moon before Gaylord Perry hits a home run.'
"Well, about the top of the third, over the loudspeaker, they were telling everybody to stand and give a moment of silence as thanks for the astronauts who landed on the moon. And I'd say 30 minutes later, Claude Osteen grooved me a fastball, and I hit it out of the park."
Perry's moonshot was the first of six career homers and, as he explains, the thing he's talked the most about to this day. More than the Hall of Fame. More than the 300-win club. Heck, even more than the Vaseline.
2. Once in a Blue moon
About 400 miles south of where Perry was going yard for the first time in a Hall of Fame career, in the first game of a doubleheader at Anaheim Stadium, a hard-throwing 19-year-old Oakland Athletics left-hander named Vida Blue pitched in a Major League game for the first time.
"I thought I was ready, and the folks that brought me up thought I was ready," Blue told MLB.com in 2009. "So why wouldn't I have thought that way?"
Blue knew what was going on with the astronauts, having followed the news, but the fact that he was about to be pitching in The Show after a Double-A callup was more on his mind.
"I was fresh out of the Southern League," Blue said. "The crowd itself was so different. It was the classic deer-in-the-headlights syndrome. As cool and as calm as you think you are, you're really not. You're thrust into a situation you've never experienced before.
"I mean, seriously, before that game, attendance at one of my games might have been 5,000, maybe 10,000. And now it's 35,000. And these were big league hitters. I'd never seen that type of talent before."
Blue, who would win 209 career games, make six All-Star teams and take the American League Cy Young Award and the AL Most Valuable Player Award in 1971, went 5 1/3 innings, giving up five runs -- three earned -- on six hits, including two home runs, in the A's 7-3 loss to the Angels. His career began with an 0-1 record.
"I just remember it was obviously a great chance for me, and, as it turns out, it was a unique thing to pitch on the day this country landed a man on the moon," Blue said. "It's pretty cool and kind of flattering that it happened on the same day."
3. Twice in a blue moon
Gaylord wasn't the only Perry doing historic things on a very historic day in the Milky Way. Gaylord's brother, Jim, was a pitcher on the Twins, who were in Seattle playing the Pilots and had gone 16 innings the previous night in a 7-7 tie at Sick's Stadium.
The game needed to be finished on July 20, and Jim was slated to start that day's scheduled game. So Perry pitched the last two innings of the completion of the suspended game, got the win, and then threw a complete-game shutout, scattering nine hits in a 4-0 win to earn his second "W" in the same day.
4. One amazin' night
On July 20, 1969, the New York Mets, who in a few short months would become the darlings of baseball en route to a stunning World Series championship, had just split a doubleheader with the Montreal Expos in Parc Jarry north of the border. They were at the airport, waiting for their United Airlines charter back to LaGuardia in the Big Apple.
They waited and waited some more, and boredom led to humor. The humor, naturally, was centered around the astonishing news event of the day.
"I definitely heard at least one or two guys say something like, 'Great, we can make it to the moon, but we can't fly from Montreal to New York,'" former Mets outfielder Ron Swoboda told MLB.com in 2009.
"The plane had a mechanical problem they had to work on, so naturally, we repaired to the airport lounge and had a few beverages," Swoboda said. "While we were in the bar, looking at the TV, Armstrong walked on the moon. It was another example of the good things that happened in 1969 for the New York Mets.
"It just seemed like all things were possible. And when I think of all the things that were possible, [us winning the World Series] seemed like the longest shot of them all. But that's what happened."
Doug Miller is a reporter for MLB.com. Follow him on Twitter @DougMillerMLB. This story was not subject to the approval of Major League Baseball or its clubs.