Feldman, offense lose steam after early lead
Feldman posts zeros until homer in sixth, RBI double in seventh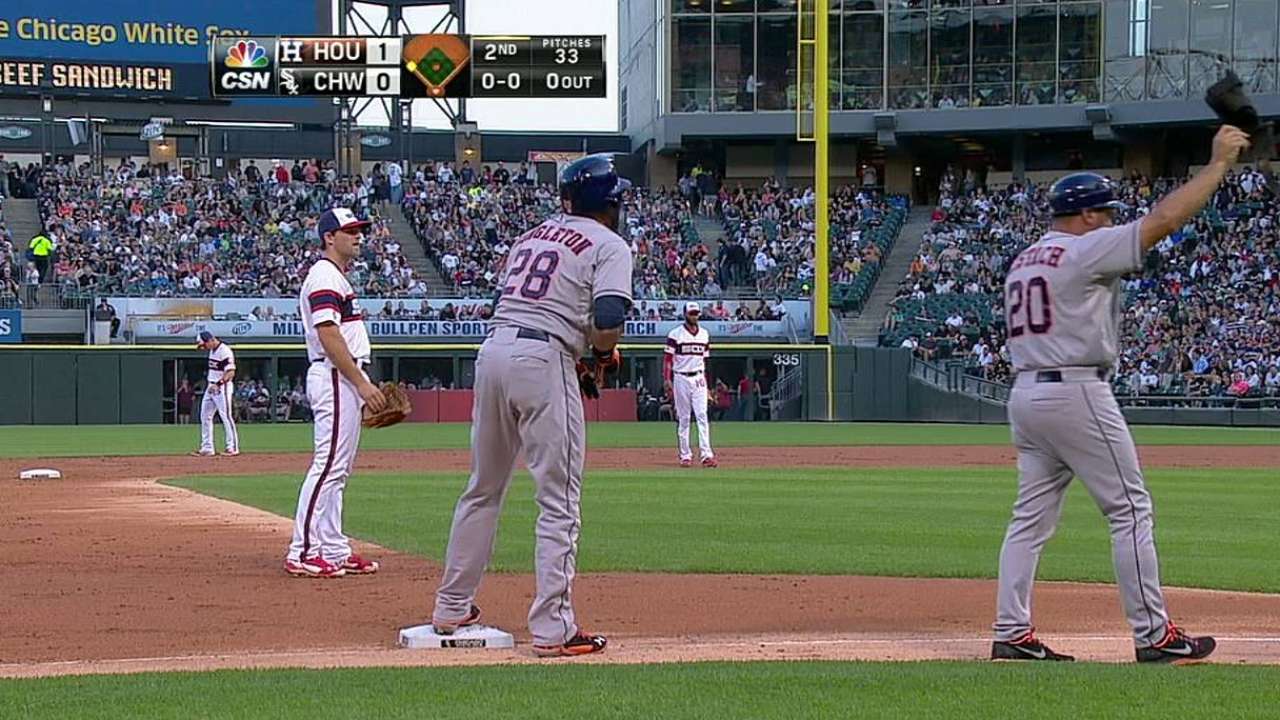 CHICAGO -- Scott Feldman was riding a groove for the bulk of Friday night's game at U.S. Cellular Field that had led him to similar success over the White Sox during his 10-year career.
Feldman was 5-2 with a 3.60 ERA against Chicago entering Friday's second-half opener, and had allowed just four hits and no runs heading into the sixth inning.
Then the South Siders mounted a late rally, packaged by a powerful, two-run homer from Dayan Viciedo in the sixth and an RBI double from Tyler Flowers in the seventh that propelled them to a come-from-behind, 3-2 win.
"A couple pitches here and there, and it's a different outcome," Astros manager Bo Porter said. "I think the breaking ball for the home run, probably just a little bit elevated in the zone more so than he wanted, but he had the sharp breaking ball working tonight, he had the sinker working -- just made a couple pitches there they took advantage of and put good swings on it."
Houston, however, was stopped by the combination of 14 strikeouts and seeing its final 22 batters go down in order.
The team's lone All-Star, Jose Altuve, accounted for three of those whiffs, and Chris Carter, who entered Friday's game on a career-long, nine-game hitting streak, had four in four at-bats.
"I don't know how many of them were out of the zone, but we had some hittable pitches early in the zone that, I feel like, if we really put better swings on those pitches, we'd be in a position where we're hitting with two strikes," Porter said of his team's offensive approach.
Altuve placed a hefty portion of the credit on White Sox pitcher Jose Quintana, who finished with two earned runs, three hits and eight strikeouts in five innings. But the third-year starter was credited his 35th no-decision after leaving before the rally.
"Quintana threw a really, really good game; amazing," Altuve said. "His pitches were good location, good spin, good movement. … To me, he's one of the best lefties in the big leagues."
The Astros were able to steal two off of Quintana in the second on an error and groundout.
Matt Dominguez, having reached base in eight of his last 10 games, led off the second with a hit to right, then scored on an ensuing single by Jon Singleton, who ended up at third after the ball rolled past Viciedo to the right-field wall. Singleton scored when Robbie Grossman grounded out to shortstop Alexei Ramirez.
Quintana held off the Houston bats the rest of the way -- not allowing another hit -- but was relieved after five innings because of an elevated pitch count (106 pitches, 71 strikes).
"I felt like early in the game we did a great job, and it looked like we were going to actually be able to chase him a little bit early, but he hung around, gave his team five innings," Porter said. "But I felt like our guys did a great job early in the game really being patient."
Entering Friday's contest, the Astros (40-57) had won four of their last six, though now have lost 10 of their last 14 overall.
"Any time you play a game that close, it's one play here or there," Porter said. "They made more plays than we made."
Daniel Kramer is an associate reporter for MLB.com. This story was not subject to the approval of Major League Baseball or its clubs.