Visions of 20: Milestone in reach for hurlers
Just past the halfway point of the season, 21 pitchers have double-digit wins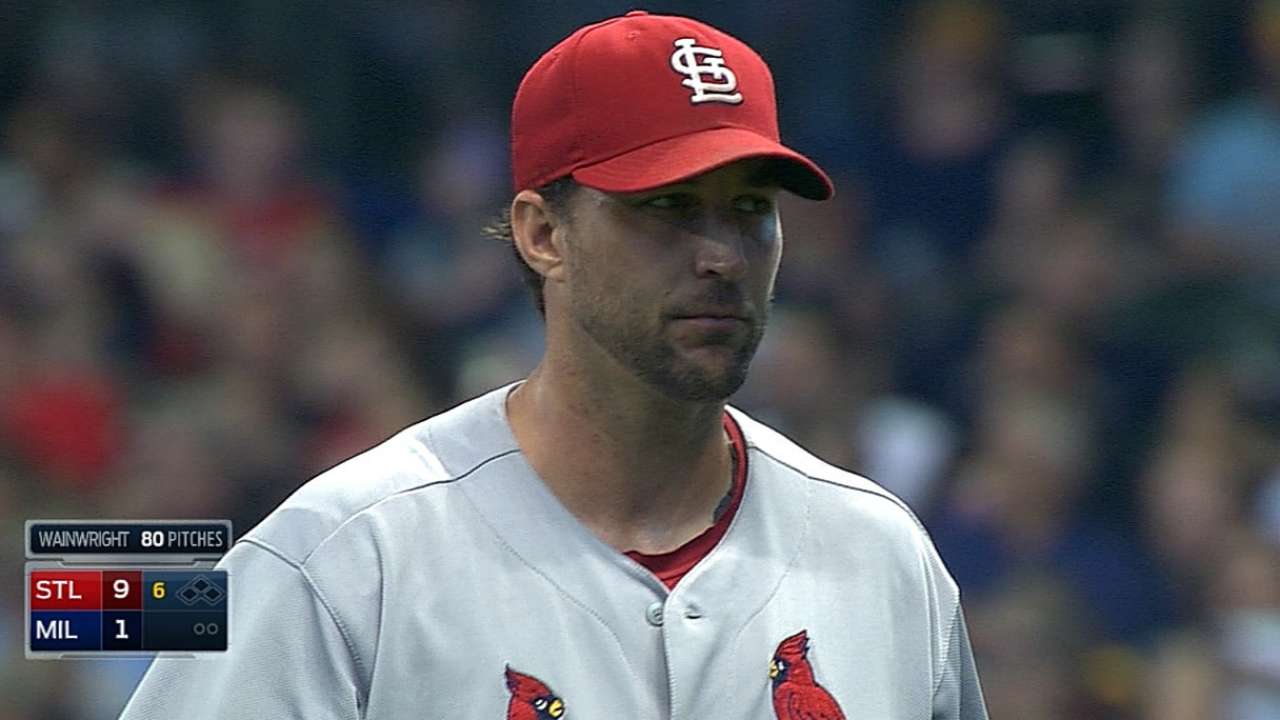 Whatever status wins have anymore in the realm of statistics, it's hard to dispute that piling up 20 of them in a season is a coveted milestone, one that has become more rare over the years.
As the 2014 season starts up again after the All-Star Game, there are 21 pitchers already halfway to 20, and we're only a little more than halfway through the season. Most are two or three starts past their projected midpoint, but being in double digits is putting them on the right track, at least.
That number is up from last year, when 13 players had 10 or more wins at the break -- and then only one of them wound up going over the threshold: Detroit's Max Scherzer, with 21.
Will this year will bring a larger crop of 20-game winners? It could be a bumper crop or a bummer crop, only time will tell.
Here's a look at the 20-win mark through the years, starting with the season at hand:
On the road to 20?
This season's candidates are led by four already at a dozen wins, six more at 11, and 11 at the halfway point to 20.
12: Unfortunately, the first one of the foursome to reach the current Major League lead was Masahiro Tanaka, who since has been shelved in hopes of avoiding right elbow surgery. Any quest he might have had for 20 wins in his rookie season is surely gone, and really not a priority.
Also at 12 are Detroit's Rick Porcello, Cincinnati's Alfredo Simon and St. Louis ace Adam Wainwright, who allowed three first-inning runs in the All-Star Game -- or more than he had allowed in all but three of his first 19 starts.
11: The Dodgers duo of Zack Greinke and Clayton Kershaw lead the pack, with Kershaw's victories coming in just 14 starts. American League All-Star starter Felix Hernandez of the Mariners is there, too, joined by Scherzer, the A's Scott Kazmir and the Angels' Garrett Richards, rested up and perhaps a little fired up after an All-Star break.
10: Jered Weaver is the only one at this number looking for a second 20-win season, having notched 20 in 2010. Also at the halfway point: the Giants' Madison Bumgarner, the Reds' Johnny Cueto, the Rockies' Jorge De La Rosa, the A's Sonny Gray, the Twins' Phil Hughes, the Red Sox's John Lackey, the Cardinals' Lance Lynn, the Brewers' Wily Peralta, the Dodgers' Hyun-jin Ryu and the Blue Jays' Mark Buehrle.
Give me 20, and another, and …
The presence of Greinke and Kershaw as well as Ryu in double digits at the break gives the Dodgers a chance at multiple 20-game winners on the same team for the first time in more than a decade.
Of course, the gold standard was the 1971 Orioles, who had a record-tying four 20-game winners: Hall of Famer Jim Palmer, Mike Cuellar, Pat Dobson and Dave McNally.
In 1990, Bob Welch of the A's set the highest mark since divisional play began in 1969 with 27 wins, and sure enough, he had a teammate along with him in the 20s -- Dave Stewart, with 22.
Since that watershed year for victories, only six combinations of teammates have gotten to 20 wins:
1993
SF: Bill Swift, John Burkett
ATL: Greg Maddux, Tom Glavine
1999
HOU: Jose Lima, Mike Hampton
2001
ARI: Randy Johnson, Curt Schilling
2002
BOS: Derek Lowe, Pedro Martinez
ARI: Johnson, Schilling
Been there, done that
There are 15 current players who have reached the 20-win plateau before, led by Justin Verlander and his 24 wins in 2011, the year he had a double win as the AL's MVP Award and Cy Young Award winner.
The current players with 20 wins on their resume:
Verlander, 24 in 2011
Cliff Lee, 22 2008
Bartolo Colon, 21 in 2005
CC Sabathia, 21 in 2010
Ian Kennedy, 21 in 2011
Kershaw, 21 in 2011
Gio Gonzalez, 21 in 2012
Scherzer, 21 in 2013
Tim Hudson, 20 in 2000
Colon, 20 in 2002
Johan Santana, 20 in 2004
Josh Beckett, 20 in 2007
Wainwright, 20 in 2010
Weaver, 20 in 2012
David Price, 20 in 2012
R.A. Dickey, 20 in 2012
Colon is the only active player with multiple 20-win seasons. For reference in recent history, Roger Clemens had six, Tom Glavine had five and Roy Halladay, Johnson and Schilling all had three.
Big year for 20?
In all, there have been 815 players since 1901 to win 20 games, and 227 since divisional play began in '69. Since Welch set this era's high mark with 27 in '90, there have been 73 to hit the 20-win mark. Since 2000, 45 have done it.
Getting a crop of 20-game winners has been harder the past couple of decades. In fact, the past 10 years have seen the only two seasons not affected by labor strife to be pitched a 20-win shutout: 2006 and '09.
A look at the biggest years for 20 wins in recent history:
Top 10 since 1969
1969: 15
1971: 14
1973: 13
1970: 11
1974: 11
1972: 10
1977: 9
1976: 8
1978: 8
1975: 7
1980: 7
2001: 7
Top 10 since 1990
2001: 7
2002: 6
1992: 5
1993: 5
2003: 5
1991: 4
1997: 4
1998: 4
2000: 4
2005: 4
2008: 4
2012: 4
Last 10 years
2004: 3
2005: 4
2006: 0
2007: 1
2008: 4
2009: 0
2010: 3
2011: 3
2012: 4
2013: 1
What's the number this year? There are a lot of wins to go before we find out, but 20 is within reach once again.
John Schlegel is a national reporter for MLB.com. You can follow him on Twitter at @JohnSchlegelMLB This story was not subject to the approval of Major League Baseball or its clubs.