Kelly alters mechanics, stifles LA with 'electric power'
Righty disguises delivery in seven-inning gem; Cards plate four in first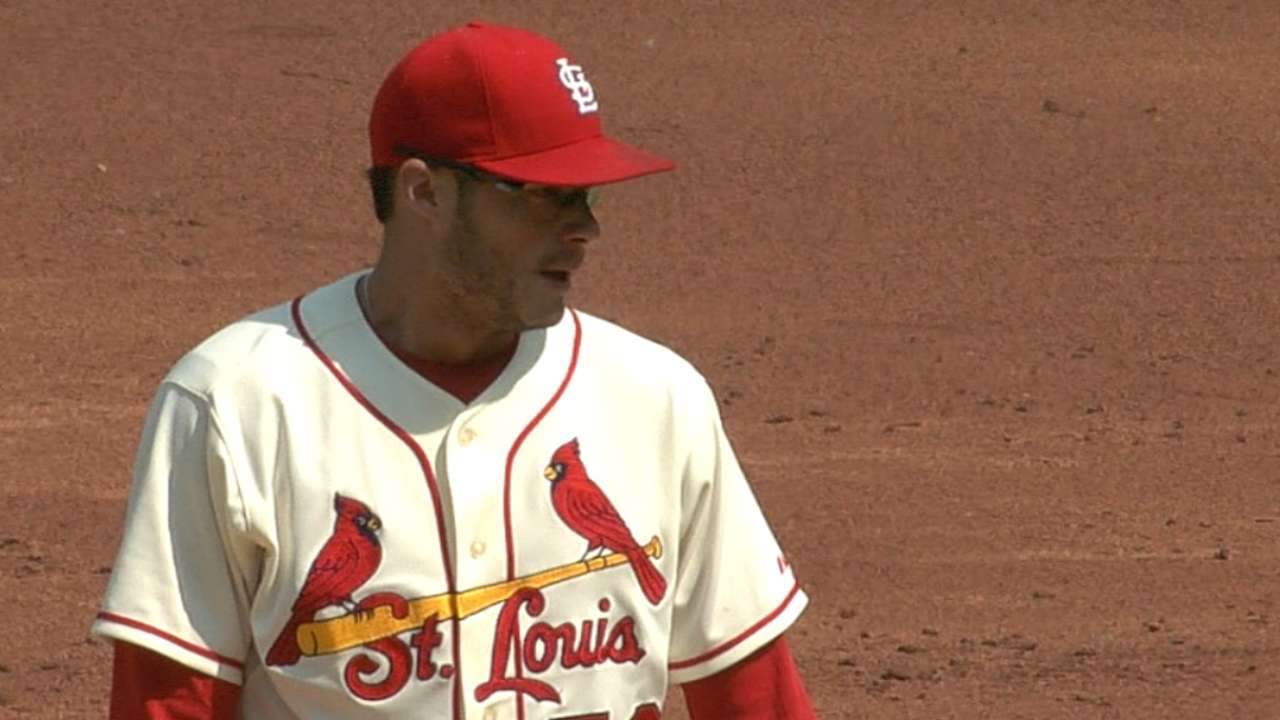 ST. LOUIS -- It was just three weeks ago that the Cardinals left Los Angeles insistent that they not be judged by their most recent body of work. The words were empty, though, as they had faded against the surging Dodgers, scoring just four times in a four-game series.
On Saturday, they matched that total with an ambush against an All-Star.
The Cardinals positioned themselves for a possible sweep of the Dodgers and a move into first place with Saturday's 4-2 win in which they scored all of their runs within a four-batter sequence to open the game against Zack Greinke. The victory, which came in front of 43,922 fans at Busch Stadium, was anchored by Joe Kelly, who earned his first win since coming back from a hamstring injury that cost him nearly three months of the season.
"That was that electric power," manager Mike Matheny said of his starter. "I thought it was just one of his better pitching performances."
It was also Kelly's longest, as he matched his career best with the seven-inning start. This one also included two added variables. He worked with both a new catcher, George Kottaras, and changed mechanics, the latter something he began experimenting with just two days ago while playing catch.
Noting that he was "100 percent" certain that he had been tipping pitches during his three-inning start against the Brewers a week ago, Kelly altered the placement of his hands and their separation from his body to better disguise his pitches. He made the last-minute decision to implement the adjustment.
"I had some confidence after doing it in the bullpen before the game, but I wasn't sure I was going to do it or not," Kelly said. "I just stuck with it. It was definitely better than the time before."
As for working with Kottaras, who was making his first start for the team, communication was key. Before each inning, the two met in the dugout to talk pitch sequencing.
"I had watched video on him and his past starts, but at the same time, it's TV and you're looking at it through that angle," Kottaras said. "He pitched great. It wasn't difficult for me back there. He was throwing well."
Greinke, who struck out 10 in a dominant seven-inning win over the Cardinals last month, found himself down four runs after 17 pitches Saturday. Matt Carpenter began the rally with an eight-pitch walk after falling behind, 0-2.
"That set the tone for the inning," Matt Adams said. "We were able to see what he was doing to him. That was huge."
Kolten Wong legged out an infield single on a grounder that snuck past Greinke. An errant flip by second baseman Dee Gordon gave both runners an extra base. That readied both to score on Matt Holliday's RBI single to left.
Adams clobbered Greinke's next pitch, a curveball, for his 12th home run of the season.
"Usually he's kind of patient early like that, so I was trying to be aggressive and it was the wrong choice," said Greinke, who had won his last four starts against the Cardinals. "He got a base hit, and by then it was four runs pretty quick."
Greinke issued another four walks (three to Jhonny Peralta) before exiting with two out in the sixth, though the Cardinals were never able to pad their lead. That was no problem for Kelly, who allowed only a third-inning run on a two-out infield single.
A pair of double plays had helped him work out of trouble the two innings before. He then closed his outing by retiring 13 in a row. Kelly threw 62 of his 99 pitches for strikes and relied heavily on his sinker, which helped him garner 15 outs via ground balls.
"He didn't leave any balls over the middle of the plate," Dodgers first baseman Adrian Gonzalez said of Kelly. "He kept throwing his fastballs right on the corner. He wasn't leaving anything over the middle. There weren't many pitches to drive."
Sam Freeman allowed one run behind Kelly before Pat Neshek helped Freeman out of the eighth with a pair of strikeouts. Trevor Rosenthal then joined Atlanta's Craig Kimbrel as the only National League closers to reach the 30-save mark.
The Cardinals did lose Holliday, who has driven in five of the team's seven runs scored this series, before the end, as he was removed four innings after a first-inning collision at second base with Dodgers shortstop Hanley Ramirez. The club tested him for a possible concussion before ruling that out and he is listed as day to day.
Jenifer Langosch is a reporter for MLB.com. Read her blog, By Gosh, It's Langosch, and follow her on Twitter @LangoschMLB. This story was not subject to the approval of Major League Baseball or its clubs.